Disclosure: Some posts contain affiliate links, which earn us a commission if you make a purchase through them. Positive Fishing © participates in various affiliate networks including the Amazon Services LLC Associates Program.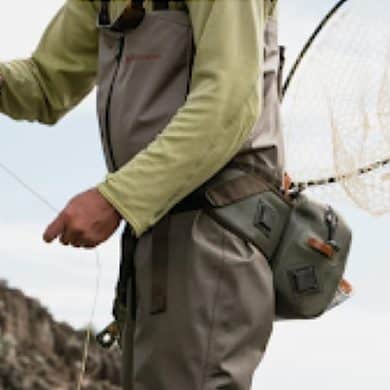 Redington Escape Zip – The Most Versatile Waders?
Our Verdict
If your looking for a pair waders that will cover both winter and summer periods, then The Redingtin Escape Zip is the right choice. Not only are they extremely versatile and have great features the price is a very affordable option for every fly fisherman that spends a good amount of time fishing.
The Good
Great waders for use in the cold and warmer weather
Good features such as fleece pockets
Easy to remove and escape from if in an emergency
Very stylish and fit really well around the entire body
Great zipper and material quailty for the price
The Not So Good
Some anglers may feel that the 3mm booties are slightly thinner than other brands
Once spring hits, waders become a common piece of clothing for most fly anglers. For many anglers, finding a pair of waders that work well for you usually takes quite a bit of time. You're either unwilling to break the bank on your first pair or spend too much and don't enjoy how they fit or some of the features.
Redington is an under-the-radar fly fishing company that has been making comfortable and practical waders for years. 
One of their newer designs, the Escape Zip, showcases great new technology, comfort, and design. They're a mid-priced wader designed to function in all fishing conditions. 
I fly fish with these waders throughout the year due to their true versatility throughout the entire year. 
In this article, I will cover the following: 
Makeup and Material
Comfort
Features
Price 
Sizing
Redington Escape Zip Waders – Are they worth Buying?
Final Thoughts
Construction And Materials Used In The Escape Zip Waders
The Redington Escape Zip waders are perfect for fly anglers. They're created with us in mind. They're all-weather waders that will work out extremely well in all conditions.
Many companies make more versatile waders to appeal to a wider range of customers. Redington understands that anglers will purchase their waders over other companies because they meet the requirements for fly anglers. 
These waders are made up of a coated DWR material. It's a slick material that will not catch in the brush as you walk and traverse along the shore of a lake or the bank of a river. 
The upper portion of the waders is essentially three layers of material. The top is a bit lighter, so you won't burn up on those warmer days. It's easier to layer on top to keep yourself warmer.
The lower portion is four layers of breathable material so you can stay in that cold water all day. Your legs are subjected to the coldest temperatures throughout your fishing excursion. Even if it's warm outside, cold tailwaters are still tough to stand in without waders. That extra layer can be a lifesaver.
The 3mm booties are very comfortable and fit well into wading boots. Some companies use 4mm booties, but the Escape Zip Version is only 3mm. The 3mm really isn't too uncomfortable. Depending on when and where you're fishing, you should be totally okay. Put Merino wool socks under the booties if the water is especially chilly.
The zippers and everything on these waders is corrosion-resistant, so you don't have to worry about breakdown over time. Everything on these waders feels high quality, even the zippered portion on the front.
How Comfortable Are The Waders?
You can easily wear these waders on a 40f degree spring day in runoff water and be comfortable. Yes, you'll need some layers under the waders, but you won't feel cold at all throughout the day. You can even wear these waders on an 80f degree day while fishing a tailwater. All you have to do is unzip the waders or roll them down to become waist waders. This will keep your upper body cool while keeping your legs warm.
On those warm days, anglers know how sweaty we can become under a set of waders. Thankfully, these breathe – well! If you have a pair of breathable leggings or long johns, you won't feel sticky after you spend some time on the water. Yes, they're warm, but not overwhelming. They're unlike a neoprene set of waders that trap all heat and moisture. 
One of the best parts of these waders is how they fit. If you're skinny, you'll be surprised at how slim they are. Too often, waders are designed to be far too boxy. 
These are a bit more flattering! They're definitely not a skinny fit, but they don't look as if you can fit two people inside them when you're wearing them. 
What Features Are In The Redington Escape Zip Waders?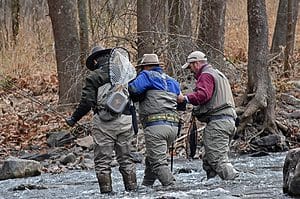 Companies can set themselves apart if they have many features with their waders. Redington has done a great job at this. Obviously, they're one of the most renowned and respected companies in fly fishing, and it's easy to tell why. 
The zipper is one of the unique aspects of the Redington Escape Zip. For one, putting them on and taking them off is easier. Also, if you happen to fall in the water and fill your waders, you can unzip and remove the clasps. This allows you to escape that much quicker. For comfort and safety purposes, the zipper is a great idea. Plus, it's fully waterproof. Don't worry that it will let water in as you wade deeper. 
Secondly, the pockets. Most companies put an added layer of whatever they created the waders with to create the pocket. Redington was kind enough to add some fleece to keep your hands warm. These pockets alone make these waders worth it. It's a great asset, especially after you've been putting your hands in extremely cold water.
All these pockets were specifically designed to not catch on oars. You have to work a bit to get your hands in, but you don't have to worry about them catching a fly, branch, or your oars.
You also have an internal pocket to store keys or other valuables. Finally, there is a "D" ring at the center of the back. It's perfect for hanging your net! Also, you have the gravel guards and elastic wading belt. The straps on these waters are thin but still sturdy. You won't find them digging into your skin. 
Are They Affordable?
These waders are going to cost you $350. For high-performance waders, that is not overly expensive. You'll find that many companies charge a couple of hundred dollars more than that for their waders. Redington nailed it with these waders, from the appearance all the way to the features.
It's going to be hard to find a better and more versatile set of waders than the Escape Zip. 
You can easily spend much more on a set of waders from well-known fishing companies. Consider this when you select the waders for you – Trust Redington's design! 
You can read more in my article on the best wader choices here, including the Redington Crosswater waders – My choice for the best budget waders.
What Sizes Do The Escape Waders Come In?
Redington thought of most people with the design of these waders. You have sizes ranging from small to XXL. In between, you have medium-short, medium-long, medium-king, long-short, long-long, long-king, XL-short, and XL.
If you're short and stocky or tall and lanky, there's a set of Redington Escape Zip waders for you. Make sure to select from the size chart options carefully when choosing your option. 
Redington Escape Zip Waders – Are They Worth Buying? 
Like your fly reel, your waders must stay out of the way and do their job. This is what the Redington waders are going to do. You have anything you would need from these waders.
You can wear four-season waders on the coldest and warmest days; that's one of the key advantages of the zip escape. 
These waders also look great. With two tones of tan and the famous hint of red that Redington is known for, you have a great-looking set of waders. You'll definitely get questions from other anglers about where you bought them. 
You have plenty of storage with pockets and rings; they're all extremely high quality. Even if you do happen to tear a hole in these waders, it's easily fixable with a wader repair kit that they send along when you purchase the waders.
These waders can turn into one of those pieces of equipment you'll always be thankful you have while out on the water. 
Final Thoughts
I hope this article was informative and helps you go out and buy these Redington Escape Zip Waders. They truly are the most versatile fly fishing waders on the market and are great value for money.
You can read more about choosing the right waders for you here!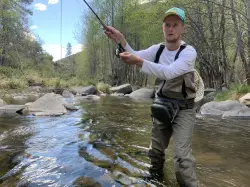 Latest posts by Daniel Mooers
(see all)