Disclosure: Some posts contain affiliate links, which earn us a commission if you make a purchase through them. Positive Fishing © participates in various affiliate networks including the Amazon Services LLC Associates Program.


The technical words and specifications describing fly fishing waders can be mind-boggling. To help make more sense of this, this article hopes to explain wader-related questions to ensure you get the right advice before buying.
In this article, I will cover the following:
Let's first learn what are Fly Fishing waders, what are they made from, and the different types available
Learn how to choose the right style for you 
Learn how to take care of waders and make them last a long time
Help ensure you have all the information when buying waders 
What Are Fly Fishing Waders?
Fly fishermen wear waders to protect themselves from the elements while fishing. Waders enable you to stand in the water without getting wet or cold. Since fly fishermen often spend hours pursuing their sport, waders are an essential piece of gear.
What are the Different Types of Waders?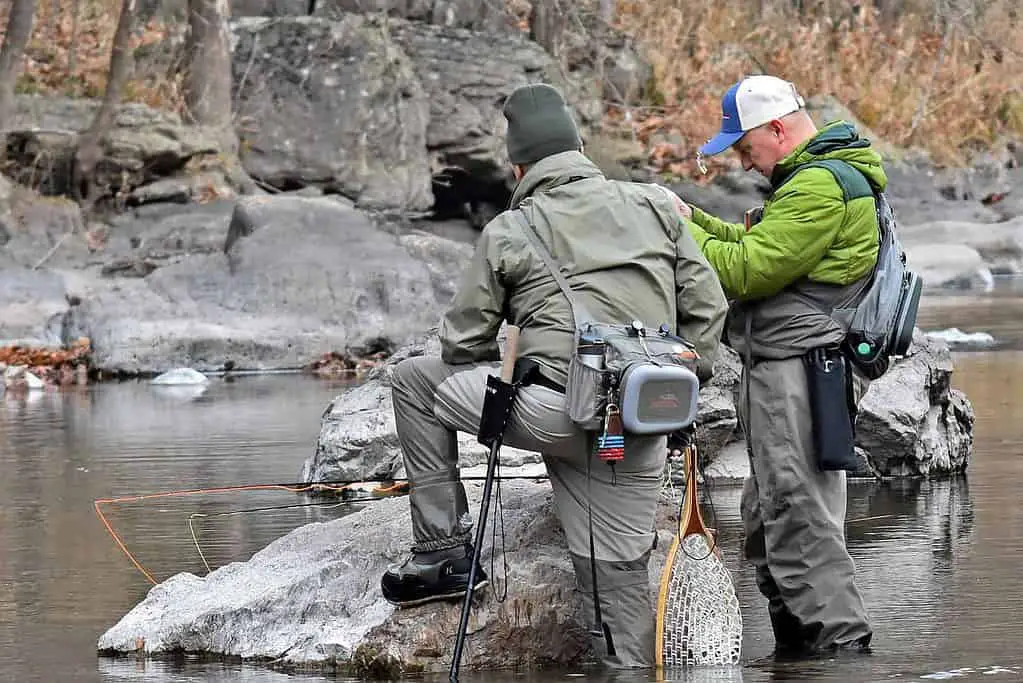 When you're out fly fishing, you'll see anglers wearing all different types of waders. Whether an angler is on a budget or willing to spend money for the best equipment possible, you'll find that people have all different types of preferences when it comes to staying comfortable on the water. 
What Are Fishing Waders Made From?
Generally, the best Fly fishing waders are either Neoprene or nylon/polyester blend.
Neoprene Waders
Neoprene is a thick and pliable synthetic rubber. They are designed to keep you warmer in the colder months of the year. Neoprene is not breathable and moving around the water is not as easy. If you are constantly on the move then Neoprene may not be the best choice, walking could get a little tiring!
Nylon/Polyester Waders
Nylon/polyester blend is a breathable material option. Quality and the price will determine the number of layers used in the construction – so choose wisely.
The blend of nylon and polyester allows moisture from when you sweat to escape easily from the inside of the waders. The world-renowned material Gore-Tex is commonly used in some of the best waders. Not only does it allow breathability but also provides more flexibility as you move around. 
Whichever wader type or style you buy, please make sure you are aware of the dangers of wade fishing. Check out my in-depth article on Wade Fishing Safety, Tips, and Gear here for more details.
What Are The Main Types Of Waders Available 
Hip vs. Chest Waders 
Perhaps the easiest decision you'll have to make is whether or not you're going to choose hip or chest waders. Hip waders are going to essentially be pants without a waistband. They're long enough to cover you almost to your waist and hook up to any pants with a belt loop.
Most anglers are going to use hip waders if the temperature outside is extremely warm, but the water temperature is freezing. If you're fishing a tailwater, then you'll find that the water is cold so you want to get chest waders. 
The downside of hip waders is that they don't allow you to wade past your waist. You have to stay in shallower water so you don't fill your waders and get yourself in trouble. 
You're going to be better off fishing with chest waders regardless of the air temperature. If it truly is too hot, you can roll down your chest waders so they hang out more down by your waist. 
Bootfoot vs. Stockingfoot Waders
There are debates within fly fishing circles as to which type of waders are better. Bootfoot waders have boots built into the wader. The nice thing about these waders is that you don't have to purchase wading boots to go with your waders! Plus, they're going to be a bit less expensive than stockingfoot waders. However, these boots are often not as comfortable! 
Stockingfoot waders only come with neoprene socks and you're able to purchase separate wading boots to go with them. If you're the type to hike and cover quite a bit of ground when you fish, then it's not a bad idea to purchase stockingfoot waders so you can fish exactly where and how you want. 
Neoprene vs. Breathable Waders
As mentioned earlier, neoprene waders are more for the angler that finds themselves fishing in cold water and cold temperatures. Neoprene is a thicker and insulated material that makes up wetsuits and many other types of hunting waders.
If you fish and hunt, then it's not a bad idea to purchase neoprene waders. However, if you're only flyfishing, breathable waders would likely be your best option. 
Breathable waders are more versatile than neoprene waders. Neoprene waders are going to increase your body temperature and make you extremely warm on those hotter days. Breathable waders are lightweight and make moving around much more comfortable.
If you're fishing in colder conditions, you'll have to put layers underneath your waders to make sure you don't freeze while you're fishing in some colder conditions. 
What Boots Should I Buy With Stockingfoot Waders?
If you choose to buy stockingfoot waders you will need a pair of wading boots. Most fly anglers choose this option to combine the best of both items. 
If your waders get worn on the soles then you will need to replace the complete waders, alternatively changing just the boots is not only cheaper but also the part that tends to wear the fastest.
You can use any boots that you wish, most manufacturers such as Orvis have boots to match their stocking foot ranges.
Important Factors In Choosing Waders
Temperature:
In summary, choosing your waders is like most fishing gear – it's a personal choice. One big factor is where you live and fish. If you fish in the warmer southern areas or do your fishing only in the summer then a lightweight version is best for you. If you fish in the northern areas or during the wintertime then you need to buy a thicker wader. The opposite is also true. 
Comfort:
Fishing in comfort is also equally important. Being able to move around for several hours is tiring, and also affects your concentration and ability to catch fish.
Price:
Know your budget, waders are an expensive part of the fishing gear required. Buy the best you can afford.
Tip: Always go to the tackle shop to try some on first before buying. You can also ensure the size is the right one. Buying online before trying can be somewhat risky.
How Long Do Waders Last Before Replacing?
All waders should last at least 5 seasons of normal usage. All my recommended waders in my article Best Waders For Fly Fishing – A Buyers Guide, will last up to 7 or 8 years if the right care and attention are done after and before fishing.
How To Make Your Waders Last Longer?
Great waders are probably going to cost more than your rod and reel! So taking care of them is of utmost importance.
Here are a few guidelines to ensure they last as long as possible.
1. Rinse them off once you get home. Just a few minutes using water from a hosepipe will clean off all the mud or debris. Waders do get scratched from small stones etc if needed a simple soap solution can be added to clean off any stubborn areas.
2. After washing make sure they hang dry. Just clip them to a washing line upside down to remove any moisture. 
3. Don't leave them in direct sunlight for hours or in a hot place such as a car. Once they are dry hang them in your garage or shed till the next time you use them.
4. Just like umbrellas and fishing vests a coating of direct water repellant is required after some period of time. You only need to do this waxing every 6 months. I'd recommend the same NikiWax brand which I previously recommended in my article on the Best Carp Bivvy.
5. Be extra careful when taking waders off. Don't force your feet out of them as this can cause damage to the neoprene socks. Once removed just ensure there are no small stones or other debris on the bottom of them.
Can Waders Be Repaired?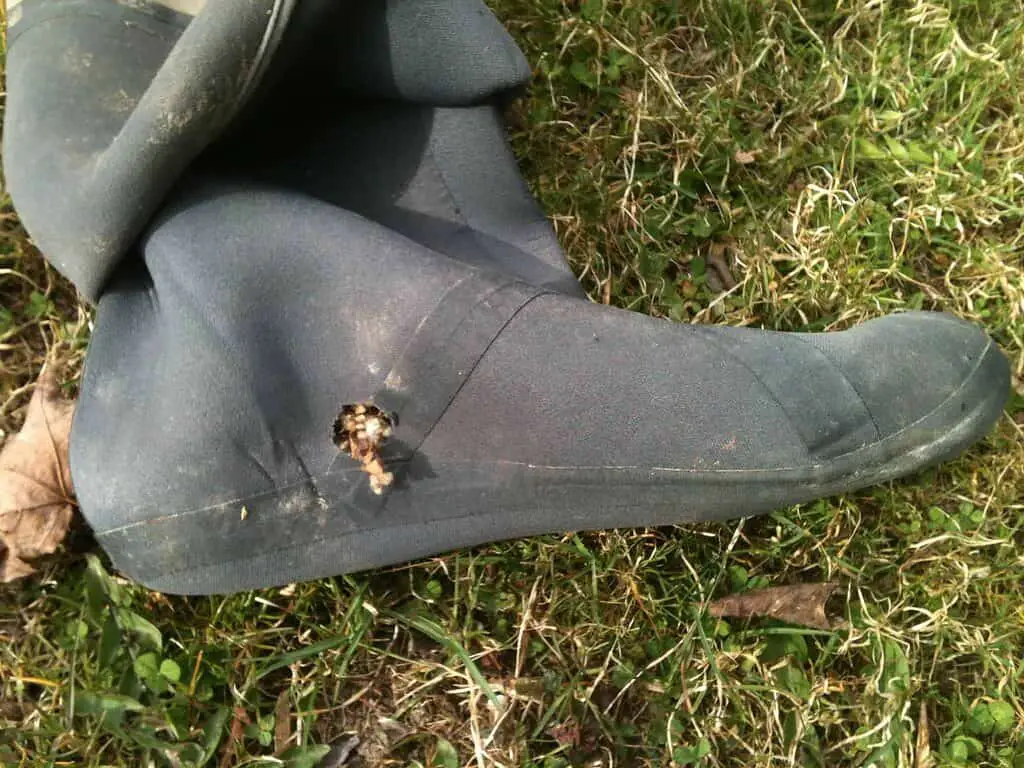 Unfortunately, there may be times when a small hole or tear appears in waders. Generally, caused by sharp stones on the river bed. You can buy puncture repair kits for small holes but always check with the wader manufacturer on what is the best sealant to use. 
Sealer should only be applied in a thin coat on the interior of the waders. Cover the puncture point and the area surrounding it so the sealant affixes to the fabric. 
Gear Aid Aquaseal UV Repair Adhesive is a well-known excellent choice to use for repairing all types of waders and boots.
It should be noted by buying one of my recommended waders from Orvis, Redington, or Simms you do get a warranty of up to 12 months.
Final Thoughts
I hope that this article explained what different types of waders are available and also helped you make a better decision on which ones suit your style of fishing. It's an important decision given the investment. 
Now you have more knowledge on waders, please check out my top wader recommendations in my article The Best Waders For Fly Fishing – A Buyers Guide here!
Latest posts by Steve Fitzjohn
(see all)