Disclosure: Some posts contain affiliate links, which earn us a commission if you make a purchase through them. Positive Fishing © participates in various affiliate networks including the Amazon Services LLC Associates Program.


As more women join the sport of fishing, especially fly fishing, the traditional wader manufacturers are beginning to create waders that fit their specific clientele. 
Often, waders and other fishing apparel are made for both genders and are more unisex-based clothing. But the welcome influx of women entering the sport has encouraged companies to make women specific waders.
While they're still built from the same material as "unisex" waders, they have a different fit, which is more tailored to ladies' figures, and some great color options! 
In this article, I will cover: 
Types of Waders

Stockingfoot 
Bootfoot
Hip Waders
Wading Pants

5 Best Women's Waders:

Orvis Women's Pro – Our Best Overall Pick!
Redington Women's Sonic Pro – Our Best Value For Money Pick!
Orvis Women's Ultralight Convertible Wader – Our Most Versatile Pick!
Simms Freestone Women's Stockingfoot
Caddis Women's Breathable Stockingfoot Chest Wader
Types of Waders
There are generally four different types of waders anglers can choose from when deciding what is best for them! The main factor you should consider when making your purchase is the conditions you're fishing in. 
Stockingfoot Waders
Most fly anglers choose stockingfoot waders for their fly fishing adventures. Generally, these are fly fishing specific waders that are a bit more breathable, but still plenty warm if you're spending time in tailwaters or cold lakes. 
The biggest frustration with stockingfoot waders is that you are going to need to buy wading boots to pair with them. These are an added expense, but they make hiking and traversing the water far easier. 
If you're fishing in decently warm temperatures and cold water but still need the ability to move around, then your best bet is stockingfoot waders. 
Bootfoot Waders
Bootfoot waders are usually neoprene waders with rubber boots attached. Bootfoots are perfect and the best pick if you're fishing in extremely cold areas. The added warmth from the neoprene and durability from the boots keep you protected and comfortable in all sorts of weather and water conditions. To ensure you keep those feet warm, pick a size one up from your normal foot, this will allow you to get extra room for a great pair of insulated socks.
These are usually a bit more affordable than stockingfoot waders but are not nearly as breathable and can become extremely uncomfortable during a long warm day on the water. 
If you are looking for some great in-depth tips and picks for keeping warm and dry during the winter, check out our best cold weather gear article.
Hip Waders
Hip Waders are a common choice for anglers who do not go very deep in the water. They go up to your hips and attach to your belt to stay secure. If you're walking through freezing water that's not very deep, these are a good option. They're not as cumbersome as other waders and are often the most affordable option you can find! 
The boots are generally rubber and provide a decent amount of traction. 
Wading Pants
Wading pants are becoming more and more popular. Essentially, these are waders, but they don't go all the way up to your chest. Fly fishing companies like Simms are making wading pants. They're great if you need to hike a long way but are in and out of the water through that entire time. 
At this point, these wading pants are fairly expensive. The technology is still being perfected, so make sure you read reviews before you make your purchase. 
If you are a beginner and would like to learn more about Wade Fishing? Then check out my in-depth article with detailed information on Wading Tips, Gear, and safety here!
5 Best Women's Waders
Most companies who make high-quality waders are now making women specific waders. They're more form-fitting and have different styles and colors than the men's options. They're well worth it if you spend time on the water and need to stay protected. Take a look at our five best options and choose what suits you best. 
Orvis Women's Pro – Our Best Overall Pick!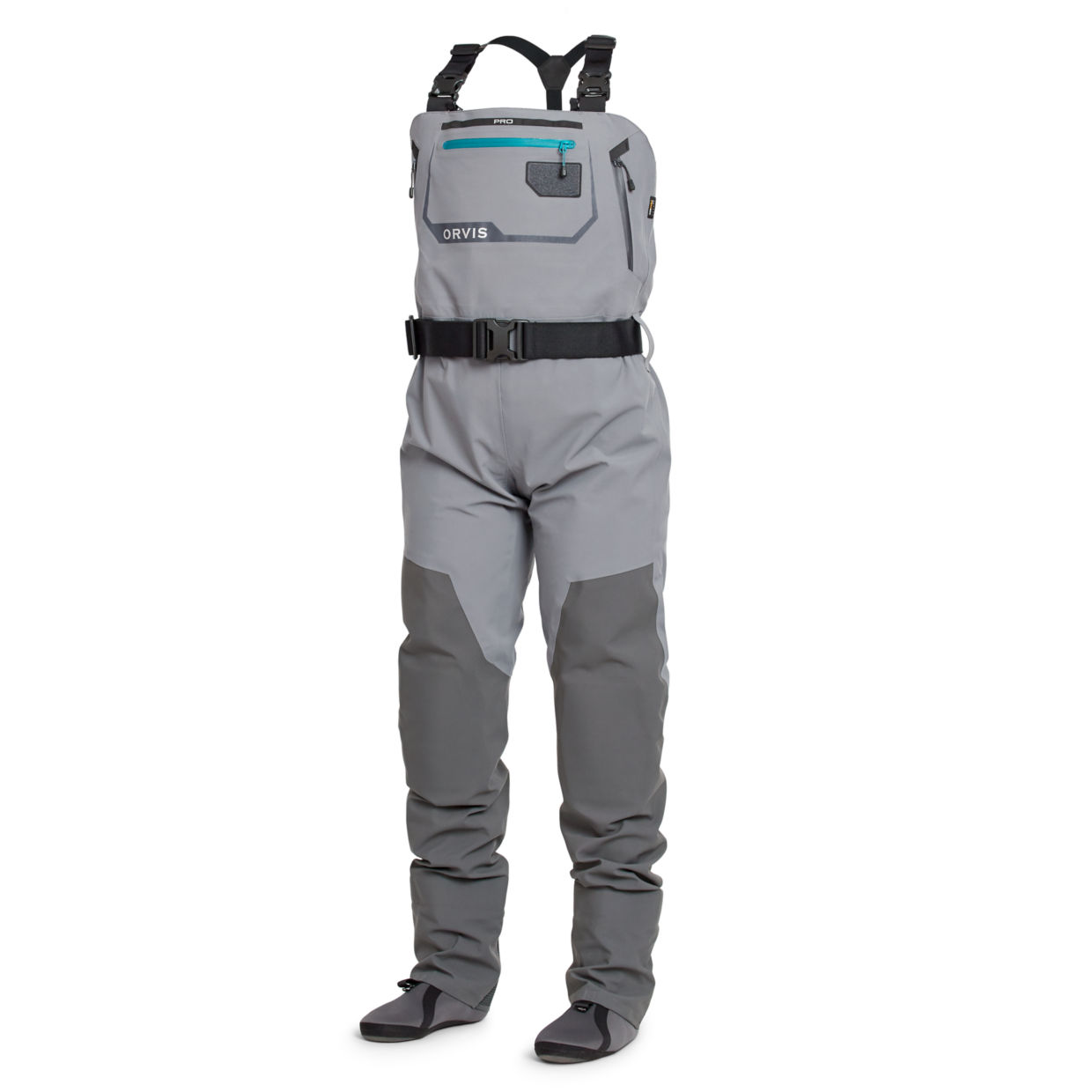 It's hard to argue with the quality of Orvis waders. If you're a fishing guide or someone who spends many days on the water each year, these are for you. Guides and professional anglers have been using Orvis waders for years and the updates Orvis provides on these waders year after year prove they listen to their customers. 
These Womens Pro waders are more of an athletic fit and they are made with a four-layer Cordura shell in the upper and a five-layer Cordura shell in the lower. These are some of the most tear-resistant waders on the market that are still somewhat breathable. 
There are several pockets on these waders that are perfect for storing things or keeping you warm. The front storage pocket is completely waterproof and is able to store reels and a couple of fly boxes or small tackle items depending on what you have. There are also fleece pockets on the sides for you to put your hands inside if you're fishing in some colder weather. These quickly dry, so you can keep using them throughout the day. 
The other aspects of these waders that make them high quality are the removable knee pads that protect you if you're kneeling on rocks and other sharp objects. Also, the adjustable suspender straps make it easy to roll them down on warm days. 
In terms of sizes and fit, Orvis provides petite, regular, and tall options for all their sizes ranging from X-small to X-large. They're not as boxy and unflattering as many other waders, and they are made how women's waders should fit! 
Yes, these waders are in the higher price range, but you're getting a wonderful piece of apparel that comes with a lifetime warranty! 
Redington Women's Sonic Pro – Our Best Value For Money Pick!
Redington continuously flies under the radar in terms of fly fishing equipment. Not only is their equipment affordable, but it's also actually high quality. I've used Redington waders for years and I've even purchased my wife a pair for the upcoming season. 
Both the upper and lower portions of these Redington Women's Sonic Pro waders are made with a 4-layer waterproof fabric. These waders happen to be some of the more breathable waders for women on the market. If you're fishing on a warm day in cold water, the last thing you want to be is hot and uncomfortable. 
The pockets offered on these waders include a large outside waterproof pocket, an internal valuables pocket, and fleece pockets to keep your hands on those exceptionally cold days. Combine these pockets with the gravel guards, neoprene booties, and adjustable suspender straps and you're good to go. 
The Sonic Pro waders are a bit more of a slim fit. They offer small, medium, large, and extra large sizes. Each of these sizes comes in short or long options. 
For mid-range pricing and great quality, you're going to receive exceptional waders that can last for years with the proper care! 
Orvis Women's Ultralight Convertible Wader – Our Most Versatile Pick!
The Orvis Women's Convertible Waders are one of the newest waders for females on the market. They're a bit more lightweight than other waders you're going to find, but still can be quite warm if you layer properly underneath. Whether you're fishing in alpine lakes or streams in the summer or lake in the late fall, these can keep you really comfortable. 
The upper and lower layers are still 4-layers, but a bit more breathable than most. For pockets, you're going to have a large waterproof pocket on the outside and an internal pocket to store any valuables you need. Orvis also includes a small fly patch on the outside of the waders for you! 
Similar to other women's waders from Orvis, you have petite, regular, and tall options for sizes ranging from x-small to x-large. 
The blue and gray contrast on these Women's convertible waders look great and are another option in the mid-price range, you're going to get an extremely versatile and stylish piece of apparel. 
Simms Freestone Z Women's Stockingfoot
You'll struggle to find a better company than Simms when you're looking for waders. The men's version of the Freestone Stockingfoot waders has been a fan favorite for years. Guides all the way down to novice anglers choose them! They have every feature you need for an entire day out on the water. 
You have the normal 4-layer top and bottom of these waders that are both warm and breathable. Also, you'll notice that the side of these waders has a zipper that makes it easier for you to get in and out of them. This is a nice feature that many companies don't utilize. The zipper is usually on the front. You can also purchase these waders without the zipper. 
In terms of pockets, you're going to get a large waterproof chest pocket, an internal pocket to store valuables, and fleece-lined hand warming pockets! These are a true game changer on those colder days. 
Simms provides a nice amount of sizing options for females. You have small to 2XL depending on what you need. Within these sizes, you have a "womens plus size waders" option in case you need a bit more room. 
These Simms Freestone Z Women's Stockingfoot Fishing Waders are a mid-priced option, but you're getting one of the best sets of waders on the market. 
Caddis Women's Breathable Stockingfoot Chest Wader
If you're truly in the market for a budget set of waders, the women's stockingfoot model from Caddis is a good option. Plus, they have a nice amount of options for different sizes depending on what you need. 
These waders are more of polyester material, but still breathable and warm. You're going to be missing some of the features like the fleece-lined pockets and the internal pocket for valuables, but you still have a large external pocket for what you need! 
The sizes range from small to 2XL. Within these sizes, you have "queen" sizes for a bit larger women and "short stout" waders for shorter and larger women! These are wonderful options if they're needed. 
The best aspect of these waders is that they're a teal blue and very reasonably priced option for those ladies not wanting to spend too much! 
Final Thoughts
With the development of women specific waders, you can add some of your own taste and style to your time on the water. Thankfully, more and more companies are beginning to produce their own women's waders so the options are growing! Don't feel the need to purchase poor-fitting men's or unisex waders anymore! 
For more in-depth information on waders, please check out my article on How to choose the right fly fishing waders here!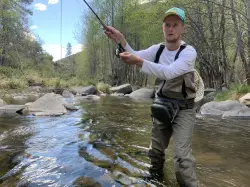 Latest posts by Daniel Mooers
(see all)