Disclosure: Some posts contain affiliate links, which earn us a commission if you make a purchase through them. Positive Fishing © participates in various affiliate networks including the Amazon Services LLC Associates Program.


Obviously, landing nets are very helpful to every angler in bringing in your catch safely and without losing it, but they even have their downsides. Thankfully, telescopic landing nets have gained more popularity due to their extra length and also their portability. 
Finding an efficient way to land fish isn't easy. As the fish gets closer to you or your boat, you'll likely have an increased heart rate and worry that your line will get tangled or the fish will shake off your hook. 
In this article, I will cover in detail the best beginner landing nets at an affordable price.
What is a Telescopic Fishing Landing Net? 
Top Four Telescopic Fishing Landing Nets

Blue Billow Telescopic Fishing Net – (My Best Overall Pick!)
Fiblink Folding Fishing Net – (My Most Versatile Pick!)
Retscloud Fishing Net – (My Best Budget Pick!)
Plusinno Fishing Net – (My Best Quality Pick!)
What Is A Telescopic Fishing Landing Net? 
A telescopic fishing net is a net that has a pole that can extend and fold in on itself to make landing fish as well as storage much easier. Some of the telescopic fishing nets can extend all the way out to nearly 10 feet. If you're worried that a fish is barely hooked, then something this long will help you land the fish much quicker and safer and allows catch and release methods to be done easily without harming the fish. 
Also, if you don't have much room for storage or want to carry the net as you walk along the shore, you can use the net's ability to fold in on itself to allow for easier transport. These nets are created to make your life far easier. They can even fit in a backpack!
If you're a fly angler, saltwater flats angler, or a general freshwater angler, you definitely have a use for a telescopic net! 
Tip: If you are looking for a more specialist landing net for use when catching larger coarse fish such as carp or other freshwater fish, please check out my other articles on nets.
Top 4 Telescopic Fishing Landing Nets For Beginners
In the world today, you have dozens and dozens of options for telescopic landing nets. You can spend as little or as much as you would like! Know your fishing style and where you'll fish, and use that information to help you make your purchase. 
Tip: Always try to set a budget first and buy the best you can in that range.
Blue Billow Telescopic Fishing Landing Net – My Best Overall Pick!
The Blue Billow telescopic fishing net comes shipped to you at 17 inches long. The net will extend out to 51 inches long. It's not an extremely long landing net, but the quality of the net is hard to beat. Carrying a net only 17 inches long makes bank fishing extremely easy. 
The holes within the net are only .15 inches, so you don't have to worry about losing any fish. You can scoop bait and any fish you catch with the Blue Billow. It'll do the trick even if your kids want to use it as a frog or butterfly net. 
The handle is made of aluminum, so the net is light. Anglers often get skeptical of telescopic nets due to the lack of strength in the handle. Since the handle only extends to 51 inches, you don't have to worry about excessive bending or, at worst, your net breaking under the weight of a heavier fish. 
Best of all, this net is a mid-range price and excellent value for money. You'll get years of use out of this net, and you can bring it wherever you go. 
Fiblink Folding Fishing Landing Net – My Most Versatile Pick!
Fiblink is well-known in the world of telescopic fishing nets. Their build quality is what attracts most anglers to their brand. The other thing that attracts anglers to their brand is the length of the handle can extend to. The Fiblink folding fishing landing net model can extend all the way out to 100 inches. This is essentially 9 feet! The net itself is 17 inches deep, so you have a chance to land some decent-sized fish. 
The handle is made of anodized aluminum and has skid-resistant handles. You have plenty of strength to land the fish you're targeting, and your hand won't slip on a wet or rainy day. Fiblink understands how important it is to you to land your fish, so they give you the best possible chance. Anything longer than 100 inches makes nets lose their strength. 
When the net is fully collapsed, it's around 40 inches. This is a fairly normal length for a non-collapsible net. If you know you'll need an extremely long net, then be sure you go with the Fiblink folding net. 
Several options are available for this landing net, including a longer extended handle, and different net sizes can be chosen.
This net is the most expensive on the list, but it will be able to cope with multiple fishing styles, and due to its quality construction, it will last much longer than most others. 
RestCloud Fishing Landing Net – My Best Budget Pick!
The Restcloud telescopic fishing landing net is small and mighty. If you know you aren't going to need a massive net, but need something strong, go with the Restcloud. You'll receive the Restcloud Telescopic net at 18 inches, and the longest available option can extend to 63″ inches. 
You might find this net quite useful if you're a fly fisherman. Most fly fishing nets are around 18 inches or so. If you're targeting steelhead or salmon and are worried about losing the fish, get the net all the way to its full length, and you can land them a bit faster than you normally would. It's not easy to land fish on the fly, but a telescopic net will help you out quite a bit. 
If you're a spin fishing bank angler, then the Restcloud will also work really well. The handle is aluminum and definitely is high quality. You won't feel any unnecessary bend with the net even if you hook into a sizable fish. 
This Restcloud net has various options for the handle – stainless steel, aluminum, and even an aircraft-grade aluminum handle! All are of different lengths. These options change the price you pay, so make sure you check out the right options first.
This is the most basic net entry option and affordable landing net on my list, a great bargain for the more cost-conscious anglers. 
Plusinno Fishing Landing Net – My Best Quality Pick!
Plusinno is another popular brand that's found itself working its way up in the world of telescopic nets. The Plusinno floating fishing net pole is actually made of carbon fiber and fiberglass. Many fishing rods are made of these materials, so you know how durable they are. 
The handle will extend out to 38 inches, and when folded, it's only 17 inches. It's easy to transport and really strong as well as light. This is another great option for anglers fishing in tighter conditions that feel they may need the extra reach when landing fish. 
The net is available in a blue or orange mesh rim and also can be ordered as a fixed-length pole rather than a telescopic version.
This net is also quite affordable, another great option for the beginner. This net is ideal for fly fishing as it can easily attach to your belt while wading along the river. 
Final Thoughts
Telescopic fishing landing nets are something that many anglers don't think about! We're used to seeing standard 36″ inch nets or even smaller nets used by fly fishermen. 
Give one of these nets a try, and you'll be pleasantly surprised at the versatility you gain with them. 
I hope this article gave some great ideas for choosing a telescopic landing net. Please check out my other articles on fishing accessories and my in-depth article on how to begin trout fishing.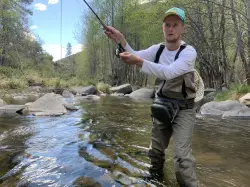 Latest posts by Daniel Mooers
(see all)