Disclosure: Some posts contain affiliate links, which earn us a commission if you make a purchase through them. Positive Fishing © participates in various affiliate networks including the Amazon Services LLC Associates Program.


Ice fishing has become an increasingly popular pastime, with people continuing to search for new hobbies during the cold winter months. 
In the last few years, more and more people and families have tried their hand at catching fish through the ice. The thrill of seeing a bobber go down on a summer evening is something that is not often replicated, but the twitch of an ice fishing rod before a hook set gives it a run for its money. 
In this article, we will dive into the basics needed for both the equipment and information side to begin your ice fishing career. Many people are under the impression that they need to spend an arm and leg to begin their journey, but that is simply not the case anymore.
Why Is Ice Fishing Popular?
Ice fishing is a fun sport, with many anglers finding the ice as their retreat from the summer trout and bass fishing. It also has become a social event, and many go as friends in a group or family members, making it the equivalent of a "fishing" super bowl party!
Until the last few years, the cost and lack of ice fishing gear have prevented people from trying it. However, with the amount of information available online, many companies now manufacturing ice fishing equipment, and many ice fishing vacations available, its popularity has skyrocketed. 
Heated and permanent houses have been replaced by incredibly warm clothing and portable houses.  Expensive rods and reels have had their prices lowered due to competition, and "secret" family honey holes have been made available by the vast amounts of information on local lakes and regions provided by local DNRs and fishery management groups. 
Ice Fishing Gear Essentials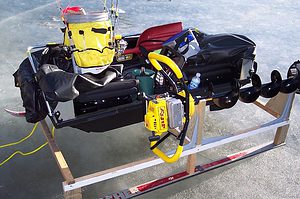 The key gear for starting ice fishing is very different from other types of fishing. Here are ten essential items of gear you will need.
Proper Clothing
Ice Fishing Rod and Reel
Best Ice Fishing Line
Tacklebox
Ice Flasher
Ice Shelter
Ice Auger
Ice Sled
Ice Fishing Chair
Ice Fishing Bucket
Proper Ice Fishing Clothing
Staying warm is the biggest factor in truly enjoying ice fishing.  If you or your family are cold, it takes a lot of fun out of the day.  However, one of the many false thoughts people have when wanting to begin ice fishing is that "I need to have an enclosed/heated shelter to not be cold".  While this is a nice option, it is not a necessity to enjoy and be successful. 
However, having a good set of pants, a waterproof jacket, a hat, socks, boots, and gloves is all you truly need to begin.  There are many affordable options; check out my article on the Best Cold Weather Fishing Gear that covers everything you need at affordable pricing. Buying decent clothes is far cheaper than purchasing a large shelter or ice house. Yes, you may not be able to fish on some of the coldest days without a shelter, but there are many days during the winter that are pleasant enough if dressed properly. 
The great thing about buying winter clothes is that it's not just dedicated to fishing use; in my in-depth article, I have selected my personal choices, which, where possible, can be used for any outdoor winter activities.
Ice Fishing Rod and Reel
The next vital piece of equipment to begin your ice fishing journey is a rod and a reel.  Once your spot is picked out and your hole is drilled, it's time to begin fishing. 
There are hundreds and rods and reels to choose from, and this decision can seem overwhelming.  However, many of the rods and reels operate the same way.  You do not have to spend a fortune finding the perfect option. 
The easiest way to decide on your rod and reel is to figure out which fish species you'll be chasing.  Most ice anglers focus on panfish (sunfish and crappies), perch, and walleye, while there are others who focus mainly on trout and larger predator fish like muskies and northern pike. Researching which species are prevalent in the lakes and reservoirs in your area is an easy way to narrow down your search.
Thankfully, the rods and reels used to catch panfish are oftentimes the same ones used to catch perch and walleye. If you are not planning on going after more specialized species, the choice becomes fairly easy; the Shakespeare Fuel Ice Fishing Reel & Rod Combo (a mid-weight rod with a fast action) is the perfect choice for an ice fishing beginner. 
Ice fishing rods and reels like this make for a full rod bend on even the smallest fish and lead to laughs and smiles all around!
Best Ice Fishing Line
Most experts simply cannot agree on what is the best ice fishing line. Monofilament, braid, and fluorocarbon all have advantages and disadvantages. All things equal, for beginners, it really is not that important. Once you get more experienced and start thinking about those trophy ice fish, I recommend choosing the best quality monofilament you can afford. The Berkley Trilene Micro Ice Monofilament Ice Fishing Line is a great choice. So fill your reel spool with some ice-free line, and you're ready to go!
Ice Tacklebox
It can feel a bit overwhelming when first diving into finding the correct ice fishing tackle.  Store shelves are packed with hundreds and hundreds of lures and bobbers, which can make even the most knowledgeable ice angler feel a bit overwhelmed. 
However, the process is very similar to selecting your rod and reel.  The main question that needs to be asked is, what species are you fishing for?  Once that is decided upon, you can narrow the selection down and find the correct choice for what you're chasing.
In just starting out, when chasing panfish and perch, the simplest method is using live or artificial wax worms on the end of a jig kit such as the Eagle Claw Glow Ice.  These jigs are also an effective way to catch walleyes as well. If you want to chase after larger walleye and northern pike, then I recommend going for the Clam Scepter bomb spoon.
For a great all-around ice fishing spoon, then take a look at the Lindy Rattl'N Flyer Jigging Spoon. Its lifelike built-in minnow head makes it one of my personal favorites.  You can get more specialized as you learn what works best in your areas, but these fantastic beginner options will work in most scenarios.
Fish Finder / Ice Flasher  
Another common misconception about getting into ice fishing is the need for a flasher.  Flashers, in their most simple terms, are instruments used to "see" what is below the ice.  It uses sonar to map out the bottom of the lake and "mark" the bottom and fish and other objects (like your lure) suspended throughout the water column.
 While a tool like this does make finding structure and cover on the bottom of the lake (and, in turn, fish) easier, it is definitely not necessary for success.
The old-fashioned way of drilling holes and dropping lines searching for fish is still a tried and true method.  It does require drilling quite a few holes, but the search is one of the reasons that makes catching fish through the ice so exciting and, at the same time, rewarding.
If you are inclined and feel as though a flasher is necessary for your particular area, you do not have to spend crazy amounts of money to do so.  As ice fishing has become more popular, multiple companies have joined in the flasher game and made them quite a bit more affordable. 
One of the best brands is Garmin which has the very popular Echomap UHD 63cv Ice Fishing Bundle, which includes Echomap software for data collection.
However, I own the Deeper PRO+ 2 Sonar Fish Finder, a more affordable option for carp fishing. It is also perfect for use from your kayak or boat during non-ice fishing times. Once you are ready for more advanced ice fishing techniques, check it out!
Ice Fishing Shelter – Optional For Beginners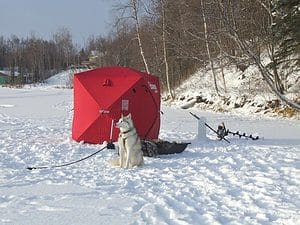 If you are someone who would rather fish out of a shelter, there are portable ones, such as the Eskimo QuickFish Series Pop-Up Portable Ice Fishing Shelter, that are extremely cost-effective.  Again, these are not 100% necessary when you start ice fishing but are a good option for being able to fish on even the coldest of days and not break the bank on the fully heated, permanent fish houses. 
Make sure you check that your choice is insulated, as some manufacturers have insulated and non-insulated options.
If you're new to ice fishing, I recommend renting a shanty/shelter before buying.
These popular fishing locations supply rental houses with pre-drilled holes, heaters, and many other amenities ideal for ice fishing beginners. Once you're seriously hooked, then go out and buy. It's not even necessary to buy a new shelter, and there are many options for second-hand ice fishing shelters for sale at reasonable prices.
Ice Auger – Can Be Shared
Besides being warm and comfortable, the next piece needed for a successful day is an auger.  Augers are the tool used to drill through the ice and begin fishing.
There are multiple different types of augers, from battery options and propane and gas-powered to the most affordable basic hand-cranked ones. All of them are effective, work well, and will drill holes in the ice from 6 inches up to 10 inches.
The main factor in considering which type to buy is how cold your area is. The colder areas tend to have thicker ice, making the hand crank augers only usable in the early season, whereas the mild climates are perfect for hand augers all season.  Doing some research online about ice thickness in your general area is a good practice before purchasing your auger. 
Ice Fishing Sled – Optional For Beginners
Sleds are the simplest piece of equipment for ice fishing.  While not absolutely necessary, they are an extremely affordable item that will make your day on the ice much easier and more pleasant. 
While minimal gear is needed to start, carrying everything across a slippery or snow-covered lake is a great way to exhaust yourself before even starting. A basic sled such as the Shappell Jet Ice Fishing Sled is an excellent affordable, and simple way to transport gear, clothing, food, fish, and anything else you bring for a day on the ice from one spot to another with ease.
Once you get into ice fishing, it's something most ice anglers rarely leave home without. 
Ice Fishing Chair
While you are out on the ice fishing, you will need something comfortable to sit on for a few hours. Some chairs are just too big to fit in a shelter, or they are just too expensive. My choice for the beginner ice fisherman is the Eskimo 69813 Folding Ice Fishing Chair. 
It is a practical yet affordable option that is lightweight but very durable. Remember that moving around will keep you warm, so sitting for hours may make you feel cold.
Ice Fishing Bucket
Hopefully, you are going to catch some icefish! So you will need a bucket to retain your fish in. My top recommendation for an ice fishing bucket is the Frabill Sit-N-Fish. It has a 10-quart insulated liner that protects your bait and your fish.
The great thing about this bucket is that it doubles up as a seat option. Its padded cushioned lid does a good job for those that don't want to carry too much gear around or feel a chair isn't necessary.
Ice Fishing Tips And Techniques
Now we have covered all the necessary ice fishing gear. So let's deep dive into the part of actually catching ice fish!………and, of course, the safety aspects when you are on the ice.
Types of Fish
Best Bait  
Ice Safety
Best Places to Ice Fish
Ultimate Ice Fishing Destinations
Types Of Fish You Catch When Ice Fishing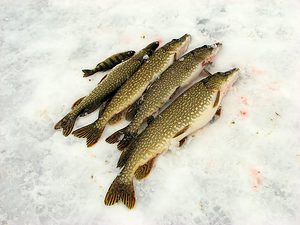 There are many types of fish to catch when ice fishing. The most popular are the following:
Sunfish group, which includes different types of crappies, bluegill, black bass, etc.
Perch species, including the yellow perch and the walleye. 
Large predators such as the northern pike, pickerel, and musky. 
Trout, such as rainbows, browns, cutthroats, and brookies. 
As with fishing outside of the ice fishing season, certain lakes hold different types of fish. Make sure you do your research if you plan to target a specific species of fish. The best starting point for this is to check your state's department of natural resources (DNR) fishing information website. Also, ensure you have a valid fishing license for the state where you plan to go ice fishing!
Best Bait For Ice Fishing
I almost always choose to use live bait while on the ice. My first bait on the hook will be maggots. One, two, or a bunch will work for different fish, so always experiment.
The benefits of using artificial plastic baits are that they are easy to store, and I don't have to worry about them freezing. The Berkley Gulp! Maggot is a good compromise; with multiple colors, you can give more options if the fish are being picky.
Another great natural bait to catch ice fish is the minnow. The golden or common Shiner is my personal favorite ice-fishing minnow. I will use them preferably live, but a dead shiner can also catch bass and other species. Shiners around 3" long are perfect for walleye on tip-ups. These minnows are cheap and will last a day on the ice.
Lastly, I always take nightcrawlers with me on every ice fishing trip. Worms can catch any fish; their versatility alone makes them one of the best natural baits for ice fish. Perch loves worms, and yellow perch is one of my favorite fish to catch when I'm on the ice!
Ice Safety  
Now that we've discussed ice fishing basics on the equipment side, we need to discuss the basics on the information side, starting with ice safety.  A good rule of thumb is that ice is never 100% safe.  It is always moving, cracking, and adjusting to fluctuating temperatures throughout the winter.  Knowing this allows you to respect the danger and never take unnecessary chances.  No life is worth a fish, so if it seems unsafe and you are not sure, don't fish! It's better to be safe than sorry.  
As a best practice, before you begin your ice fishing adventure, familiarize yourself with this ice thickness chart, but always remember never to walk on the ice unless there are at least 4 inches of ice present.  Drilling several holes on your way out to your preferred fishing spot is a great way to continuously check ice depth.
Checking the color of the ice visually is also good practice; dark black ice and light grey colors indicate the ice has recently melted and possibly weakened.
Lastly, I discourage anyone from ice fishing alone. It is not as much fun and can be dangerous!
Where to Go Ice Fishing?
Selecting where to ice fish is actually one of the easier things to do, as most ice-covered lakes hold panfish at the very least.  With this in mind, it can be as simple as going to a frozen lake, drilling a few holes, and dropping down a line.
Another easy way to select a lake and find fish is to drive around your local area and look for lakes with multiple ice shelters and fishermen. The reason is that those ice fishermen are more than likely catching fish.  This may seem simple, but it is a great way to eliminate wasting time on lakes that may not have as many fish, especially if you are unfamiliar with the area or lake.
Another great option is to research your local DNR's website.  Many of them have lake depth charts which allow you to search multiple lakes and find drop-offs and other areas of the structures that can hold fish.  
Best Ice Fishing Destinations
As you get more comfortable as an ice angler, it is only natural to think about the ultimate ice fishing trips.  Whether going solo, with friends or bringing the whole family, planning a large-scale ice fishing adventure is an absolute blast.
You can get as detailed as you want, from planning trips targeting certain species to trying your hand at some of the best areas in the world.  Whatever direction you decide to pursue, why not check out my in-depth guide on the Best Ice Fishing Locations in North America and Canada.
In my opinion, and just to spark a little excitement here, some of the best and most popular areas to ice fish are:
Lake Michigan in Michigan 
Devil's Lake in North Dakota 
Brainerd Lakes Area in Northern Minnesota
Lake of the Woods (Minnesota, Ontario, and Manitoba) 
Red Lake in Minnesota
Ice Fishing – Frequently Asked Questions
What Is the Trick to Ice Fishing?
While there isn't one trick that works for all types of ice fishing, the best thing you can do is use flashy lures. Flashy lures are guaranteed to put you on fish. They love them and are more eager to strike something with quite a bit of color. Since everything under the ice is generally an earth tone, anything that stands out is too much for them to resist. 
How Do You Start Ice Fishing? 
The main things you'll need to get started in ice fishing are an auger and a rod and reel. Yes, a fish finder and ice house would be nice, but these aren't absolutely necessary.
You're good to go if you can get through the ice and get a line in the water. From here, you can experiment and determine the methods that best fit the style of ice fishing you're trying to do. It's not a one size fits all sport! Each angler has their preferences as to what they want. 
What Bait Is Best For Ice Fishing?
When you're ice fishing, jigs and live bait are best. Live bait can include wax worms as well as minnows! These two primary baits continually work regardless of where and how you're fishing. Attach one of these to a jig and bounce it near the bottom. The scent and flashy colors of the jig are enough to entice the fish. 
A spoon or rattle bait will work if you don't want to use live bait. These are able to make enough noise to bring fish from nearby to come and take a look. Odds are, they're going to strike it. 
What Depth of Water Should I Ice Fish in?
Fish are known to live in all levels of the water column. Depending on the type of fish you're targeting, you can succeed anywhere from 3 to 20 feet of water! Ensure the fishing area has plenty of cover and areas for the fish to hide. This is their main concern. 
What is the Best Time of Day to Go Ice Fishing? 
Choosing the best time of day to go ice fishing isn't overly complicated. The first few hours after the sun rises and the first few hours after the sun sets are almost always the best times to go ice fishing. Fish follow these feeding times all throughout the year, regardless of the weather and conditions. 
I strongly recommend not going ice fishing at night, even if you are an experienced ice angler.
What Is The Best Month To Go Ice Fishing?
March is the best month of the year for most ice-fishing locations. But January and February will yield good results and are very popular months. Earlier than December and later than March are possible, but ice thickness and instability can be a problem in certain states.
What Is The Best Temperature For Ice Fishing?
Without a doubt, the best temperature for ice fishing is between 28 and 35 degrees F (-2 and +2 degrees C). The water in your ice hole will start to freeze over at 20 degrees F, making it difficult to fish. Temperatures above 2 degrees C will start to see the ice gradually melt.
Take a suitable digital thermometer with you to keep a watch for any ice temperature changes hourly. The KIZEN Infrared Thermometer Gun (LaserPro LP300) is a perfect non-contact option, as you can use it without taking your gloves off. 
What Is The Best Ice Thickness For Fishing On Ice?
You should be searching for ice around 4" thick; this gives the best safety protection from falling through the ice and is easy for cutting, dropping your rig into, and lifting out your fish.
Icing Over
Ice fishing has been one of the fastest-growing activities in the last few years, mainly thanks to the variety of information available to all who want to learn. Many of the misconceptions about cost, difficulty, and equipment required have been corrected due to blogs like this and more manufacturers entering the ice fishing world.
I hope this article was informative and gave you a great start in your ice fishing journey, and the best part is that it is never too late to learn.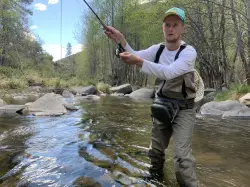 Latest posts by Daniel Mooers
(see all)