Disclosure: Some posts contain affiliate links, which earn us a commission if you make a purchase through them. Positive Fishing © participates in various affiliate networks including the Amazon Services LLC Associates Program.



Ventures Fly Co Fly Fishing Starter Packs Review: A Quality Beginners Kit
Our Verdict
The Ventures Fly Fishing Co. Starter pack Kits are a quality offering for all beginner fly fishermen. The packs offer everything from a rod and reel and also all the must-have accessories and guides that you need to start fly fishing.
The Good
Quality - Well known brand names for the rod and reel
Excellent Value For Money - Good product quality for almost all items in the pack
Practical Use - Everything is in the pack ready to go fly fishing
Longevity - Will last for several fishing season
The Not So Good
The additional cost for the Warrior Pack is a little more than expected
Depending on the type of angler you are, even the mention of ordering flies online makes you sick to your stomach. Most of us prefer to purchase from local vendors or likely even tie our own.
Ventures Fly Co., an online fly fishing retailer, puts together all sorts of premium hand-tied fly kits for anglers to purchase on a variety of websites. They even offer anglers two entire starter kit options! 
In this article, I will review these starter kits in detail, and see if they give you everything you could possibly need to begin your fishing excursion. 
In this article, I will cover: 
What Comes in the Toe Dipper Starter Pack

Rod – The Vesper Flyfinger
Reel – The VFC Ascent
The Flies
Fly Fishing Accessories
Starter Fly Fishing Guide
The Weekend Warrior Starter Pack – Alternative Option
A Quality Beginners Fly Fishing Gift
What Is Inside The Ventures Fly Co. Toe Dipper Starter Pack?
Putting together an entire starter kit is a bold task for a fly fishing company. They're risking quite a bit of their reputation on one package. If anglers purchase the kit and identify a few things they don't like, their reputation as a business can drop.
The beauty of this starter package for fly fishing is that it is designed by anglers for anglers. It has a perfect selection of 23 quality products including a rod, reel, line, flies, leader, tippet, forceps, nipper, floatant, and a net for any fly fishing beginner.
Ventures clearly trust and believe in their product if they're willing to put all of this effort into them. 
The Rod – Vesper Fly Flinger 
The rod you receive is a 5-weight. Ventures were thinking ahead with this decision! A 5-weight rod is usually the most versatile of all rod options. You can take it to larger and smaller water and it'll do just fine. It's 9 feet long so you can high-stick nymphs, cast dry flies, and launch streamers to wherever you would need them. The rod itself is the Fly Flinger model from Vespers. 
This rod is good for a beginner and can last anglers well into their intermediate stage of fly fishing. Plus, it's a 4-piece rod, making it great for traveling! 
The rod is a fast-action rod, so keep that in mind. It can be a bit of a challenge to learn while using a fast-action rod, but it's possible. Plus, if you start using a fast-action rod, all the other rods you use in your life will be fairly easy. You can get a nice amount of power and finesse with the rod. 
A nice bonus that Vesper offers is two-rod tips. Many anglers have horror stories of slamming their rod in a car door or breaking it on a rock or tree in transport. Ventures thought of this and sent along a second tip in case something goes wrong. 
The best thing about this rod is that Vesper protects it with a no-fault lifetime warranty. This is proof alone that they're willing to stand behind the products they make. Many small companies choose to not do this out of fear that they'll have to replace too many things due to poor quality. 
The Reel – VFC Ascent
The reel you receive is a 5-weight reel that's already paired with a 5-weight line and the necessary backing. It's a CNC engraved reel made with aluminum. These are commonly the features of a high-performance reel.
It's a large arbor and would pair with any 5 or 6-weight rod that you would use. As soon as you open the case, it's ready to be fished! It also looks great. It's definitely a unique design with a nice drag system. 
What Flies Are Supplied In The Package?
Ventures also send as part of the pack their essential collection of flies. This is a set of 40 hand-tied flies. Within the 40 are 15 popular patterns that every angler would likely use. The flies come in tins, but you also will receive a fly box to place all of the patterns in once you're ready to hit the water. 
Along with the flies comes a bug reference card. This card is super helpful! It has instructions on how to use the flies and what insects or prey they're supposed to represent. There's nothing more intimidating to a beginner angler than not understanding what flies need to be used and when. This card provides simple instructions that can easily be studied before you hit the water. 
The option to purchase a ready-made set of flies from an online retailer can make life far easier. If you're new to the sport, this is great to get yourself started until you maybe learn to tie your own or understand what types of flies you're going to need.  
Fly Fishing Accessories
You'll also get a variety of accessories with the Ventures complete starter package. First, you'll find three 3-packs of leaders. All of the leaders are 9 feet long. One set is 3x, one is 4x, and one is 5x. Essentially, they're providing you with leaders that you can fish with streamers, nymphs, and dry flies! 
Next, you'll find 3 different sets of tippets. You'll have 4x, 5x, and 6x tippet options. These are all great if you are throwing nymphs or dries! Additionally, you get a tippet holder that will keep them organized.
Along with the leader and tippet, you'll receive forceps and nippers! These are great for unhooking fish and snipping any extra leader or tippet that's hanging on the edge of your knots. There's a retractor to which you can attach both of these tools also, so you don't lose them. 
One of the best things you receive in the accessories box is the floatant. Floatant is necessary if you're fishing with dry flies. You want your flies to sit high on the water, and the more they get wet, the more they drop. Floatant is going to protect them and keep them visible to the fish. 
The final couple of accessories you get are strike indicators and split shots. These are both nice if you're fishing with nymphs! The strike indicators can act as bobbers and the split shots will get your flies lower in the water column. 
Starter Fly Fishing Guide 
One other nice feature of this package is the starter fly fishing guide. In the guide, you'll find a rigs and knots section that shows you how to get everything set up for your time on the water. Knots can be complicated to tie, but the guide gives you nice instructions. 
There's also a section within the guide that talks about matching the hatch. This is the best part of this fly fishing guide! It's definitely a complicated process to learn how to match the hatch. You can rely on this guide well after you get comfortable on the water. It'll tell you what flies to use when to use them and all the different details that you would need. 
The final section of this guide is presentation strategies! They'll provide you with different scenarios you may find on the water and walk you through how to fish them. With the videos and pictures, you'll be in great shape by the time you hit the water! Plus, it's all digital, so if you run into a confusing situation on the water, you can check it and work through any questions you may have. 
The online video consists of the following topics:
Rigs & Knots
Dry Fly 101
Nymphing 101
Streamer 101
Casting
Fly Selection
Presentation Strategies
Water Types & Tactics
Striking, Playing, Landing
The Weekend Warrior Starter Pack – Alternative Option
The above package that I have reviewed is known as the Toe Dipper starter kit. Ventures Fly Co also has an alternative pack called the Weekend Warrior Pack.
The weekend warrior pack includes all the items listed above but also has the following three items added at an additional price of around US$100. 
Landing Net – A soft rubber webbing wooded net for catch and release
Net Release – A durable magnetic release holder for attaching to your back
Sling Pack – A lightweight, durable, and comfortable storage backpack
A Quality Beginners Fly Fishing Gift
Quite simply this is good enough to buy for the fisherman's perfect birthday present or Christmas gift. For the young or old, this beginner's outfit is a seriously great gift. Everything is in one package and is of good quality and will last for many years. 
Ventures Fly Co. is based out of Cedar Hills, Utah. Therefore, warranty and after-sales service can be contacted easily.
Overall Thoughts 
Not many companies offer a complete starter fly fishing pack. Sure, some have rod and reel fly fishing packages, but the opportunity to have every single item that you would need for your time on the water is super helpful. You have everything covered from accessories to a decent rod and reel. 
The best part of the pack is that all the gear included is actually good quality. They aren't cheap items that will fall apart after a few times that you use them. Ventures fly company has been able to find itself in a unique position in the fly fishing market that has yet to be tapped.
I hope that this review gave you all the information needed to go out and buy this magnificent value-for-money option.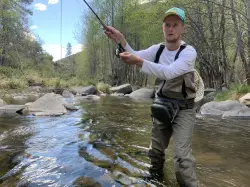 Latest posts by Daniel Mooers
(see all)