Disclosure: Some posts contain affiliate links, which earn us a commission if you make a purchase through them. Positive Fishing © participates in various affiliate networks including the Amazon Services LLC Associates Program.


Costa Rica has an abundance of saltwater fishing available
Learn about where, when, and how to catch the top fish
Learn how to book the best fishing charters and the license regulations for fishing
Costa Rica is one of those Central American countries that is blessed with two coastlines between the Pacific and the Caribbean sides of Costa Rica. There aren't many saltwater fish species you can't go fishing for! 
With so much coastline on offer and such a big difference in the species available on each, knowing where to start when it comes to fishing in Costa Rica can be a little overwhelming. However, with a little guidance and insider knowledge, you'll be able to choose the best spot for your fishing adventure in this amazing country. 
In this article, we are going to cover everything you need to know about fishing in Costa Rica including the top fish species you can catch there, where, when, and how to catch them, plus who to go book with. 
What Are The Top Fish To Catch In Costa Rica? 
The saltwater fishing in Costa Rica is quite incredible and it's known to have some of the best offshore fishing in the world but it's also got some amazing inshore fishing too. 
You'll be able to go after all the trophy fish that you might find in the Pacific and in the Caribbean on the same trip, which makes Costa Rica quite a unique fishing destination. 
To make things simpler I'm going to split the top fish to catch in Costa Rica between the two coastlines, as chances are you might only go to one when you visit. 
Best Fish To Catch On Costa Rica's Caribbean Side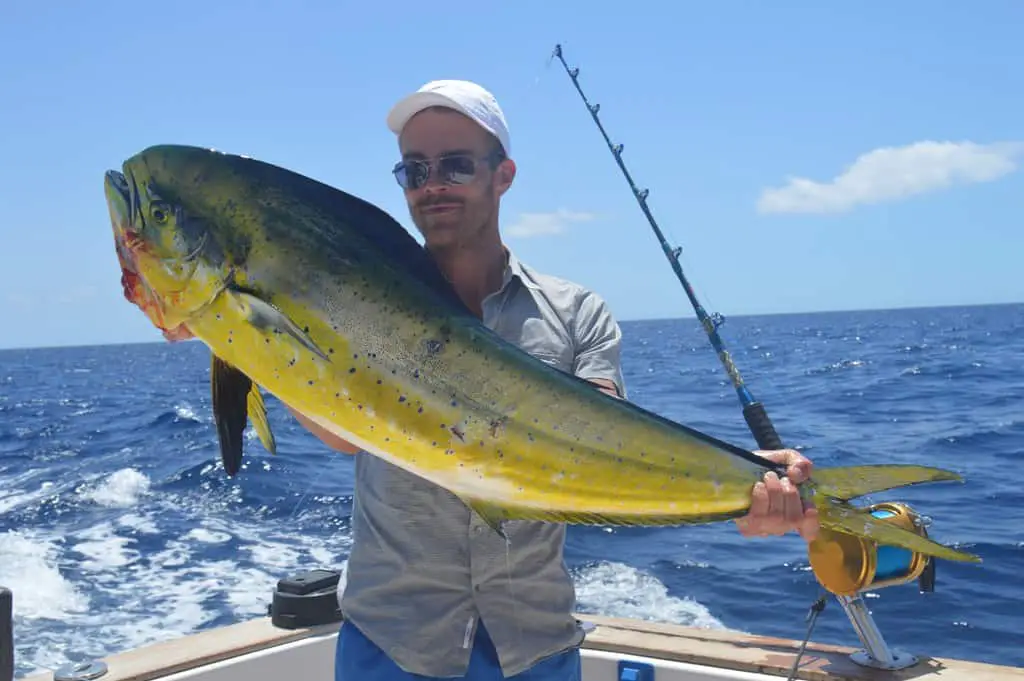 The Caribbean side of Costa Rica has fewer species to offer than the Pacific side but there are still pretty incredible fish to catch, here they are: 
Jack Crevalle
Snook
Tarpon
Dorado
Costa Rica's Caribbean coastline is most famous for its tarpon fishing and the size of the tarpon and the huge numbers make a day on the water action-packed and adrenaline-fuelled. 
Best Fish To Catch On Costa Rica's Pacific Side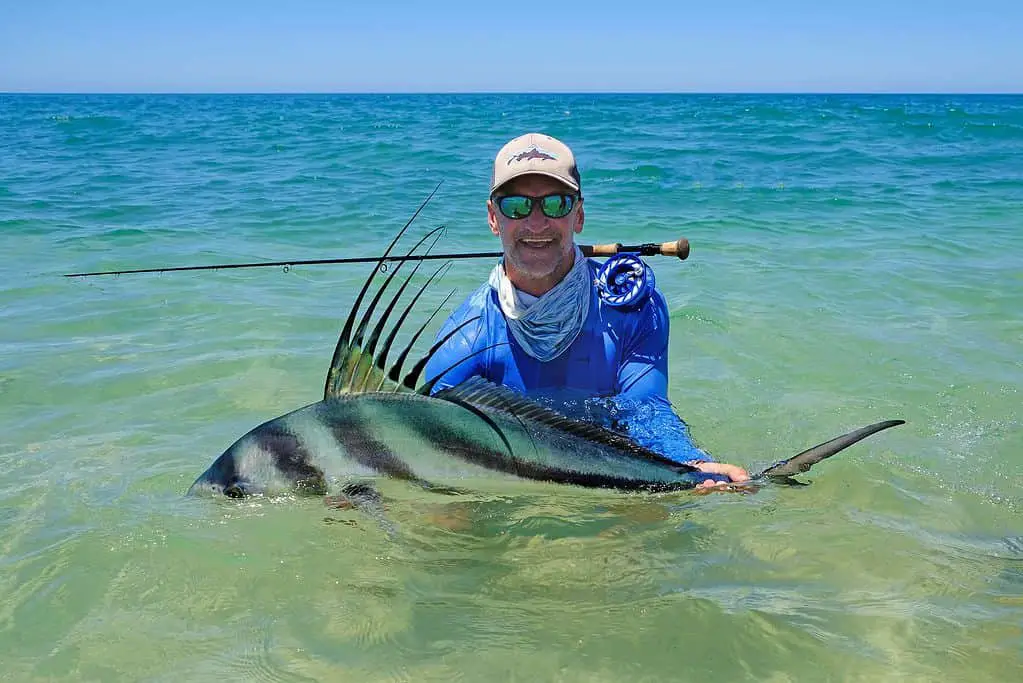 The Pacific coastline of Costa Rica is home to a very diverse list of incredible fish species that most anglers only dream of catching and these include: 
Blue Marlin
Black Marlin
Striped Marlin
Sailfish 
Dorado
Wahoo
Yellowfin Tuna 
Roosterfish 
Jacks 
As you can see, the best species to catch on the Pacific side is dominated by offshore giants like marlin. However, don't forget about the inshore fishing for roosterfish, as they are quite incredible predators and are a very special fish to catch. 
Tip: The Roosterfish has a unique "rooster comb", it has seven very long spines on the dorsal fin which makes it one of the easiest fish to identify. 
Where To Go Fishing In Costa Rica?
With such a large coastline, finding the right fishing spot in Costa Rica isn't so easy as with almost all fishing areas. There are hot spots that should be fished and dead zones that need to be avoided. 
Having fished in Costa Rica multiple times, I'm going to give you my ultimate line-up of where to go fishing in Costa Rica, and to make it simple, I'll split it between the coastlines again. 
Where To Go Fishing On Costa Rica's Caribbean Coastline? 
Tortuguero
Tortuguero sits on the northern tip of Costa Rica's Caribbean coastline and is slap bang in the middle of an estuary system and Tortuguero National Park. 
If you know anything about fishing for tarpon and snook, then you'll understand why Tortuguero is such a hotspot for them. Snook and tarpon love estuarine systems and tend to hang out around them and in Tortuguero, you'll find a lot of tarpon and snook, and big ones too. 
Tortuguero is also home to an amazing number of turtles, amazing beaches, and the diversity of wildlife in the national park is nothing short of mind-blowing. So, even though you'll spend your time fishing there, your days off will be quite incredible too. 
Manzanillo 
Manzanillo lies on the southern tip of Costa Rica's coastline just near the border with Panama. It's a lush tropical paradise where the jungle meets white sand beaches and the lush blue waters of the Caribbean. 
Swimming just offshore from the beach are some very large tarpon, snook, triggerfish, and dorado which can make for a day of super exciting and diverse fishing. 
The array of fishing environments in Manzanillo is awesome too. You can head into the deeper waters in search of tarpon and dorado, walk the reefs at low tide looking for triggerfish, or head into the lagoon to target snook and tarpon in a mangrove-lined estuary. 
Where To Go Fishing On Costa Rica's Pacific Coastline? 
While the entire Pacific coastline of Costa Rica is home to amazing fishing, it would require a book to write about all of them so I'm just going to focus on two of the best ones for you in this article, Los Suenos and Golfito. 
Los Suenos 
Los Suenos is famed as the offshore fishing capital of Costa Rica and for good reason. There isn't an offshore species in Costa Rica that you can't target and likely catch from the Los Suenos Marina and thus it's also home to some of the best offshore boats, skippers, and crews in the country. 
Whether you want to catch 20 sailfish in a day, target blue marlin on a fly rod, or just have some fun close to shore chains roosterfish and jack crevalle, Los Suenos has it all to offer. 
Another great thing about Los Suenos is its location, as it's just a 2-hour drive from San Jose, making it an easy transfer from the international airport. The facilities at Los Suenos are also world-class and you'll find everything from world-class restaurants to golf courses which you can enjoy while you're not fishing.
Golfito 
Golfito lies on the southern end of Costa Rica's Pacific coastline and it's quite a unique area as it's part of a large peninsula with a huge bay that offers some amazing inshore fishing for roosterfish, snapper, snook, and jack crevalle. 
It's not far from the offshore species either and within a short run out to sea, you'll find yourself in areas packed with dorado, yellowfin tuna, sailfish, and marlin. 
If you're looking for the best of both worlds then Golfito might be the best place to go fishing in Costa Rica for you. 
When To Go Fishing In Costa Rica? 
Most countries with such a large number of fish species worth catching usually have multiple different seasons of when it's best to be there to catch them. But, Costa Rica is a little different as their weather patterns mean that there is one time of year when you can catch them all. 
Between the months of December and April, Costa Rica has its warm and dry seasons on both coastlines, and this is when all the species are on offer at the same time. The tarpon fishing on the Caribbean side lights up from January to April and the offshore and inshore fishing goes off on the Pacific side from December to April. 
If you want to do something really specific such as target blue marlin on fly, which I highly recommend, then you'll want to be on the Pacific coast and in Los Suenos between June and August. During this time of year, the seamounts some 70 miles offshore are packed with smaller blue marlin that are perfect for catching on a fly rod. 
Best Methods To Catch Fish In Costa Rica 
When fishing in Costa Rica you can choose to target the inshore species with spinning rods or fly rods. When offshore fishing, trolling or teasing and switching to a fly is the way to do it. 
All the lodges and charter boats will have all the gear you need so there is no need to travel with your equipment if you don't want to. 
If you have never fly-fished for billfish, tarpon, or roosterfish, I highly recommend throwing a day of it into the mix while you're in Costa Rica. There is nothing like feeling a big fish eat the fly while you're holding the rod in your hand. 
How To Book A Fishing Trip To Costa Rica?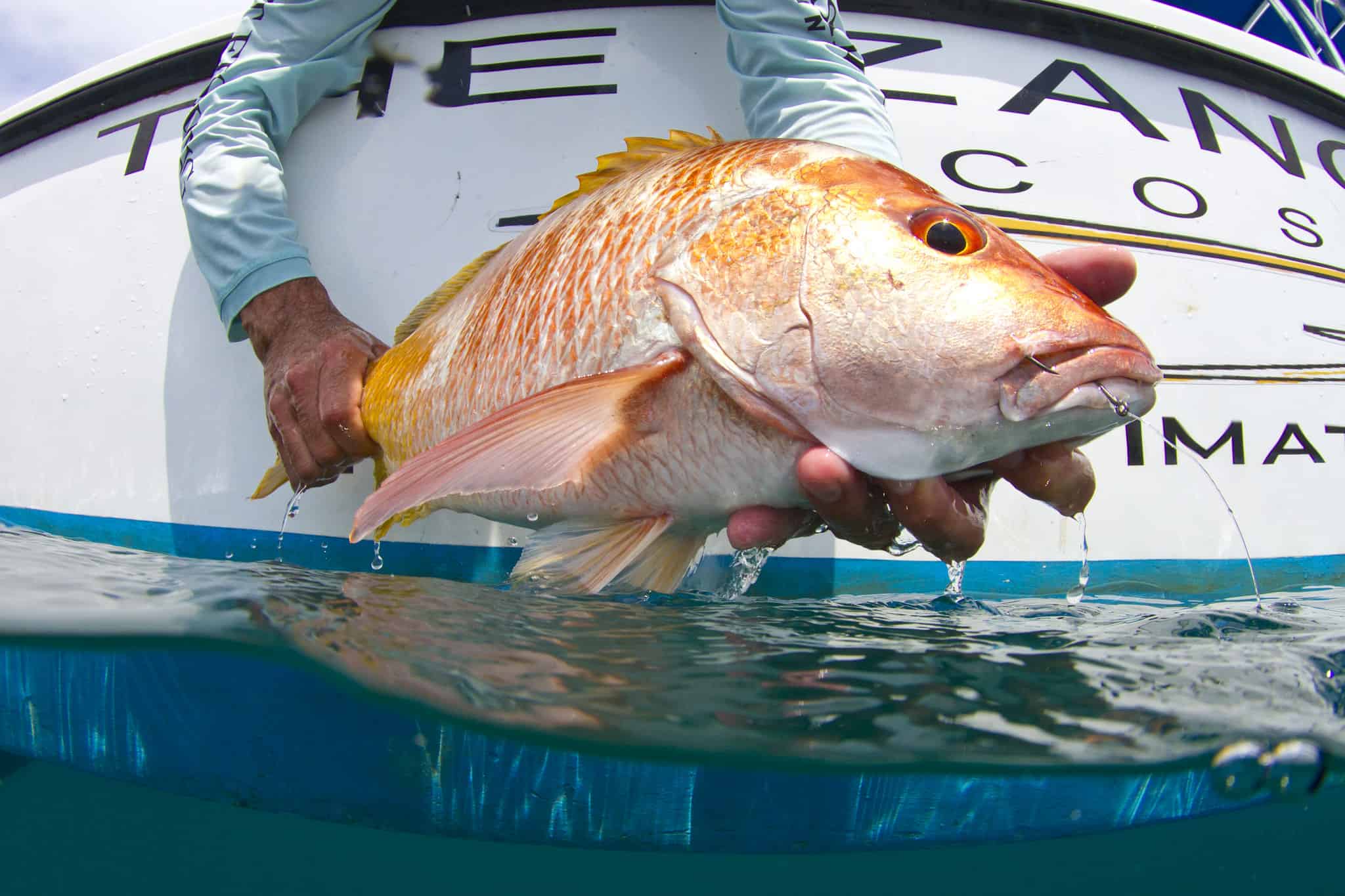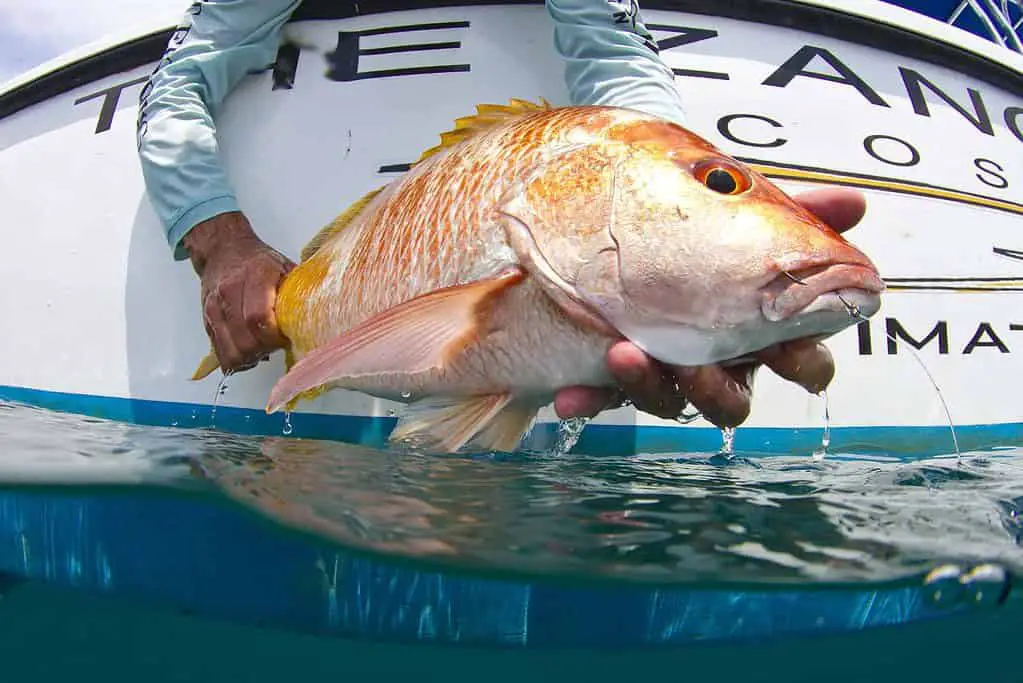 Booking your fishing trip to Costa Rica couldn't be easier. Just contact one of the lodges I have recommended in the links below. I personally highly recommend these few options which are based on the locations I mentioned earlier in this article.
Each link will take you to all the information needed for a great fishing charter in Costa Rica. 
If you want to head to the Caribbean side contact Tarponville Lodge for fishing out of Manzanillo or Jungle Tarpon for fishing out of Tortuguero, 
If the pacific side is more your vibe, then Zancudo Lodge is the best place to be around Golfito, and for Los Suenos, I personally recommend booking with Maverick Costa Rica who run and build some of the best charter boats in the marina. 
Costa Rica Fishing Regulations
Anyone fishing in the seas of Costa Rica must have a fishing license which can be easily obtained through the Costa Rica license Inccopesca website for a small fee. If you are booking with a lodge or charter boat, they will have organized this for you, but it's worth checking.  
Costa Rica takes protecting their environment very seriously (25% of the country is protected rainforest) so be sure to follow the rules while you're there. 
Winding Up 
Thanks so much for reading my article about fishing in Costa Rica. I hope it's inspired you to go fishing there and you now have all the details about when to go, and who to go with.
Costa Rica is an exciting location for fishing and the species you will catch will make it a wild fishy adventure! 
You can find more in-depth articles on fishing in many other countries around the world here!

Latest posts by Jamie Melvin
(see all)