Disclosure: Some posts contain affiliate links, which earn us a commission if you make a purchase through them. Positive Fishing © participates in various affiliate networks including the Amazon Services LLC Associates Program.


You might not have thought of going on a fishing trip to Italy. I never did. I always thought of Italy as a place for a romantic getaway to see the sights in Rome, hang out at Lake Como or enjoy the warm waters of the Mediterranean. 
Then one day, I stumbled upon a picture of a beautiful Italian trout river that I just had to fish and began planning a trip. As I delved deeper into my research, I suddenly discovered the amazing freshwater and saltwater fishing Italy has to offer.
It makes sense that Italy has some great fishing. The country stretches all the way from the Alps to pretty much the middle of the Mediterranean. The entire length of the country is covered with rivers and lakes! 
You're never far from water in Italy, and the diversity of fish species is phenomenal too. 
In this article, we're going to cover the following: 
How to plan an amazing fishing trip to Italy
Best species to catch in Italy
How, when, and where to catch them 
Top Fish To Catch In Italy 
There are so many great fish species to catch in Italy and to make it simpler, I have split them into two categories, freshwater and saltwater. 
Saltwater Species In Italy
Broadbill Swordfish 
Bluefin Tuna 
Dorado/Mahi Mahi 
Albacore 
Amberjack 
Spearfish 
Grouper 
Dentex
This is quite an impressive list of saltwater species as it includes two of the hardest fighting fish in the world, bluefin tuna and broadbill swordfish. If you have never felt the strength of these fish pulling on your lines, believe me, it's a fishing experience that is hard to beat. 
Freshwater Species In Italy 
Marble Trout 
Brown Trout 
Grayling 
Carp 
Pike 
Catfish 
The list of top freshwater fish to catch in Italy is pretty standard, but you must remember where you're catching them. The scenery around the rivers and lakes is second to none, as the alps or the stunning Tuscan hills surround you. 
Where To Go Fishing In Italy 
Fishing The Lakes and Rivers of Northern Italy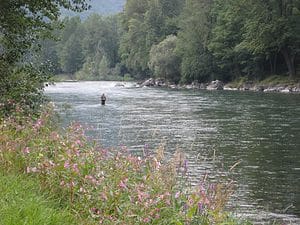 Just north of Milan is where you'll find a string of some of the most beautiful lakes in the world, including Lake Como, Lake ​​Garda, and Lake Maggiore. 
While these lakes are very popular with everyone from the rich and famous to your everyday tourist, they are also great for fishing. You can find trout, perch, pike, and zander in all of them, and if you head north and deeper into the Alps, you'll find even more lakes worth casting a line in. 
The rivers of northern Italy are just as, if not more, beautiful than the lakes as they tumble down the Alps into the regions of Turin and Milan. 
Po is Italy's largest river, and the upper reaches and tributaries provide some incredible fishing for both wels catfish and carp. The catfish in this river grow up to 150lbs, and you're fishing for them surrounded by the Alps; you couldn't find a more beautiful spot. 
If it's trout and grayling you're after, the rivers around the lakes are stocked full of them. Some great rivers to check out are the Ticino, Sarca, and, if you want to try out the best, the Adige and the Brenta, both of which played host to the World Fly Fishing Championships In 2018. 
Fishing The Seas and Rivers Of Central Italy  
You'll find some of the most beautiful trout rivers in Italy between the Tuscany and Campania regions. 
Rolling through the Tuscan hills and around vineyards are the Lima, Scoltenna, and Sieve rivers, all of which hold excellent numbers of grayling and brown trout. The Scoltenna is known to hold some of the biggest brown trout in the country and is probably the best trout river in all of Italy. 
Further south, near Naples, you'll find the Volturno River and the Sele, which offer excellent trout fishing. 
The seas between Tuscany and Naples also offer great fishing and are particularly good for broadbill swordfish, bluefin tuna, and grouper. 
Southern Fishing In Sicily & Sardinia  
The Italian islands of Sicily and Sardinia are some of the most beautiful places in Europe and have some of the best offshore fishing around the Mediterranean. Everything from giant bluefin tuna to swordfish, grouper, dentex, and mahi-mahi are found close to shore.
If that wasn't enough, you could enjoy going after smaller species, such as sea bass, sea bream, and albacore tuna. 
When To Go Fishing In Italy 
The best time to go fishing in Italy depends largely on which species of fish you want to catch. Unlike other fishing destinations, there isn't one time of year when every species is abundant. So you'll need to pick and choose a little to find the right timing. 
Freshwater Seasons 
If you're planning on going after trout and grayling, the season runs from March to October. You'll want to avoid the hotter months of July and August as trout and grayling don't like hot weather, and they will be much harder to catch. The best time for trout and grayling fishing in Italy will be in April, May, September, and October. 
The fishing season for pike, catfish, and carp is year-round. However, the bites drop off during the summer for pike. Carp and catfish are much tougher to catch during the colder months of winter. The best options for freshwater fishing are the months of April to June and September to November. 
Saltwater Seasons 
Regarding the saltwater species in Italy, you have two seasons to choose from, May to October or November to March. 
Between May and October, you'll have a good chance of catching bluefin tuna, mahi-mahi, albacore, spearfish, grouper, and dentex. There are some amberjack and broadbill swordfish around this time of year, but their numbers go up dramatically over the winter between November and March. 
Best Ways Of Catching Fish In Italy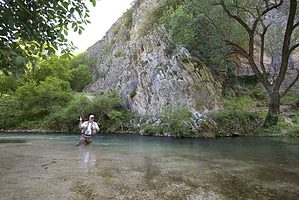 Fly Fishing 
If you're looking to catch trout and grayling in the beautiful rivers of Tuscany and in the Alps, your best bet is with a fly rod, plus some of the rivers are fly fishing only. 
You'll want a 3-5 weight fly rod to be fishing nymphs most of the time and switch to dry flies if you see fish rising on the surface. 
Spinning  
Using a spinning rod with bait is the most productive method when going after pike, catfish, and carp. Pike and catfish are aggressive predators, and drifting a dead bait is almost guaranteed to get you a bite. 
You can also fish lures for pike, which is a lot more fun as it's active fishing. I often get bored waiting for a bite on dead bait, and it's much more fun casting a big Rapala lure with the anticipation of a hit on every retrieve. 
Trolling & Bottom Fishing 
If you're going sea fishing in Italy, you will be trolling baits for bluefin tuna, mahi-mahi, albacore, or spearfish. Alternatively, go for grouper, dentex, amberjack, and swordfish for bottom fishing. You can also troll fish for swordfish at night, as this is when they come to the surface to feed. 
When sea fishing in Italy, you'll be on a charter boat, and the captain will most likely make the calls on the techniques you should use throughout the day. 
How To Book Your Fishing Trip To Italy 
Booking your fishing trip to Italy couldn't be easier as there is just one place you need to look, Italian Fishing Guides. Italian Fishing Guides is a collective of the best fishing guides in Italy, covering the entire mainland and the islands. 
By booking with them, you're guaranteed to fish with some of the best local guides in each region. They will organize everything for you, including equipment, accommodation, licenses, transfers, and food. You can bring your own bait if you want; the best fresh saltwater baits in the Mediterranean sea are easily available from any fishmonger.
You can also plan a bespoke trip with them and hit every part of Italy you want, from the north to Tuscany, Sardinia, and Sicily. 
If you are targeting Scilly for your fishing trip, check out Sicily Fishing. They are specialists in the area for shore fishing, Camping fishing trips, and boat fishing trips, and also you can make your own tailor-made trips. 
If you are looking for a great fly fishing vacation, you can go to Trentino, where the World fly fishing championships were held. Check out the official visit Trentino site for more on where to fish and how to book your trip.
Fishing Regulations In Italy 
Italian fishing regulations allow anyone to fish unlicensed on the sea, but you must have a fishing license to fish on the lakes and rivers. Each region sets its rules and regulations, so you will need a license for every region of Italy you want to fish in. 
You can learn more by going to the Angloinfo site to understand the most recent information on Italian fishing license and permit requirements.
Getting a fishing license is another story and is particularly hard if you're not Italian. You'll need to go to the fishing and hunting department of the provincial administration office with two passport photos, a ​​completed application form, and a Marca da bollo (tax stamp, available from tobacconists) to pay the fees.
If you have booked a fishing trip with a guide, which is highly recommended, they will sort this all out for you. 
Casting Out  
Thanks for reading my article about fishing in Italy; I hope you enjoyed it and are ready to gather up a bunch of your fishing buddies and cast a line into some Italian waters.
A trip to Italy is always a great one, in my experience, and now you can throw in some fishing too.
I hope this article helped you plan your fishing trip to Italy; you can find more great fishing vacation locations around the world here!

Latest posts by Jamie Melvin
(see all)