Disclosure: Some posts contain affiliate links, which earn us a commission if you make a purchase through them. Positive Fishing © participates in various affiliate networks including the Amazon Services LLC Associates Program.


Fishing in France is hugely popular, with over a million people buying fishing permits yearly. Therefore, and as you can probably imagine, there is some great fishing to be found in this beautiful country, and there is a wide range of species on offer too. 
Being probably most famous for its carp fishing with some of the best carp lakes in the world, there is a lot more to it than carp, which I hope to showcase to you below. 
Having travelled each year to France and spending a lot of time throughout the key fishing areas for multiple species, I will have divulged most of my secrets by the end of the article. 
We'll discuss all the freshwater fish to target in France
Where to find them and, importantly, how to catch them!
Who to book your trip with, and the fishing regulations 
Top Fish To Catch In France  
The fishing in France ranges from the wild mountain streams of the Alps to large slow-running rivers and manicured lakes full of trophy-sized specimens we have all dreamed of catching. This range of habitats gives rise to quite a diverse pot of fish to catch, all of which you'll find below. 
Carp 
Brown Trout 
Grayling 
Pike 
Sturgeon 
Black bass 
The carp in France are enormous, generally far bigger than in the UK. If you know where to fish, an average-sized carp would be in the 30-40lb region, with record catches pushing as high as 70 to 80 lbs. That's some big carp and why people travel worldwide to fish there. 
In fact, many of you reading this article are probably planning trips to go after these specimen carp, especially those anglers from the UK. Once departing the cross-channel ferry, within just a two-hour drive from Calais, there are dozens of awesome venues for carp.
You might be surprised to see sturgeon and bass on the list. Sturgeon are one of the largest freshwater fish on the planet, and the bass is one of the most aggressive, so I'd highly recommend spending a day or two in pursuit of them. 
Where To Go Fishing In France 
Before we get into the location of the best fishing spots in France, let me say that no matter where you go, you'll be fishing in a beautiful place. Whether it's a forest-covered stream or a countryside lake, the landscapes around you are stunning. 
Carp Lakes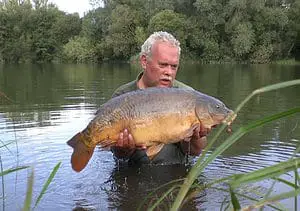 Renowned as possibly the best carp lake in France, Boux is a 14-acre lake that consistently delivers carp in the 40 to 50 lbs range and has a lake record of over 65 lbs. The lake has been going since the 1980s and only seems to improve yearly. They only allow five anglers to fish the lake at a time, so make sure to book well in advance. 
Villefond is another sought-after carp lake, and it holds a lot of fish over 40 lbs and one specimen that has tipped the 80 lbs scale. The carp at Villefond take some convincing, so you better bring your A-game, and once hooked, they fight extremely hard. 
Laroussi is another carp angler's paradise, with almost every fish in the lake being at least 40 lbs and pushing way up to 70 lbs.  The lake is 14 acres and is surrounded by stunning French countryside. 
All the carp lakes I mentioned above are extremely difficult to book and have long waiting lists. They include bankside accommodation when fishing there, but more on how to book later. 
Bass & Sturgeon
Hunters Retreat is a 5-acre lake in the stunning Loire Valley of central France, and it's home to a wide range of carp species along with sturgeon, bass, and even a few small pike. It's the perfect place to go fishing if you want to target a large range of species all in one body of water. 
The lake is quite exclusive and can only be fished by three anglers at the same time. If you want to fish at Hunters Retreat, make sure to book way in advance. 
Trout, Grayling, & Bass 
The Dordogne region of south-central France is tucked between the Pyrenees and the Loire Valley. While the main river in the area is the Dordogne, the smaller tributaries and lakes surrounding it are well worth fly fishing in.
The best part of this picturesque region to fish from is around the upper sections of the Dordogne river between the towns of ​​Argentat and Beaulieu. Here you'll find a lot of streams that hold trophy-size trout and grayling that are perfect for targeting with a fly rod. 
The best tributaries to spend time on include the Doustre and the ​​Maronne, and you should also fish the Dordogne at Beaulieu. The rivers are super clear, and the fishing is fantastic when using both dry flies and nymphs. 
There are also a few ponds in the area with bass, and casting a popper fly into them and stripping it back makes for some great afternoon entertainment. 
Something to be aware of when fly fishing in France on rivers is to remember to fish the no-kill sections only. This is where the trout and grayling would have been left alone to grow to better sizes – more on regulations later. 
When To Go Fishing In France  
Almost every fishery I have mentioned above is closed during the winter to allow the fish to rest during the colder months. This is also when fish tend to be less active, and the chances of catching them plummet, so it's a win for everyone, anglers and fish. 
If you're looking to hit the French carp lakes, your ideal window will be from April to October when the private lakes are open for business. If you're after trout and grayling, the season opens in early March and closes in late September. 
I would highly recommend choosing the month of May, as this is when the fish are likely to be most active. The water will start to warm up, the aquatic life booming, and the fish will be hungry, putting on the weight they lost over winter. 
May is also when you should see a good mayfly hatch on the trout and grayling rivers making for some amazing dry fly fishing.
The only downside to these periods is that fishing can get busier than normal.
Best Ways Of Catching Fish In France 
Three main styles of fishing work best, depending on what species you're trying to catch and your preferred methods. 
If you're a fly fisherman, you can target almost every species on the list, bar sturgeon. But I'd recommend sticking to fishing with nymphs and dry flies for the grayling and trout and then throwing on a popper when going after bass. 
Carp fishing is best done by fishing various rigs on the bottom – far too many to go into this article! There are so many carp techniques between using ledgering and float fishing methods.
Most anglers who travel to France are very serious and competent carp specialists and will have their favourite Ronnie rigs, critically balanced rigs and specialist bait formulations, including belachan (which is one of my favourite additives) and homemade chilli-infused secret concoctions.  
Generally, what works in most European carp lakes will also work in France. Just use the same baits and what you are familiar and confident with using back home. You can also bring your own boilies and particles with you; however, don't load up with a car full of baits as the customs may ask some questions. Keep the amounts reasonable, and you won't have any trouble.
Carp will eat almost every bait offered to them; for the most popular baits, you can read my article on the best carp baits covering all the must-have options for carp fishing.
When spin fishing for bass and pike, you're best off casting and retrieving lures or using live/dead bait when searching for really big predator fish! 
How To Book Your Fishing Trip To France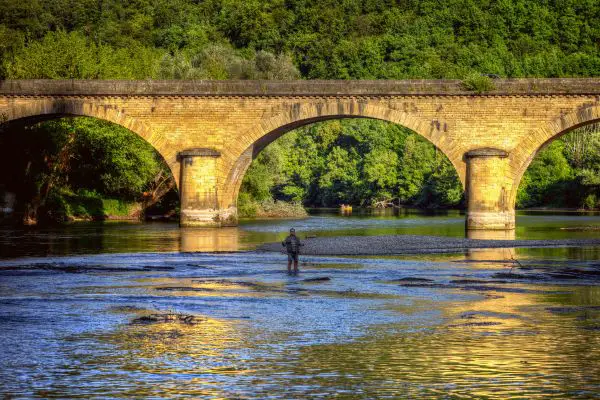 Booking your fishing trip to France couldn't be easier. You have the choice to either go with a fishing tour operator or do it yourself by hiring a car and hopping around the French countryside, sampling both the fishing and the food and wine. 
If you want to fish the best carp lakes, you should speak to Angling Lines. They have direct relationships with all the lakes and can put together a trip that includes almost everything from food to travel and accommodation. If you have never previously travelled to France for carp, this is a great resource. The site has a vast selection of locations, and booking online is easy.
For anyone interested in fly fishing in the Dordogne, contact Club Fish World. This company works with guides in the Dordogne and will organize everything you need to have a great time catching trout and grayling. 
However, I prefer hiring a car and building my own fishing map when going on adventures. One tends to learn much more about fishing in a given area this way. Make sure you fish with a local guide on your first day in each area to get the local lowdown. This will save time and get you in the right locations from the first day.
Fishing Regulations In France 
French fishing regulations state that you must have a fishing license to be able to fish the freshwaters of France. You can easily buy them online from Carte De Peche. You have the option to buy a yearly, monthly, weekly, and even a day license. 
There is a long list of rules you must follow when fishing in France, from the number of hooks you can use to the fish you can or can't kill or must kill. The Carte De Peche website does a good job of explaining them all. 
Make sure you have your fishing permit with you at all times when fishing as wardens patrol the banks. You will likely be in serious trouble if caught without a permit and experience a heavy penalty. 
You must follow the lake's regulations when fishing on private carp lakes. Many will only allow certain techniques, baits, line styles, and line-breaking strains, so always check before you arrive with the wrong tackle.  
You can learn more about getting a fishing license in Europe, which includes all the details and regulations in English and French.
Reeling Up 
Thanks very much for reading my article; I hope you enjoyed it and are ready to go on a French fishing adventure. Between the amazing scenery, wine, food, and fish, you can't really go wrong.
France is just one of the places I cover on this website, check out all my articles on fishing in countries around the world.

Latest posts by Jamie Melvin
(see all)