Disclosure: Some posts contain affiliate links, which earn us a commission if you make a purchase through them. Positive Fishing © participates in various affiliate networks including the Amazon Services LLC Associates Program.


You might not have imagined going on a fishing trip to the subcontinent of India, but let me assure you, it's worth it. 
I never thought of India as a place I wanted to travel around. It seemed a little too busy and not fishy enough to want to book a long flight to go fishing. 
But, with some research, I discovered some great-looking places to fish and ended up having one of the best fishing trips of my life. 
The fishing in India is fantastic as most of it happens in the most remote parts of the country. You'll either be deep in the Himalayas with more mountains than you can count or offshore on some beautiful islands. Plus, there is a wonderful cultural side to India that you'll experience too. 
Join me as we take a dive into everything you need to know about fishing in India.
In this article, I will cover the following:
What fish can you catch, when, and how to catch them?
How to book the best fishing vacation trip
What are the regulations for fishing in India? 
Top Fish To Catch In India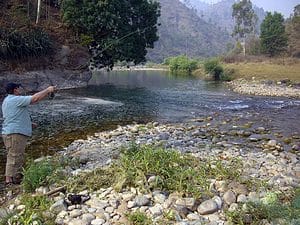 The top fish to catch in India can be split into two categories, freshwater and saltwater. The Indian saltwater fishing is excellent, and the range of species on offer is very diverse. While Indian freshwater fishing is limited to a few native and surprisingly introduced species. 
Best Freshwater Fish To Catch In India 
Golden Mahseer 
Brown Trout 
Rainbow Trout 
Golden Mahseers are one of the strongest fighting freshwater fish on the planet, and they just happen to inhabit the rivers of the Indian Himalayas. Golden Mahseer looks a bit like a carp but is much more predatory and, once hooked up, will take you for a serious ride. 
The trout fishing in India is spectacular, and most of it is done for brown trout originating from Norway. The British stocked the trout in the rivers, but you can also catch a few escapee rainbows that have fled from local trout farms. 
Tip: The first trout were introduced in 1899 and came from Howeiton in Scotland. The eggs were successfully hatched in a small trout hatchery at Harwan in Kashmir.
Best Saltwater Fish To Catch In India 
Broadbill Swordfish 
Blue Marlin 
Black Marlin 
Sailfish
Dogtooth Tuna 
Yellowfin Tuna 
Wahoo
Dorado 
Giant Trevally 
Spanish Mackerel
Countless reef species 
If you're into offshore fishing, jigging, and popping, this list of the top saltwater species to target in India will excite you. There are barely any big game fish missing from this list, and chances are you will experience many of them in a single day. 
Where To Go Fishing In India 
Fishing in India is pretty much confined to two areas, the Himalayas and the Andaman Islands. 
Since India is so heavily populated, you really do have to get off the beaten track to find unspoiled fishing grounds. The best way to do this is to get high into the mountains or run to islands in the middle of the Indian Ocean. Both of them are their own version of paradise. 
Uttarakhand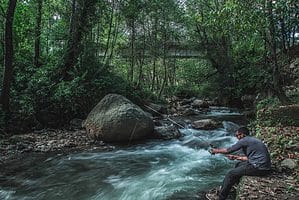 All the best Golden Mahseer fishing in India is done in the region of Uttarakhand, which borders Nepal and is around a five-hour drive from New Delhi. 
Uttarakhand is home to the foothills of the Himalayas, and the landscape is nothing short of magical. Imagine big crystal clear emerald-colored rivers with forested lined gorges and stunning gravel banks, and you're on the right track. 
When fishing for Golden Mahseer, you should be on one of three rivers in Uttarakhand, the Ramganga, Saryu, and Mahakali. The Saryu and Mahakali rivers are deep into Uttarakhand and close to the Nepalese border while the Ramganga is much closer to New Delhi and lies in Jim Corbett National Park. 
Fishing in Jim Corbett National Park is special as it's home to tigers and most other species of wildlife in India. It will probably remind you of "The Jungle Book," except you'll simultaneously cast a line into the crystal clear waters of the Ramganga. 
Tip: The largest Mahseer ever caught was in 2012 from the district of Karnataka. The fish was 59.05 in (1.5 m) and weighed 132.27 lb (60 kg).
Himachal Pradesh
If you want to catch some brown trout in India, you'll need to head to the region of Himachal Pradesh which is about a 12-hour drive north of New Delhi or a one-hour flight. This region of India is quite incredible and is one of the most beautiful places I have ever had the pleasure of fishing. 
The best place to go trout fishing in Himachal Pradesh is around the Tirthan Valley. The rivers in this region are crystal clear, and the water has a turquoise hue, making it simply stunning. 
The brown trout in these rivers grow up to around 2 pounds and above, but it's not just about the fishing. There is a huge cultural side to fishing in the Tirthan Valley, from getting on local buses upriver with your fishing gear to walking along via terraced farms through the forests to find untouched fishing holes. 
The Andaman Islands 
The Andaman and Nicobar Islands lie around 850 miles off the coast of India, and while they belong to India, they are actually closer to Myanmar (Burma). The remote location of the Andaman Islands makes them the ideal place to target pretty much all the saltwater game fish species in the Indian Ocean. 
If you love popping for GTs or jigging for Dogtooth Tuna, then this is one of the best places in the world to do it. The fishing grounds are no more than a 30-minute boat ride away, and you'll find non-stop action too. 
The same goes for offshore fishing as the islands hold deep water and excellent underwater contours that hold huge yellowfin tuna, wahoo, dorado, and of course, the big boys – blue and black marlin. 
When To Go Fishing In India 
The fishing seasons in India can be a little tricky to traverse as you have the normal monsoon seasons of the Indian Ocean and the addition of the weather over the Himalayas. This means you need to consider snowmelt and rainfall for freshwater fishing and the strong winds of the south Monsoon for saltwater fishing. 
If you're looking to head into the Himalayas looking for trout and Mahseer, then the best months to be there are February to May before the snow melts and then September to November after the south monsoon has done its thing. The best month to fish for them is in May, when the rivers are clearest, and the weather is at its warmest. 
If you're looking to catch some of the epic species found in the Andaman Islands, then you have a choice of booking between October and May. May is an excellent time to target big GTs and Yellowfin Tuna, while the entire season is good for marlin and sailfish. 
Best Fishing Methods For Catching Fish In India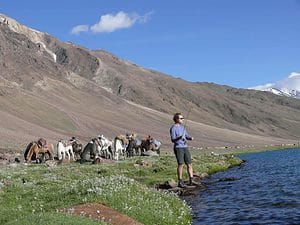 When it comes to how to catch fish in India, you have a few choices. You can use fly or spinning tackle for freshwater trout and Mahseer. Both are just as effective as the other, it just depends on which one you're more comfortable with. 
When it comes to the Andaman Islands, you can either choose to pop or jig with spinning tackle for GTs, yellowfin tuna, and dogtooth tuna or troll for the pelagics. 
When trolling for marlin and sailfish, you can tease and switch by teasing fish up with trolling lures and then dropping bait or a fly back for them to eat. 
How To Book Your Fishing Trip To India 
Booking your fishing trip to India couldn't be easier; just contact one of the operators listed below, and they will organize pretty much everything for you. 
If you want to chase Golden Mahseer in the Himalayas, then the best people to talk to are at Himalayan Outback. Himalayan Outback runs mobile camps on the Saryu and Mahakali rivers, and they have a permanent camp on the Ramganga in Jim Corbett National Park. Their hospitality, guides, staff, and equipment are excellent. 
The Himalayan Trout House in Tirthan Valley is the place to go if you want to catch some brown trout in India. The lodge is beautifully set on a hillside overlooking the river, the rooms are comfy, the food is amazing, and their guides are great. It was the first place to start offering fishing in Himachal Pradesh, and it's the best place too. 
For a saltwater fishing trip of a lifetime, make sure to book with Sport Fishing Andaman, as they have been doing it for the longest and are a quality operator with great skippers and boats. 
India's Fishing Regulations 
All anglers require a fishing license in India but getting one isn't as simple as going online. You will need to visit the India Fisheries Department in the region where you intend to fish to have your license issued. 
Gaining the India fishing ID card must be done in person, and you must visit the Director, Department of Fisheries offices in the respective district.
If you're booking with any of the operators I have recommended above, you don't need to worry, as they will organize your fishing license for you. 
Winding Out 
Thanks very much for reading my article about fishing in India. I hope it's shown you just how great a fishing trip to India could be and that you are a little inspired about heading there.
I can honestly say that it's one of the most beautiful places I have ever had the chance to fish, and it's a trip you will never forget. 
You can read more about my other articles on fishing vacations around the world here.

Latest posts by Jamie Melvin
(see all)