Disclosure: Some posts contain affiliate links, which earn us a commission if you make a purchase through them. Positive Fishing © participates in various affiliate networks including the Amazon Services LLC Associates Program.


Sitting in the heart of Bolivia's slice of Amazon rainforest lies some jungle rivers that require every angler's attention. 
If you love exploring new frontiers, getting dirty trudging through the deep jungle to get to fishing spots, and spending time being guided by indigenous tribesmen, then the fishing in Bolivia will blow your socks off. 
It's not just the experience that makes the fishing in Bolivia world-class, it's also the fish you're targeting. They are strong, aggressive, acrobatic, and pull a line, unlike any other freshwater species you can find in the northern hemisphere. 
The amazing fishing in Bolivia remained undiscovered for quite a while but in the early 2000s after some serious exploration and investment, rivers full of fish were discovered and investment into lodges put into place. 
Going fishing in Bolivia should be at the top of everyone's bucket list but you can't just show up, walk through the jungle and stumble upon rivers full of fish, you're going to need some insider knowledge.
So join me as we take a look at the awesome fish to catch in Bolivia, where and when to catch them as well as how and with who. 
Top Fish To Catch In Bolivia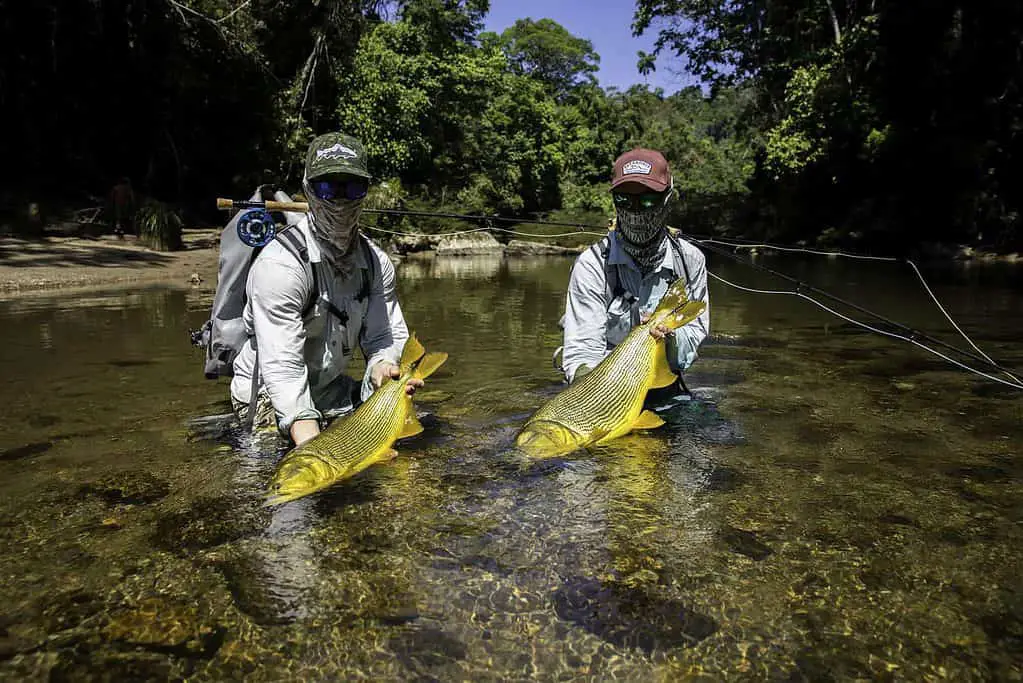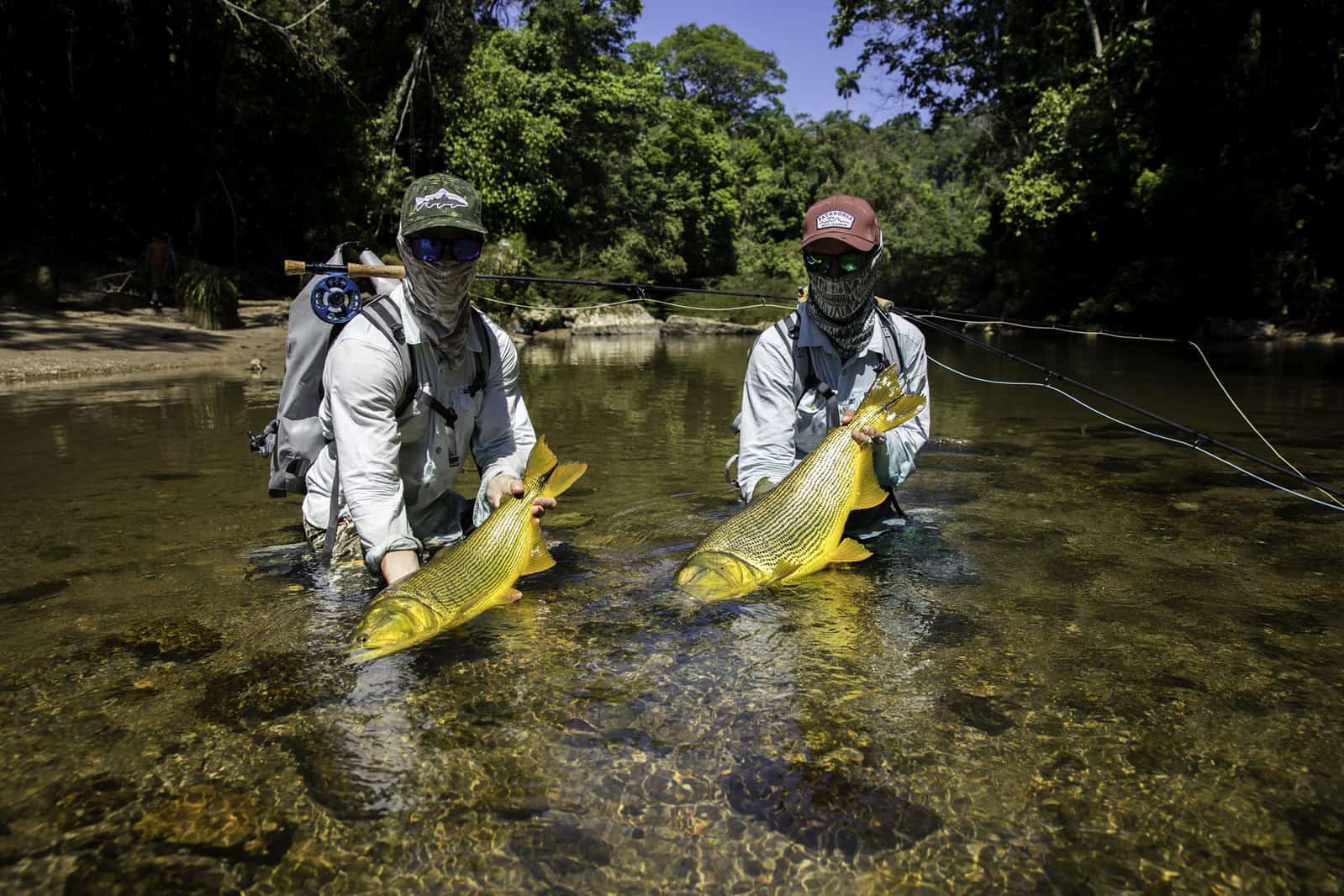 All the top fish to catch in Bolivia are endemic to South America and they live in the freshwater systems that plunge down the jungle-filled slopes of the Bolivian mountains.
They are, quite likely, fish species you have never encountered and perhaps not even heard of and here they are. 
Golden Dorado 
Pacu 
Yatorana 
Payara
Peacock Bass 
Golden Dorado are the kings of the rivers in Bolivia and they look a bit like an enlarged golden trout with sharp teeth and a big mouth that is pretty much always hungry. They grow big too reaching 20lbs quite easily and when you hook one, boy are the takes aggressive. Expect a huge pull followed by absolutely crazy acrobatics while the fish jumps all around the river trying to shake the hook. 
Pacu have often been described as freshwater permit and this is due to their shape and shyness but they will happily eat a well-presented bait in the form of a baitfish or even a berry that they sip off the surface. Once hooked they will fight like a dog using their wide shape and the current to put up a serious challenge for any angler. 
The Yatorana doesn't grow that big, maybe around 10 lbs at the absolute maximum but wow do they fight hard when hooked. They are known for their toughness and are pound for pound one of the hardest fighting freshwater fish around. While they are not the main target when fishing in Bolivia, they are a great thing to keep you entertained. 
Payara also referred to as "Vampire Fish" due to their huge front teeth, are another awesome fish you can catch in Bolivia. They are long, silver, and grow to over 20 lbs, and are an awesome species to target. 
Peacock bass offer amazing sport with top water eats and a serious dog fight to follow. They are the biggest and hardest fighting bass species and they are beautiful too. 
Where To Go Fishing In Bolivia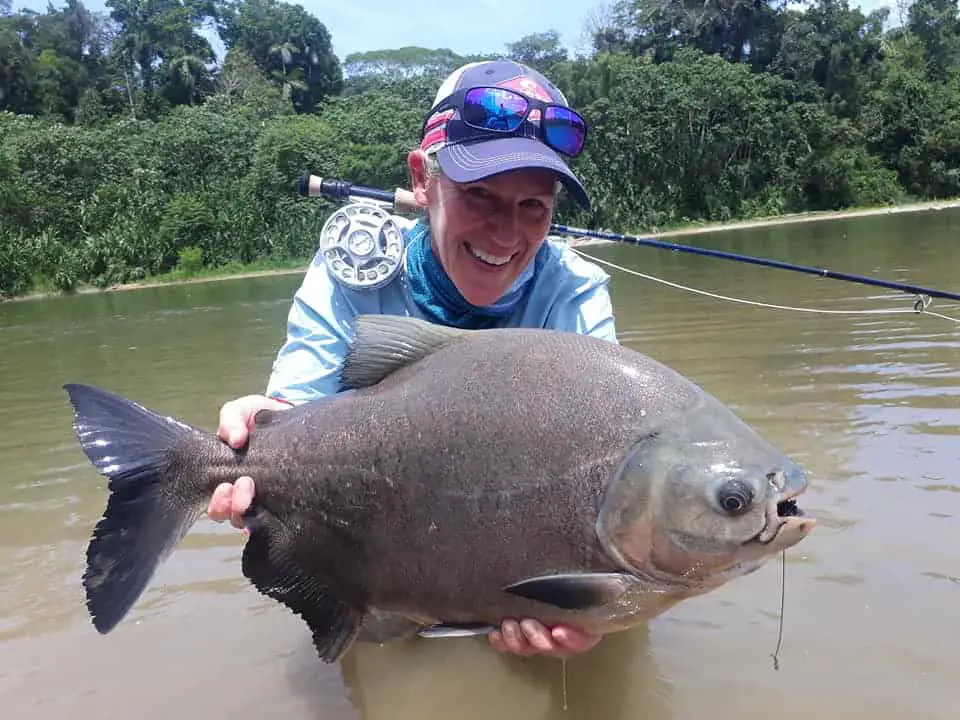 All the great fishing in Bolivia is around the highlands and in the jungles. If you're looking to focus on Golden Dorado, Pacu, and Yatorana then you best stick to the rivers in the jungles around Puerto Márquez which are in the indigenous lands and run by the Indians who live in the area. 
If you're looking for Payara and Peacock Bass as well as Pacu and Yatorana then you best head to the other side of Bolivia and fish the rivers in the Reserva Forestal Itenez. These are also reserves that belong to the indigenous Indians who welcome anglers to fish the hundreds of miles of rivers. 
The fishing destinations in Bolivia are wild as you will be deep in the Bolivian Amazon jungle and thus surrounded by nature and wildlife plus in some cases, guided by the indigenous Indians of the areas. 
Along the way, you'll be able to see wildlife like macaws, parrots, storks, geese, jaguars, tapirs, swamp deer, black cayman, capybaras, and pink river dolphins. If you have dreamed of seeing the amazon and want a fishing adventure to go with it, then Bolivia is definitely the place for you. 
When To Go Fishing In Bolivia 
When it comes to having a successful fishing trip, a lot of your success is based on being there at the right time. While we can't control the weather, (for example when I was living in The Seychelles I have seen several weeks totally rained out during the dry season!), it still helps to try to plan and be there at the best time available. 
Since all the fishing in Bolivia is in rivers, you want to be there in the dry season when the rivers are low and clean. This allows the fish to see your bait, for you to sight fish, and to have the best fishing possible in Bolivia. 
The dry season in Bolivia runs from June to October and this is the time to be there. If you do experience some rain then you should expect the rivers to go from crystal clear to a muddy tea color, but you should be able to find some clear tributaries that deliver in the dry season. 
Best Methods For Catching Fish In Bolivia 
You have three different options when it comes to how to catch fish in Bolivia and these include spin fishing, and fly fishing. Not every fishing lodge in Bolivia actually allows all these forms of fishing though, some are fly fishing only while others allow all types of fishing methods. 
Fly Fishing for all the species mentioned above is by far the best way in my eyes. Just imagine casting a fly across a small clean river in the jungle that looks like a trout stream. That is awesome enough but now when you strip your large brush fly across the river suddenly it's engulfed by a golden dorado that starts jumping all over the pool. Sounds amazing, doesn't it? Now add all the other species to a similar scenario and you'll see why fly fishing is my favorite form of fishing. 
Spin fishing in the rivers is also a lot of fun. Casting poppers for peacock bass and seeing them eat off the top and cranking baits across rivers to have them engulfed by golden dorado and payara is something you will never forget. 
How To Book Your Fishing Trip To Bolivia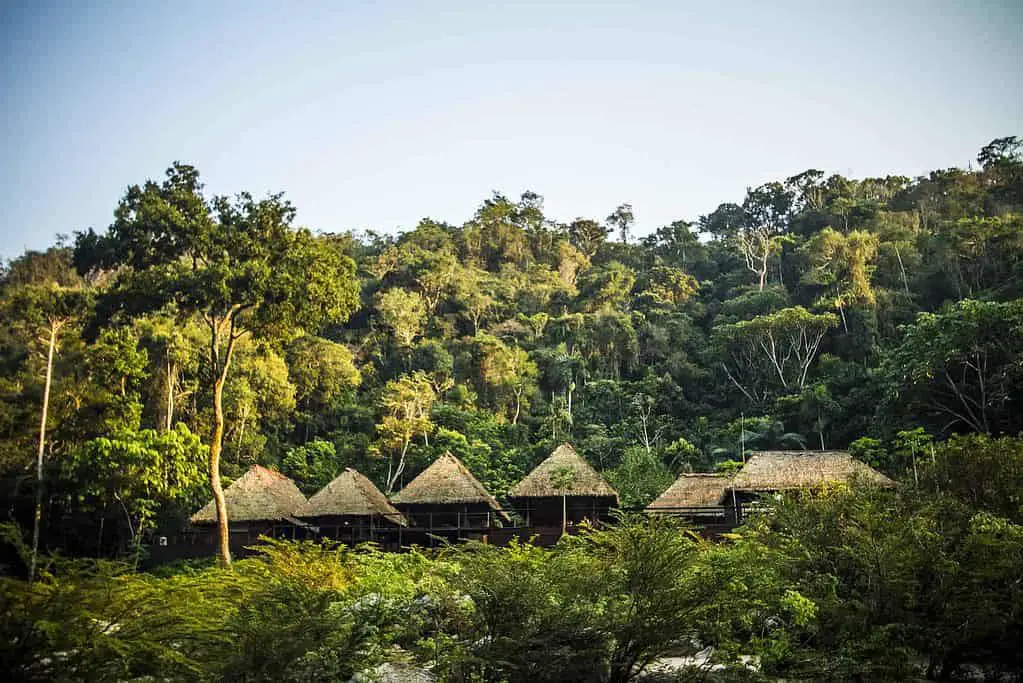 Booking a fishing trip to Bolivia is the easy part as the world-class lodges will take care of everything from your fishing license to your internal flights.
All you need to do is book your international flights to La Paz or Santa Cruz and they will do the rest.
Here are the lodges I personally recommend. 
Tsimane Lodges 
Tsimane Lodges were the guys to put fly fishing in Bolivia on the map and they run all the fishing around the Puerto Márquez area for golden dorado, pacu, and yatorana. 
Their lodges are impeccably run, their guides are excellent, and they look after the indigenous tribes and the environment as well as possible. Staying at Tsimane isn't cheap by any means but you are going to experience some of the wildest fishing on the planet. 
They have three different lodges to choose from, all in different parts of the local river system. You'll get a guide and a boat between two people to spend your days exploring the water and catching some amazing fish.
If you are familiar with Aardvark McLeod (I have regularly recommended using them to book your fishing vacations) they have awesome packages to Secure, Pluma, and Agua Negra. 
Cano Negro 
Cano Negro fishing lodge sits on the eastern side of Bolivia in the Reserva Forestal Itenez and this is the best place to go if you want to use spinning gear and catch species such as payara and peacock bass as well as catfish, pacu, and yatorana. 
They have a lovely lodge in the middle of the amazon with cabins, a restaurant, and over 100 miles of river to explore. Their guides are great as is their equipment and they will have you catching fish all day long. 
Staying at Cano Negro is a lot more affordable than Tsimane but there is no golden dorado around, and if you're going to Bolivia, then you should really have the chance to catch one of them too. 
The Fishing Regulations In Bolivia 
To go fishing in the indigenous reserves you're going to need to pay an Indian Community Tax which is around $500 to fish in their rivers, which is totally fair enough in my eyes. While this is a bit more expensive than other places, it gives you access to the best fishing in Bolivia. 
This price won't be included in your booking with either of the lodges above but they will assist you with paying it on your way to the lodge. 
Popping Off 
Thanks for reading my article about fishing in Bolivia, I hope you enjoyed it and are ready to book a fishing vacation trip to Bolivia.
If there is one fishing trip on the planet that combines exploring one of the most diverse regions on the planet with explosive fishing, it's a trip to Bolivia. 
You can read more of my articles on fishing vacations around the world, you will find fishing vacation information in many countries all over the world. 

Latest posts by Jamie Melvin
(see all)