Disclosure: Some posts contain affiliate links, which earn us a commission if you make a purchase through them. Positive Fishing © participates in various affiliate networks including the Amazon Services LLC Associates Program.


Trout fishing is unique. It requires specialized gear and an extreme amount of patience. As trout anglers know, trial and error is something that they have to get used to. They're finicky and can change their feeding habits in seconds. Besides choosing a reliable spinning reel for trout fishing, you need to pair it with the right spinning rod. You need a rod that provides an extreme amount of control. Short little casts are common in trout fishing. 
Take your time and do your research before you make a purchase. Understand what type of water you're going to be fishing in.
Trout live in streams, rivers, and lakes! There are versatile rods that can work in all three scenarios, but if you know you're going to be in one type of water, keep that in mind. 
In this article, I will cover the following: 
What Are The Essential Features of Spinning Rods For Catching Trout  
The 5 Best Trout Fishing Rods on the market 

G.Loomis Classic Trout – (Our Best Overall Pick!)
Shakespeare Micro – (Our Best Budget Option!) 
Ugly Stik Elite – (Our Most Versatile Pick!)
St. Croix Triumph 
Fenwicks Eagle Spinning Rod 
What Are The Essential Features of Spinning Rods For Catching Trout? 
Trout-specific fishing rods are unique. They take some getting used to due to how light and touchy they are. 
Sensitivity
You need to remember that you need a rod that allows you to detect even the slightest bites. Anglers are well aware of how soft a trout can hit a bait. You'll miss out on many fish if you have a large and insensitive rod. 
Length 
Length is another thing to take into consideration when purchasing a trout rod. The longer the rod, the more challenges you'll have. Most trout rods are around six or seven feet, allowing for finesse casts and the ability to work them in tighter conditions. Again, it's all about knowing the water you're fishing. 
Action 
Action is the final thing to take into consideration when making your purchase! There are cases to be made for slow, medium, and fast action. A slow action rod bends further down the blank, making casting light lines and lures much easier! It's ultra-sensitive and allows for a successful day on the water.
A medium action rod offers anglers a chance to have more power but not sacrifice sensitivity! It's a wonderfully versatile option! 
A fast-action rod also has an extremely sensitive tip. Most ultra-light setups are fast action. The top part of the rod is very active, but you still have all the power you need to make a long cast and fight a powerful fish. 
Sensitivity, length, and action are essential factors to consider when choosing the right fishing rod weight, power, and action, don't underestimate the options available for your particular needs and your target fish.
G.Loomis Classic Trout – Our Best Overall Pick!
Fly anglers are well aware of the G.Loomis Brand. They make high-quality rods with exceptional sensitivity. It's hard to argue that there is a rod better than the G.Loomis Classic Trout. These rods are actually what helped build G. Loomis' reputation. 
These rods are designed to throw light lines, but you'll be shocked at their strength. You have a variety of options in sizes for the rod. There are 5-foot moderate action rods and 7-foot fast action rods options. A 6 or 7-foot moderate action rod should do the trick for trout. 
If you're fishing extremely tight water, consider the 5-foot rod. You're limited to a one to four-pound test if you use it, however. A 6-foot moderate fast action rod such as the model TSR 740-2 is an excellent choice for fishing a river or stream. You'll get more length on your casts and more power to fight anything bigger. 
If you're fishing still water or a larger river, then be sure you're using a 7-foot rod. It's longer, and you can cover quite a bit of water. 
You also have the choice of one or two-piece rods. The shorter two-piece rod makes traveling more manageable, so keep that in mind when purchasing! Don't worry; you won't lose any strength if you choose the two-piece route. 
The biggest downside to this rod is that it will cost you a lot more than the other best picks on my list. However, your investment is absolutely worth it with this rod……..It's a genuinely exceptional spinning rod for trout of all sizes! Make sure you pick the correct model, as there is a wide range of pricing depending on your chosen model!
G.Loomis makes some of the best rods on the planet; check out my full review on the G.Loomis Asquith Fly Rod, which I consider the best fly rod ever made.
Shakespeare Micro – Our Best Budget Option!
You have seven sizes of rods to choose from within the Shakespeare Micro model. If you have children, choose the 4'6" model! It's much easier for them to use. The longest rod is a 7', and that's an ultralight model. If you're one of those anglers that prides themselves in extremely accurate casts, the Shakespeare Micro spinning rod will help you accomplish this. 
The rod is a graphite composite with full cork handles and stainless steel guides! All excellent factors for a light setup. 
If you choose an ultralight model, understand that ultralight rods aren't always easy to use. The first thing you'll notice is that the tip is beyond sensitive. Any slight bounce of your bait along the bottom or touch from a fish will send the rod tip into a frenzy. These are fast-action rods, so keep that in mind. 
You aren't able to muscle the fish to you with this rod. If possible, you must take your time and tire the fish out. The 6'6" light model is a great all-around option for various situations. It can hold anywhere between a 4 and 10-pound test. 
The 7'6" model is for those sizable trout in large mountain lakes! You can throw extremely light lines and lures but also have the power if you find a trophy swimming around. The majority of the models are two-piece, so they can travel with you wherever you go. 
The best aspect of the Shakespeare Micro rod is that it's an honest, affordable option and the lowest price on my recommended list. It's beyond affordable and high quality! Shakespeare always makes quality gear. 
Ugly Stik Elite – Our Most Versatile Pick!
Ugly Stik has quickly risen to the top for angler's favorite rods. They used to get belittled due to their cheap price, but their performance has changed the mind of any doubters. You have a variety of options in sizes of this rod that would work for trout fishing. A 5'6" 2-piece option would work well for small streams. 
The 6' or 6'6" rods are medium-action and a perfect length for some of the smaller rivers. If you're fishing more extensive water, choose the 7' rod! 
The UglyStik Elite is made of graphite and fiberglass. This is a beautiful combination of sensitivity and power. The guides are made of stainless steel and there's no worry about the line getting caught. Plus, you're easily able to see whenever the rod tip bends. 
Many trout anglers appreciate that the Elite has a cork-style grip, so you don't have to worry about your hand slipping during a cast or when playing a larger trout. 
The Elite is a great entry-level rod if you're new to the sport. It's affordable and easy to operate. You'll receive a 7-year warranty on this rod when you purchase it! This rod is in the mid-range price bracket. Take advantage of this incredible deal. 
St. Croix Triumph – Our Best Value For Money Pick! 
St. Croix is a pillar in the world of spinning rods. The Triumph Series is outstanding for the finesse fishing required when targeting trout! There are almost two dozen different models you can choose from! You can essentially pick the perfect length and action that you need! 
You have everything from the 5' Ultralight to a 7'6" medium heavy rod. 
This rod is made of carbon fiber and has a cork handle and stainless steel guides. It's an ideal setup for your finesse-style fishing. Don't overthink too much when making this purchase! The variety of models can make you purchase a rod you may not need.
If you're looking for a more versatile trout rod option in the range, then a 7' fast action medium 2-piece rod is exactly what you need. You can make long and short casts and detect any strike! Take it to streams and lakes, and you'll land any trout you are fortunate enough to strike into. 
The St. Croix Triumph spinning rod is a reasonably affordable option for anglers. It's a higher-priced rod but is our pick for the best value for money due to its quality and performance with a reasonable price tag. You won't break the bank, but you'll receive a rod that's more than productive. 
Fenwick Eagle Spinning Rod 
Fenwick has a long history of quality spinning rods. Fenwick was actually the first company to develop a graphite rod. Over the years, they've continued to develop the science and created an exceptionally smooth model. 
You'll get the cork handle and stainless steel guides! You have everything from a 5'6" to an 8' option. All models are either moderate, moderate-fast, or fast action, so keep that in mind when you choose the options! All the length options are available in a moderate action, so if you like a slower speed, there's something for you. 
This Fenwick eagle spinning rod is another in the mid-range pricing and is well worth the investment, so you won't break the bank but still receive a phenomenal rod. Fenwick isn't as well-known of a brand as many on this list, but you won't notice a performance drop-off in the slightest. 
Final Thoughts 
Take your time in selecting the proper spinning rod for your trout setup. Remember, a sensitive tip and a shorter length are what you should keep as a priority. Trout hide in tight conditions and can require some creative casts, which makes them so much fun to target! 
Our best pick is the G.Loomis Classic Trout, a fantastic stand-out rod. But choose one of the other options, and you'll be in good company. 
Make sure you check out my article about choosing a reliable trout spinning reel; this will enable you to select an excellent pairing for a spinning rod and reel combination for trout.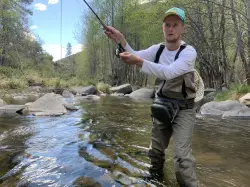 Latest posts by Daniel Mooers
(see all)