Disclosure: Some posts contain affiliate links, which earn us a commission if you make a purchase through them. Positive Fishing © participates in various affiliate networks including the Amazon Services LLC Associates Program.


Freshwater trout fishing is always an adventure. Whether you're targeting them in a stream, river, or lake, these fish will always give you a run for their money. They live in highly oxygenated water, and these areas are often some of the most beautiful in the world! To successfully land these fish, you not only need the proper bait, but you also need the right trout spinning reel. 
Your reel is one of the most critical aspects of your setup. It receives consistent pressure even if you aren't catching fish, and you expect it to perform. Do yourself a favor and invest in a high-quality reel. Not only will it last you many years, but it will also help you land that trophy fish! 
In this article, I will cover the following:
The Five Best Trout Fishing Reels 

Daiwa BG Trout Spinning Reel – (Our Best Overall Pick!)
Okuma Ceymar – (Our Best Budget Pick!) 
Shimano Sedona – (Our Most Versatile Pick!)
Abu Garcia Revo 
Daiwa Regal

How to set up your reel 
Daiwa BG Trout Spinning Reel – Our Best Overall Pick!
Peace of mind is something every angler should strive to have. Too many moving parts in fishing and uncertainty with equipment can cause anglers not to be as efficient as they should be. The Daiwa BG spinning reel will last years and perform in every scenario. 
These reels are also saltwater ready, but the 2500 size makes it ideal for more finesse-style fishing. You can attach this to an ultralight trout rod or a slightly heavier one depending on where and the size of the fish you're fishing for. 
You'll have a dynamic cut ABS reel, an aluminum body, and a waterproof drag system. Depending on the line you're fishing, the Daiwa BG can handle it. You'll be able to avoid both loops and wind knots on those more challenging fishing days. 
The drag system for the price of this reel is phenomenal. It's waterproof, so you know it won't be damaged by excessive use. Perhaps the comfort level is the best aspect of the BG reel. The paddle on the handle won't slip and does not feel weak at all. You can fish with this reel all day, and your hand won't be sore. 
In trout fishing, you're making quite a few casts, moving around, and giving your reel a ton of action. It's not a sit-and-wait type of fishing! This reel is in the higher price range bracket but will perform superbly and last you for years. 
Okuma Ceymar – Our Best Budget Pick!
The Ceymar model from Okuma is a great lightweight option. It's only suitable for freshwater, so keep that in mind before you take it out into any saltwater! You'll have to do a deep clean before storing it. The c-10 or c-20 model is a perfect fit for trout! 
You'll have an 8-bearing drive system and a machined aluminum spool. You can use a monofilament or braided line on the Ceymar. These are both solid options for trout fishing. Use a 2-6 pound test on the c-10 version and a 4 to 8-pound test on the c-20 model. 
Okuma put a balancing system in this reel to operate well at high speeds. You won't get any wobble or bouncing when you make a cast or have to reel in quickly to make a cast. The EVA handle knobs allow you to control the pace you reel in and give you the power to fight any large fish you tie into. 
If you're looking for a reel to fish trout in streams, small rivers, or still water, then the Ceymar is your choice. The best aspect of this reel is its affordability of this reel. For a competitive price, you'll receive a comfortable reel that works well and will last for quite a few years. 
Pair this reel with an ultralight or smaller fast-action rod. Creek and small river fishing won't be the same as using the Okuma Ceymar. 
Shimano Sedona FI – Our Most Versatile Pick!
Shimano is a well-known brand that has made reputable fishing equipment for decades. The Sedona FI has a 3+1 ball bearing system and is a massive upgrade in performance from previous models. Few reels on the market are affordable and can perform at this high level. Plus, the versatility you receive with this reel will allow you to take only one reel on your excursion. 
For trout fishing, choose the 2500 model. If you're going for a highly ultralight setup, Shimano makes a 1000-size reel. Use a 4 to 6-pound test on these reels. It should be plenty for the majority of fish you catch. 
Recently, Shimano updated the Sedona FI gearing and changed it to a Hagane setup. It's a cold-forged gear to throw much larger baits to some of those trophy fish. Also, the new spool lip and line roller allow anglers to make exceptionally long casts. Shimano removed the contact bail, so there wouldn't be any hangups as you're casting. 
The final new feature Shimano included was the Varispeed Oscillation System. This new oscillation system ensures that the line doesn't stack on the top or bottom half of the spool. This allows for an easy way to manage the line and fewer worries about any hangups on a hot day of fishing. 
The single paddle is comfortable and won't slip if you're reeling in a large trout. Also, it's durable. You won't worry about snapping it if you're putting it under excessive pressure. For mid-range pricing, you'll have a reputable reel that will perform in any situation you need. 
Abu Garcia Revo X
Abu Garcia is another one of those brands that anglers can trust. They're well-known for their quality rods and solid reels. The Revo X is another reel for less than $100 and is perfect for trout. This may be the smoothest reel on this list! It also looks phenomenal. 
You'll receive a 6+1 bearing system and IM-C6 body construction. This combination leads to a nice and long day on the water. It's comfortable, and you know it will last for however long you need. The Rocket Line management system is another aspect of this reel that adds versatility. 
Fish with monofilament, braid, or fluorocarbon line, depending on the type of fishing you will be doing. If you're going after trout, use the Revo 2×10 or the 2×20 model. You'll get the 6:2:1 gear ratio and have an 11-pound max drag! 
The Abu Garcia Revo X is only 7.7 ounces, so it pairs well with any light rod you own! Depending on your line type, you can fill the spool with 190 to 220 yards of line on the reel! 
For a reasonable price for such a high-quality reel, you won't be sorry. Affordable and quality reels aren't always easy to find, but Abu Garcia created a fantastic option. 
Daiwa Regal
The final reel on this list is the Daiwa Regal LT. It's another extremely affordable option for anglers purchasing a quality trout reel. You'll find this reel in 1000, 2000, 2500, and 3000. The available gear ratios are 5:2:1 and 6:2:1. For trout fishing, the 1000 to 2500 models are my recommended sizes. 
The drag system in this reel is the real deal. Yes, trout fishing doesn't necessarily need an extremely strong drag system, but the Regal system will perform if you tie into a trophy-size trout. 
The Daiwa DigiGear system gives anglers an excellent combination of smoothness and power! The drive gear and pinion gears make a massive difference in the reel, and Diawa has found a combination that works exceptionally well. 
This reel can handle braid and fluorocarbon, so keep that in mind before you decide. If you only need a finesse reel, the Regal is what you should choose. It's a beautiful reel that's exceptionally affordable. For a mid-price range reel, you can't go wrong! Make sure you pick one up for your next trout fishing excursion. 
How to Set Up Your Trout Fishing Reel
You'll only need a three- to four-pound test when fishing for trout. You can use any of the three line types, but monofilament is the easiest to maneuver. Plus, it's much cheaper! If you're a diehard trout angler, a 6 to 10-pound braid is an intelligent choice for your mainline. It won't stretch so that you can feel every strike. 
Attach a 2 to 6-pound fluorocarbon leader to get more stealth since the braid is relatively easy to see in the water. A one or two-foot leader can easily do the job. 
Final Thoughts 
Pairing the proper rod and reel is vital for a successful day on the water. You want a comfortable setup! Invest in any of the abovementioned reels, and you'll be more than happy. All of them are around $100 or less and are known for their durability.
If you enjoyed reading this post, please check out my article on matching your reel with the right spinning rod options, which will ensure you have the right combination when trout fishing.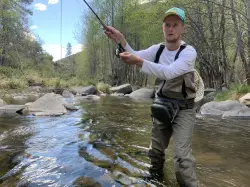 Latest posts by Daniel Mooers
(see all)