Disclosure: Some posts contain affiliate links, which earn us a commission if you make a purchase through them. Positive Fishing © participates in various affiliate networks including the Amazon Services LLC Associates Program.


When you make the move from freshwater fly fishing to saltwater fly fishing for the first time, the whole sport of fly fishing you once knew changes dramatically. You go from throwing tiny flies with immaculate presentations for catching trout, to double hauling 60 feet into the wind trying to get a 100 lb tarpon to eat. 
Saltwater fly fishing, in my opinion, is the pinnacle of fly fishing, and the species you're looking to catch require some serious hardware. Picking a good saltwater fly rod for the job is the first step to success as it will help you get your fly where it needs to be, against all the odds. 
Join me as we take a look at the best saltwater fly rods on the market so you can be sure you have the right fly rod in your hand when that giant tarpon rolls 60 feet from the bow! 
Which Saltwater Fly Rod Should You Buy? 
Here are the top three I'd recommend based on my many years of fly fishing as a guide on the flats around the world. 
Orvis Helios 3D – My Best Pick For Beginners! 
If you're new to saltwater fly fishing and are concerned about your casting, then the rod that is going to help you the most is the Orvis Helios 3D. The Helios 3D is made to absorb casting errors and turn them into consistency and this combined with its low weight, great power, and durability makes it ideal for anyone who needs a bit of help on the flats. 
G Loomis Asquith – My Best Overall Pick! 
For anyone looking to fish with the best saltwater fly rod out there, the G Loomis Asquith is the fly rod for you. Between its low weight, immense strength, incredible casting performance, and accuracy at all distances, the Asquith is very hard to beat in every category. 
Hardy Demon – My Best Budget Pick! 
If you're shopping on a budget then the Hardy Demon is the fly rod for you. While it doesn't quite cut the mustard compared to the Helios 3D or Asquith, it is still an excellent fly rod with great casting performance and superior build quality that is close to half the price of the others. 
My 7 Best Saltwater Fly Rod Choices
Orvis Helios 3D – My Best Pick For Beginners!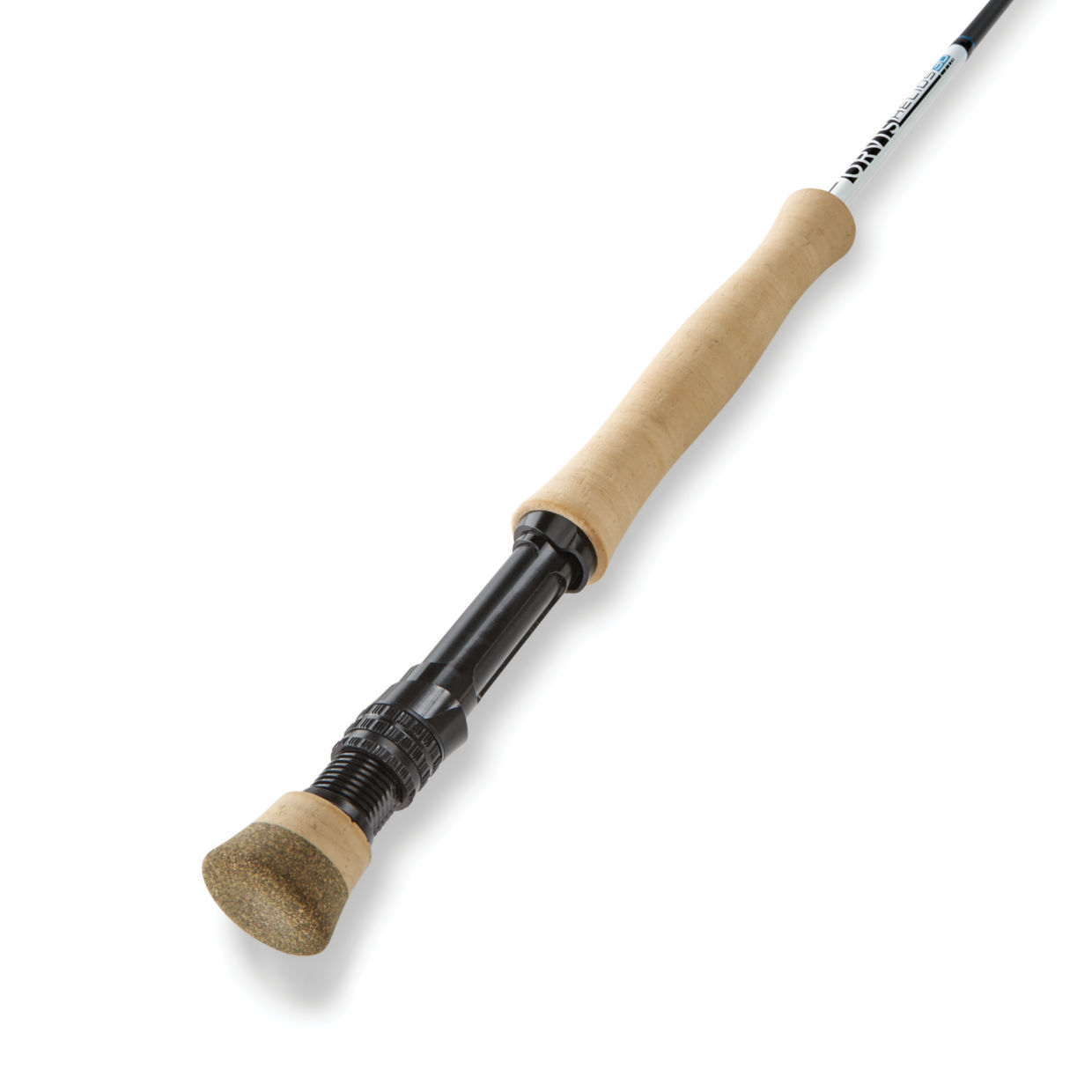 The Orvis Helios 3D is one of the best saltwater fly rods Orvis has ever made in my opinion. I was guiding a client who had three of these in the boat in Seychelles and when I picked it up to make a cast, everything clicked. 
The first thing you notice is how light these fly rods are. I couldn't quite believe I was holding a 12 weight when I picked the Helios 3D up and casting it was an absolute pleasure too. The line speed was excellent, the rod had a good amount of feel, and it pushes some serious casting distance with great accuracy. 
These saltwater fly rods are designed to absorb your casting errors and they are very forgiving. This means you'll be able to cast with more consistency than ever and that these rods are great for anglers who need a little more time practicing.
Despite being light, these fly rods also pack a punch and are super tough with great pulling power to handle the biggest species on the flats. They will handle life in saltwater with ease too as their titanium guides and aluminum reel seat will never corrode. 
Overall, the Orvis Helios 3D is an excellent saltwater fly rod. It's a little expensive but it does come with a 25-year guarantee. 
The one thing some anglers don't like about this rod is the white collar above the cork handle as it's not a very traditional look, but considering the rod's performance, this is easy to get over. 
Specs 
Model: 3D
Weights: 7-12 
Length: 9 ft 
Line: 7-12
Action: Fast 
Pieces: 4
Tube: Yes
Pros 
Lightweight making long days of casting easier 
Forgiving to cast with and suits beginners  
Designed to absorb casting errors to provide consistency 
Excellent build quality and durability 
Has some serious lifting power for big fish
It will increase your casting distance and accuracy 
Built for surviving saltwater 
Comes with a 25-year guarantee 
Cons
It's quite expensive  
Some anglers don't like its look 
If you need more detailed information on the Orvis Helios 3D, then please check out my full article here!
G Loomis Asquith Fly Rod – My Best Overall Pick!
The G Loomis Asquith Fly Rod is probably G Loomis' ultimate creation and it's the first rod to be made using their new Spiral-X technology. 
This new technology allowed G Loomis to use fewer materials while retaining the same out of strength that you'd find in the NRX or other Loomis rods, thus creating a lighter fly rod with the same amount of gusto. 
The Asquith's low swing weight makes casting about as easy as possible and with the blank's incredible recovery and energy transfer, your casting distance and accuracy will push through the roof. 
You can feel the energy move from the butt through to the tip on every cast allowing finesse casts at short distances while also providing great line speeds for punching through the wind and pushing distances of 80ft + with accuracy. 
The Asquith comes in every weight for saltwater fly fishing from 7 -12, meaning you can have one for bonefish and reds, another for snook and permit, and a 12 weight for tarpon and GTs. 
The Asquith is the most expensive fly rod featured in this article but it's also probably the best and it comes with a lifetime warranty. 
Specs 
Model: Asquith
Weights: 4-12 
Length: 9 ft 
Line: 4-12  
Action: Fast
Pieces: 4 
Tube: Yes 
Pros 
Incredibly durable and hard to break 
Light with a low swing weight for easy casting
You can feel the energy from butt to tip on every cast 
Amazing accuracy at all distances 
Can hit distances of 80 ft + with ease 
Fast line speeds for punching through the wind 
Comes with quality titanium stripper and snake guides 
Includes a durable aluminum reel seat with CI4+ insert 
Comes with a lifetime warranty 
Cons
If you need more detailed information on G.Loomis Asquith, then please check out my full review article here!
Hardy Demon – My Best Budget Pick!
The Hardy Demon saltwater fly rod is probably the best saltwater fly rod you're going to find if you're shopping on a budget. 
The Hardy Demon is about as affordable as a good saltwater fly rod can be, and while it doesn't quite live up to the most expensive fly rods out there, it's still pretty awesome. 
This fly rod is built from Hardy's Sintrix 330 blank construction that is world-renowned for providing strength and power in a light but a high-performing design and it shows in the Hardy Demon. 
The fast action, quick recovery, and great feel in this rod make casting delicately to passing bonefish and permit as easy as it can be. Its sweet spot is dropping flies with pinpoint accuracy at around 60 feet which is where you'll throw 90% of your casts in saltwater fly fishing. 
When you start to open up with the Hardy Demon and push distances over 60 feet, the rod does start to lose its accuracy pretty quickly. It also needs a heavier fly line to help the stiff blank load so be sure to go up a weight or pick a line like the Rio Flats Pro. 
Overall, this is a great saltwater fly rod if you're shopping on a budget and it will deliver 95% of the time, but it does fall apart when you need to push those extra-long casts with accuracy. 
Specs 
Model: HD1090-4
Weight: 5-12
Length: 9 ft 
Line: 5-12 
Action: Fast 
Pieces: 4
Tube: Yes
Pros 
Very affordable for the quality
Lightweight for comfy casting 
Excellent accuracy at distances up to 60 feet 
A tough Sintrix blank that lasts 
Strong butt section for great lifting power 
Comes with light Fuji guides
Includes a 6061 aluminum reel seat 
Comes with a lifetime warranty
Cons
Not great for making long casts over 60 feet 
Doesn't respond without a heavier line 
G. Loomis GLX Crosscurrent
The G Loomis GLX Crosscurrent saltwater fly rod is a flats guide's favorite rod and thus is one of mine too. The GLX was designed to overcome all the casting conditions and species the flats can throw at you, and it does an amazing job at it.
When you're faced with a GT at 70 feet into the wind or have to recast to a moving permit with a single backcast, this is a fly rod that can deliver. 
The blank is made to recover quickly and the taper helps you create immensely tight loops which all come together to provide some serious line speeds for punching your casts into the wind and picking up and recasting in seconds. 
Another great thing about these saltwater fly rods is how light and powerful they are. Their low weight makes casting easy, and long days of blind casting even easier and their strength will surprise you. You'll be able to pump big tarpon and GTs up without any worries.
The GLX crosscurrent comes with nickel-titanium guides that remove friction for longer casts and a reliable uplocking aluminum reel seat that will never corrode. This fly rod is made to live a salty life and as will all great saltwater fly rods, it comes with a lifetime warranty. 
The one downside to the GLX is that it's not too easy to cast for anyone who hasn't got their technique down, but with a little practice, it can be mastered and it's worth the time. 
Specs 
Weight: 7-12
Length: 9 ft 
Line: 7-12  
Action: Fast 
Pieces: 4
Tube: Yes
Pros 
Incredible build quality and durability 
Built for casting long distances into the wind 
Picking up and recasting is a breeze 
Amazing lifting power when fighting big species 
Friction-free lightweight guides 
Top draw anodized aluminum reel seat 
Super lightweight but very tough
Will to survive a lift in the salt for decades 
Comes with a lifetime warranty 
Cons
It's pretty expensive 
Not easy to tame for beginners 
Sage SALT HD Rod
The Sage SALT HD is Sage's number one saltwater fly rod and they have done a great job on its design. The Salt HD is made to deliver quick casts at immense distances and with great accuracy, which is just what you need when casting at spooky permits that are constantly changing direction. 
The rod blank is made with KonneticHD Technology which provides amazing feedback and quick recovery which helps generate fast line speeds and tight loops. This translates to being able to punch into the wind, shoot 80 feet with 2 false casts, and push a 50 ft cast in a single shot. 
This puts an immense amount of power in your hands when chasing flat's critters but it comes at a price. The Salt HD rod is quite a heavy fly rod and a stiff one to boot and to get the best out of it, you have to be good at casting as it will showcase your errors. 
I even find using Salt requires me to change my style a bit to get the blank really working for me. 
That being said, if you can handle this rod, the benefits are off the charts. Not only will it help you put your flies where they need to be, but once you hook up, the power the rod has will tame everything from sailfish to giant tarpon. 
Specs 
Model: Salt 1290-4
Weight: 7-13
Length: 9 
Line: 7-13
Action: Fast
Pieces: 4
Tube: Yes
Pros 
Blank is made with KonneticHD Technology 
Strong and powerful for large species 
Easily make 80ft casts with accuracy 
Stiff and powerful for punching into the wind 
Loads with a single backcast 
Good line control 
Excellent long-lasting saltwater guides and reel seat 
Great for making quick casts and recasting with 
Comes with a lifetime guarantee 
Cons
Heavier than other fly rods 
Feels very stiff to cast with 
Needs a pro to get the most out of it 
Rather expensive 
G Loomis NRX+
The G Loomis NRX was one of the best rods ever made and then they came out with the G Loomis NRX+ which took things to the next level! 
The NRX+ is ideally suited for all saltwater fly fishing situations – whether you're casting off the stern to a teased sailfish or trying to drop a fly 90 feet at 10 o'clock to a tailing permit, the NRX+ is there to deliver. 
The rod's ​​compound taper construction provides you with great power, line speed, and loop stability, everything you need to punch into the wind, pick up and recast, or make a quick 50 ft shot with a single backcast. 
The NRX+ does all of this while still retaining a great feel giving you the accuracy you need to fool the rather spooky and switched-on species you'll find on the flats. To top it all off, this fly rod is as tough as they come, it is almost unbreakable meaning you can put a serious amount of pressure on fish when you need to. 
The NRX+ is by no means an inexpensive fly rod but it does come with a lifetime warranty meaning that if it ever does break, it'll be fixed, giving you a fly rod for life. 
Specs 
Model: NRX+
Weight: 7-12
Length: 9 ft
Line: 7-12
Action: Fast 
Pieces: 4
Tube: Yes
Pros 
Light with a low swing weight for easy casting 
Pushes distances of up to 100 ft if you have the skills 
Provides accuracy at all distances 
Great for quick short casts 
Durable and almost unbreakable 
Strong butt section with immense lifting power 
Lifetime warranty 
Cons
Pretty expensive but it's worth it  
G Loomis Shorestalker Fly Rod – My Best Pick For Stalking!
The G Loomis Shorestalker fly rod is a little different from all the other saltwater fly rods featured as it's designed with a shorter length for throwing big flies to fish holding in structure. Hence the name "stalker"
If you're a fly fisherman who loves to get up into the mangroves targeting snook or walks the shore looking for bonefish in windy conditions, then the Shore Stalker is a great choice for you. 
The shorter length of 8 feet helps the rod load exceptionally quickly, even with just one false cast, and will let you shoot a big fly 60 feet without any worries. The length also lets you keep your flies low which helps a lot when you need to drop a fly under a branch right next to the edge of mangroves. 
This kind of casting ability means you can throw blind cast after blind cast all day long without so much as an ache, covering the maximum amount of water possible while putting your flies where they need to be. Once hooked up, the rod is tough as nails and you'll be able to hold the likes of snook from running you into snags. 
The downsides of this rod are that it loses accuracy at longer distances over 60 ft and it only comes in smaller weights for saltwater, so it's only really an option for snook, bones, and redfish. 
Overall, this is an awesome stalking saltwater fly rod for its stealth purpose and it's super affordable for the G Loomis quality and performance that comes with it.  
Specs 
Model – Stalker 
Weights: 5-9 
Lengths: 8ft – 8ft 8 inches 
Line: 5-9
Action: Fast 
Pieces: 4 
Tube: Yes 
Pros 
Incredibly affordable for the quality 
Awesome strength and fish-stopping power 
Shorter length turns over big flies with ease 
Loads very quickly and with tight loops 
Ideal for low casts into and around structures 
Excellent casting accuracy up to 60 ft 
Ideal for fishing from a skiff  
Durable build that lasts
Quality stripping guides, reel seat, handle, and fighting butt 
Cons
Won't manage long casting distances with accuracy 
Comes in a limited range of weights 
Things To Think About When Picking A Saltwater Fly Rod 
How Heavy Is The Fly Rod? 
When choosing a saltwater fly rod, the first thing you need to think about is how heavy it is, as you're not going to be casting a 3 or 4-weight fly rod as you do for trout, it'll be a 9 – 12 weight! 
Heavy rods make casting harder, they hurt your arms when pushing big flies all day long, and generally make fishing a little bit less fun, and we can't have that. A lighter fly rod will keep you fresh for that opportunity that arrives in the eleventh hour and give you more control over every cast. 
What weight is right for what species? 
When you go saltwater fly fishing for multiple species, you need to own at least two or maybe three different-weight fly rods. 
You'll want a 7/8 weight for the smaller species like bonefish, a 9/10 weight for likes of permit or snook, and an 11/12 weight for the big boys like 100 lb tarpon, GTs, and sailfish. 
Now, when picking weights you should also think about cost and castability. When bonefishing in heavy winds an 8 or 9 weight will be easier to fish with than a 7 weight, for example. And, when it comes to cost, you could just own a 9-weight and a 12-weight, and you'll have all the species mentioned above covered. 
Action & Casting Performance
You have probably noticed that every fly rod featured has a fast action which means it bends close to the tip during the cast. This makes them stiff rods and the result of a stiff rod is high energy transfer for quick line speeds. 
When fishing the flats, you aren't going to get snagged on trees behind you but you are going to have days when the wind gusts at 20 knots. The fast line speeds using a fast action rod provide the best ability to cut through strong winds. 
Final Thoughts
Thanks for reading my article, I hope you found it useful and have discovered the best saltwater fly rod for you to go out and purchase.
If you want to learn about the best saltwater fly reels to pair with these rods, check out my articles on the Abel SDS Ported reel, the Orvis Mirage, and the Hardy Ultralite MTX-S, three great choices for a saltwater fly reel.

Latest posts by Jamie Melvin
(see all)