Disclosure: Some posts contain affiliate links, which earn us a commission if you make a purchase through them. Positive Fishing © participates in various affiliate networks including the Amazon Services LLC Associates Program.



Orvis Helios 3D Fly Rod Review: A Buyers Guide
Our Verdict
Buying a Helios 3D is a decision that you will probably never regret. This rod will be able to cope with all types of small and large fish both saltwater and freshwater. Whilst, the Helios 3D comes with outstanding quality, it's not for the beginner or budget fly fisherman. This rod is designed for power and distance with outstanding casting capability and accuracy.
The Good
Outstanding Quality
Awesome performance in all aspects
25 year warranty
Large range of weights and rod lengths to choose from
Casting range is well in excess of 50 feet, giving greater fishing ranges
The Not So Good
A high price tag option which is not for every oersons budget
If you're in the market for a new fly rod and are looking to fish with a Ferrari instead of a Ford, then the Orvis Helios 3D might be the right fly rod for you. 
When Orvis came out with their new Helios 3D fly rod a few years back they were calling it "the most accurate fly rods ever built." Now that is saying something and every fly fisherman in the game wanted to get their hands on one and see if the marketing was true or not. 
The Helios 3D is Orvis' top-performance fly rod and is an upgrade of the previous Helios 2, which was a pretty solid fly rod, but how does the 3D compare? 
Join me as we take an in-depth look at the Orvis Helios 3D fly rod to discover what is so great about it and whether it stands up to all the press. 
Orvis Helios 3D Fly Rod Overview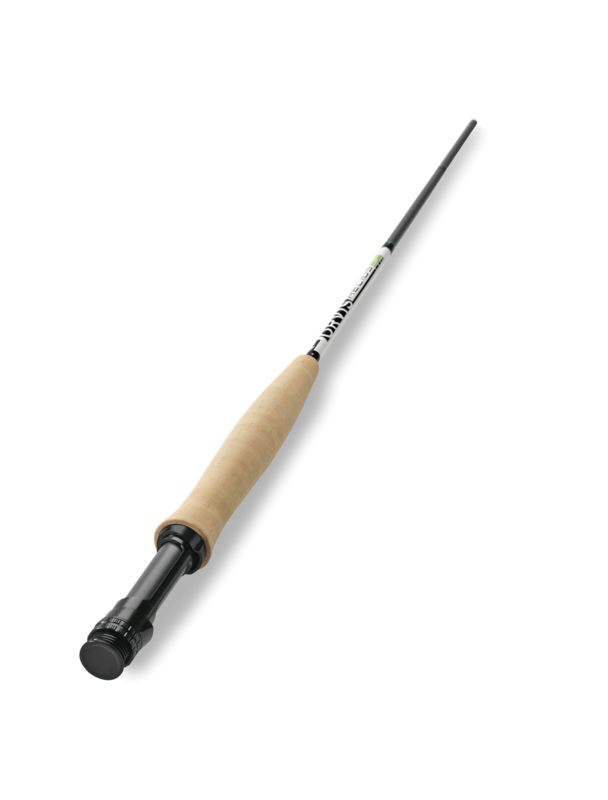 The Helios 3D is, by far, one of the best fly rods Orvis has ever made in my opinion and you'll find very few fly fishing guides who disagree with that statement. 
When you first pick up a Helios 3D, you immediately feel the comfort of the snub-nosed half-wells grip which fits snugly in your hand, and it's pretty mind-blowing how light these rods are. 
The first time I held one was on the flats and it was a 12 weight Helios 3D that my client was using and said "here, have a go with this and see what you think." I didn't expect much as I was used to fishing with a G. Loomis or a Thomas & Thomas, and Orvis in my opinion were never quite at that level.

But, when I held the Helios 3D 12 weight in my hand and made a cast, what I thought about Orvis changed immediately. This rod was super-light, especially for a 12 weight and I dropped a 60 ft cast with barely any effort at all. It felt solid in my hands and quite powerful to boot, creating fast line speeds and tight loops that would punch effortlessly into the wind with ease. 
The Orvis Helios 3D is an awesome fly rod and it's built to be forgiving to cast with, which other performance rods like the G. Loomis Asquith or T&T Exocett aren't. 
The blank is designed to absorb casting inconsistencies and inaccuracies to give you a more consistent overall cast and more of a chance to catch a fish – if it could absorb nerves and excitement, I would only let my guests cast with this on the flats. 
When you cast with this, chances are you'll cast further, more accurately than before, and with less effort too. It's a great rod to pick up and go again with too, like when you have to recast to a moving fish on the flats within double quick time. 
The Orvis Helios 3D comes with all bells and whistles too including a type III anodized aluminum w/ carbon insert that will never corrode plus light and tough tantalum stripping guides with SIC inserts that reduce friction. 
To top it all off, the Orvis Helios 3D comes with a 25-year repair or replace guarantee meaning that if it ever breaks on a fish or while you're fishing, it will be fixed/replaced for free. 
The one drawback to the Orvis Helios 3D is the high price as it retails for $998, which is a pretty penny for a fly rod. But, you're getting a rod for life with the guarantee, so it's not so bad. If your looking for a rod without the high price tag, my strong recommendation would be the Orvis Recon.
The Orvis Helios 3D is also available in a combo kit via the Orvis website here! You can also have the outfit personalized with your name.
The Rod outfit includes:
Helios 3F 905-4 Fly Rod
Mirage LT II
Pro Trout Textured line
100 yds. of 20 lb. Dacron backing
Aluminum rod tube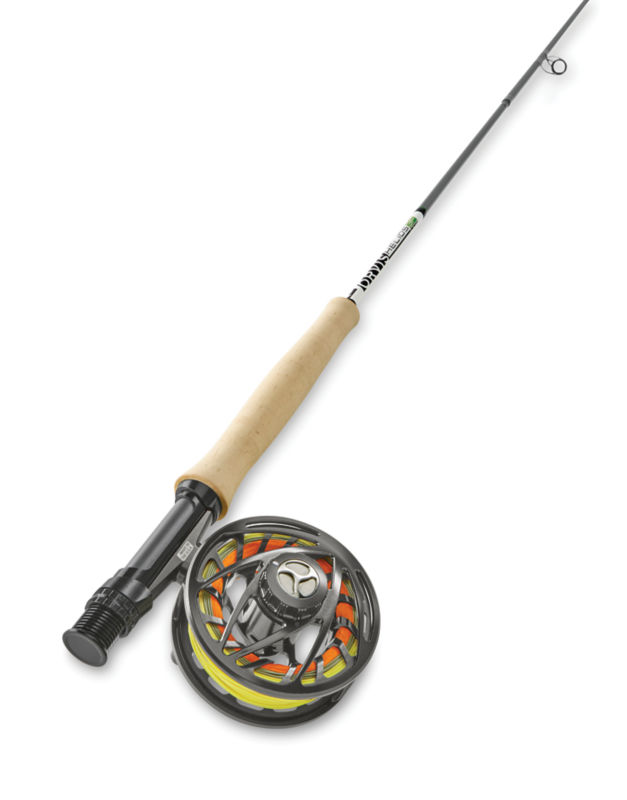 Pros Of The Orvis Helios 3D Fly Rod 
It's super light which makes long days of blind casting easy 
Despite being light, it's made from a super durable and tough blank 
The rod has some serious lifting power for putting the hurt on large species like tarpon
Lovely to cast with a low swing weight and great energy transfer 
It's very forgiving to cast with, absorbing inaccuracies for more consistency overall 
You'll find you cast further and more accurately with this fly rod 
Great feel when casting, from butt to tip 
Fast action and high line speeds help you punch through the wind on blustery days 
Great for picking up a recasting quickly on the flats 
Comes with top quality titanium guides that reduce friction and being the overall weight down
A high-grade aluminum reel seat will survive in all environments 
Comes with a 25-year guarantee that Orvis stands by 
Cons Of The Orvis Helios 3D Fly Rod
It's pretty expensive but it is worth it for the quality 
Some anglers don't like the white labeling by the rod grip
Specs 
Model: Helios 3D
Material: Graphite 
Stripping Guides: Titanium frame/SiC insert
Guides: REC Snake Guides
Reel Seat: Type III anodized aluminum w/ carbon insert
Weights: 4 – 12 
Length: 9 -10 ft 
Line Weights: 4 – 12
Action: Fast 
Pieces: 4
Rod Tube: Yes
Who Is Orvis? 
If you're new to the fly fishing world, you might be wondering a bit about Orvis as a company, especially when they are asking for close to $1000 for the Helios 3D. 
Orvis has been in the fly fishing industry for 166 years since the company was founded in Manchester, Vermont, the USA in 1856. They are a company dedicated to the outdoors and have always had both fly fishing and wing shooting at their core, and still do today. 
When it comes to fly fishing rods, Orvis has made some of the best rods the world has seen as well as some of the most affordable good quality rods on the market too. I wouldn't hesitate to invest in an Orvis rod but if you would like to learn more about the company, there is more information here. 
FAQs About The Orvis Helios 3D
What weights and lengths does the Orvis Helios 3D come in? 
The Orvis Helios 3D comes in a large range of weights all the way from a 4 weight to a 12 weight. Almost all the Orvis Helios 3D fly rods are 9 feet in length which is the standard and most useful length for a fly rod but you can also buy the 7 weight Helios 3D in a 10 feet length. 
Can I use the Orvis Helios 3D for freshwater & saltwater fly fishing? 
Yes, you can use the Orvis Helios 3D fly rods in both freshwater and saltwater, just make sure you are using the right weight for the species you're after. The saltwater range runs from weights 8 through 12 while the freshwater range runs through weights 4 through 7. 
With an Orvis Helios 3D 12 weight fly rod, you'll be able to go after some of the biggest species on a fly including tarpon, sailfish, GTs, wahoo, and tuna. 
What does the D stand for in Orvis Helios 3D? 
The D in Orvis Helios 3D stands for "distance" as it's built to push both distances and accuracy. This is another model out there called the Orvis Helios 3F which stands for "finesse" which is a much softer rod that is dedicated to delicate presentations rather than distance. 
Is The Orvis Helios 3D Right For Me? 
In my opinion, the Orvis Helios 3D is right for everyone who can afford to buy one, as long as you don't mind the white "label" by the rod grip. 
This fly rod performs excellently in all environments, is light and forgiving to cast with, provides great distance and accuracy, and it's tough enough to handle the harshest of fish and fishing situations. I don't think you can ask for much more! 
If your looking for a rod more in the mid-range price bracket then take a look at the Orvis Clearwater.
Final Thoughts
Orvis has a wide range of fly rods for every angler. The Helios is definitely at the top of the range and its performance matches that expectation. 
The Helios range covers freshwater and saltwater and is the ultimate quality fly rod available on the market today.
Check out my review article on the mid to high-range Orvis Recon here!
Check out my review article on the mid-range Orvis Clearwater here!
Check out my review article on the entry-level range Orvis Encounter here!
You can read all my other rod article reviews here including other best fly rods manufacturers.

Latest posts by Jamie Melvin
(see all)