Disclosure: Some posts contain affiliate links, which earn us a commission if you make a purchase through them. Positive Fishing © participates in various affiliate networks including the Amazon Services LLC Associates Program.



Orvis Clearwater Fly Fishing Rod Review
Our Verdict
The Clearwater collection has a rod for any type of fishing you would like to try. The 6-weight is a great versatile option, but the other weights are going to work well. Orvis continues to pull away when it comes to versatile rod setups.
The Good
Tremendous quality
Extremely versatile
Huge range of rod options for everyone
Incredible warranty offered
Easy to handle and sensitive
25 Year warranty
The Not So Good
The rod is a little more on the stiff side
Does not come with a hook holder
Anglers all across the globe are well-aware of the Orvis brand. It's been a staple in fly fishing for decades. While some anglers swear off the brand due to its popularity, the quality of its materials is second to none. 
The Clearwater Setup from Orvis is a great depiction of what makes their rods special. They can be affordable, but still provide quality that is challenging to find. 
In this article, I will cover: 
What's in the Box?
Features

Rod Build Quality
Weight
Short Casting
Long Casting
Presentation
Warranty

Pros 
Cons
Overall Review
What's in the Box?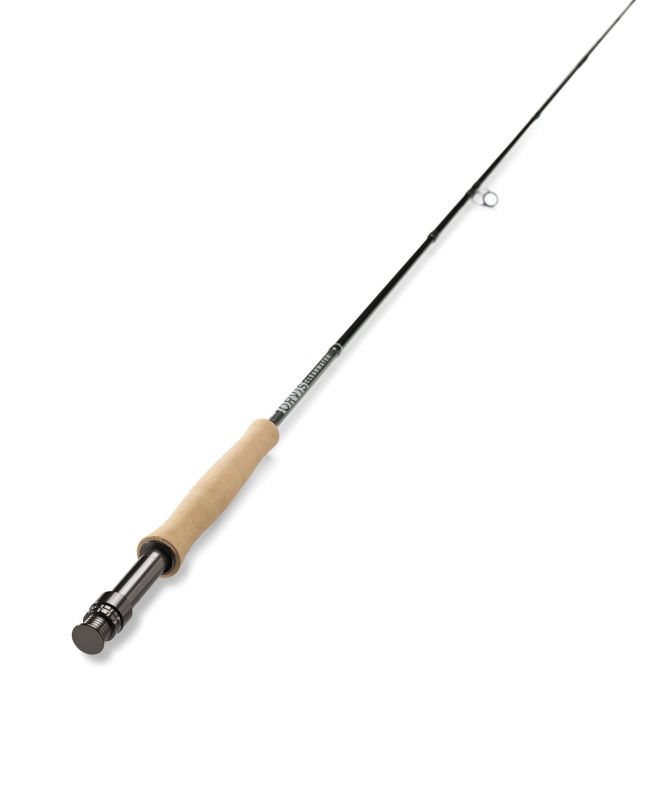 You can purchase the Clearwater alone or in a full combo outfit. The rod itself is in the mid to high price range and the reels are a very attractive mid-range cost. Depending on your needs, Orvis has a package that will fit you.
I will be reviewing the Clearwater 6-weight 9' rod outfit. 
In the package, the first thing you'll notice is the Clearwater rod tube. The rod is sent in four pieces all packaged in an attractive tube. The weight of the rod may catch you off guard at first. It feels a bit heavier than other 6-weight rods you'll find. 
Orvis Clearwater Review Features & Specs
Versatility is the name of the game for the Clearwater rod. Since it's a higher-end entry-level rod, it's not going to be spectacular at one specific thing. It will succeed in a variety of circumstances on almost any body of water. 
You can rest assured that the Clearwater will hold its own against whatever you throw its way. This is not easy to say for a rod at this price range. Many anglers purchase it with the intention of having it as an entry-level or backup rod and find themselves using it as their main rod. 
Rod Build Quality 
The Orvis Clearwater is based on the Orvis Helios 3D and 3F fly rods. For anyone who knows Orvis, this is a big deal. These are their top-of-the-line fly rods with a phenomenal reputation. 
The Clearwater is made out of mid-modulus graphite and only weighs around 3 ounces. The rod feels solid and unlike the previous model, you can tell that it is a 6-weight. The old Clearwater models all felt similar. It was hard to tell the difference between the 4-weight and 8-weight. 
Each had a similar design and the weights were not distinct by any means. 
The new Clearwater model gives you the power that a 6-weight should. The cork is solid and there's nothing too flashy. It looks almost identical to the Helios in its design. The solid material is comfortable and doesn't cause any problems during a long day on the water. 
The reel seat is made out of aluminum and the dark black design looks wonderful. The seat holds the reel well with no worry about it loosening over time. A turnoff for many anglers is that the rod doesn't have a hook keeper. Anglers will often place their fly in one of the guides or at the bottom of the cork as a result. 
The tip is composite and has proven its worth over and over. This medium-action rod is going to thrive in a variety of situations and doesn't cause anglers to worry in any specific scenario. It's a nice mix of action and power that won't overwhelm you one way or the other. 
Weight 
The Orvis Clearwater collection is massive. You can purchase freshwater, big game/saltwater, two-handed, and travel Clearwater rods. Depending on your needs, Orvis has it. The traditional freshwater rods range from 2-weight to 8-weight. 
You can purchase up to 12-weight Clearwater rods as well as switch and spey rods. On the 6-weight, you'll have confidence casting a small dry as well as a heavy streamer. As soon as anglers purchase one Clearwater rod, you'll likely find yourself with an arsenal full of them.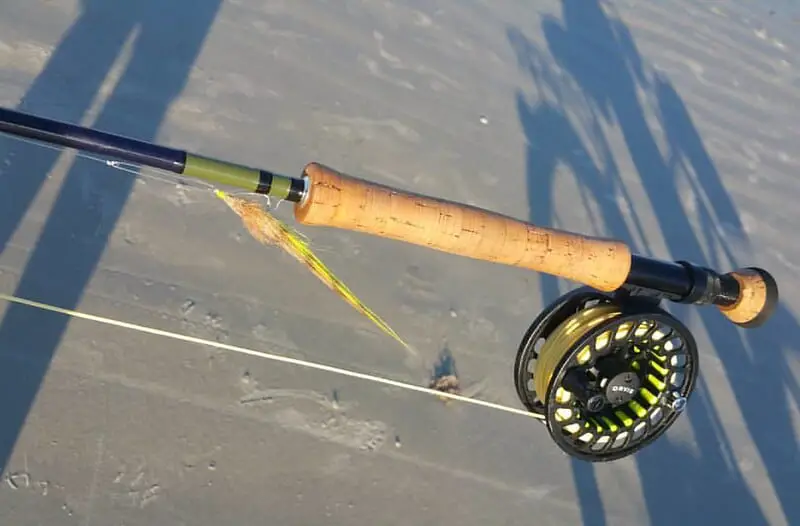 Long Casting
The casting power of the Clearwater 6-weight is downright impressive. It has a medium action and Orvis has found the right balance between power and accuracy. Any cast between 20-65 feet doesn't take much effort. 
You'll hit your spots no matter what type of fly you're using. Those picky trout all the way across the stream won't know that your fly is artificial thanks to the precision that the Clearwater allows.
Even roll casting or river loading larger nymphs is simple on the Clearwater. You don't feel as if you have to put all of your effort behind the rod when trying to make these specific casts. Unlike the more affordable Encounter, the Clearwater rod does well in inclement weather. You don't have to worry about not being able to cast in the wind or missing your spots on the larger bodies of water. The stiffer makeup of the rod helps you withstand those difficult fishing days. 
You'll have confidence that the rod will perform well even if you aren't. It can make up for some of your mistakes with the medium action and composite tip. 
Short Casting 
The short casting is where the Clearwater can run into issues. On the latest model, Orvis opted to make the rod a bit stiffer. The stiffness allows you to cast heavy flies and long distances but lacks a bit in the shorter finesse casts. This being said, with some practice, you'll gain the feel for the timing and have no trouble. Some of the high-end rods have extremely fast actions that make it difficult to cast short distances. 
The Clearwater is more on the medium side so it's manageable when trying to pick your spots in pocket water or tighter seams. It also has a soft tip that is going to work well with your lighter tippet. You'll manage to hit those spots, but it's going to rely a bit more on your casting ability to do so. 
IF you know you're going to only fish in small streams and tight water, Orvis has other options that will perform at a higher level. 
Presentation
Presentation is one of the most important factors in fly fishing. You need your flies to look natural if you're going to catch fish. The Clearwater allows for extremely natural presentations. You can lay your small dry fly down with no problem on the Clearwater. 
You won't have your flies slapping on the water because the rod tip isn't sensitive enough. As long as you're casting well, the Clearwater will respond to each and every one of your commands. 
Plus, the soft tip allows you to mend and place the fly wherever you would like once it is on the water. The sensitive tip allows you to make up for the lack of sensitivity on the rest of the rod. If you make an inaccurate cast, a quick flip of your wrist will move it to the proper place. 
Warranty
This is where Orvis truly earns business. The 25-year warranty applies to the Clearwater rods. If you break or damage your rod in any way, you can send it back to Orvis and they'll fix it for no extra charge. 
This allows anglers to be a bit more adventurous with their rod and take a few chances. You can test the limits of your Clearwater and see how it is going to perform in a variety of circumstances. You may be surprised by how much this rod can handle and how long it will last.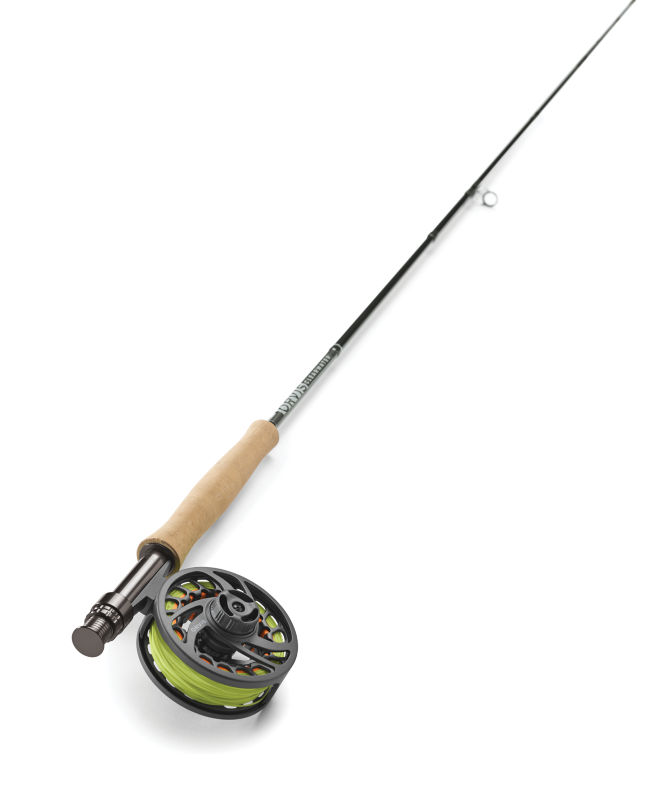 Tip: You can also order the Clearwater Rod and reel combo, as seen in the image above.
Pros of the Orvis Clearwater 
This rod is by far, significantly better than any entry-level setup. It's a great option to move on from a cheaper setup if you're not willing to break the bank. For the price, it's well worth it.
On top of the great price, the rod looks phenomenal. The black and chrome features look great in the sun and don't scream too fancy or too cheap. The simple design is elegant and I have no shame pulling it out on some of the "high class" streams out of the East Coast. 
The rod is extremely versatile. You can use it on rivers like the Yellowstone, most small mountain streams, and a variety of lakes and ponds. It'll handle largemouth bass and can sense a strike from a small brook trout. 
Cons of the Orvis Clearwater 
The rod is a bit stiff. If you spend your time on mountain streams, it can be a challenge to pick your spots. Depending on your casting ability, however, you may be just fine.
The lesser sensitivity can drive people to buy the Orvis Recon. However, if versatility is still what you're hoping to get, stick with the Clearwater. 
Overall Review
The Orvis Clearwater setup isn't just for a beginner. Anglers of all skill levels can use this as their main or backup rod and be pleased with the performance.
It seems as if rod outfits are becoming more and more expensive, but Orvis has managed to keep the price down enough that it won't hurt too much to buy. 
The Clearwater collection has a rod for any type of fishing you would like to try. The 6-weight is a great versatile option, but the other weights are going to work well. Orvis continues to pull away when it comes to versatile rod setups.
Check out my review article on the entry-range Orvis Encounter here!
Check out my review article on the mid to high-range Orvis Recon here!
Check out my review article on the high-end range Orvis Helios 3d here!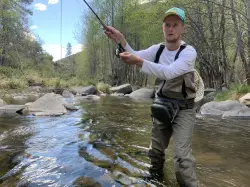 Latest posts by Daniel Mooers
(see all)