Disclosure: Some posts contain affiliate links, which earn us a commission if you make a purchase through them. Positive Fishing © participates in various affiliate networks including the Amazon Services LLC Associates Program.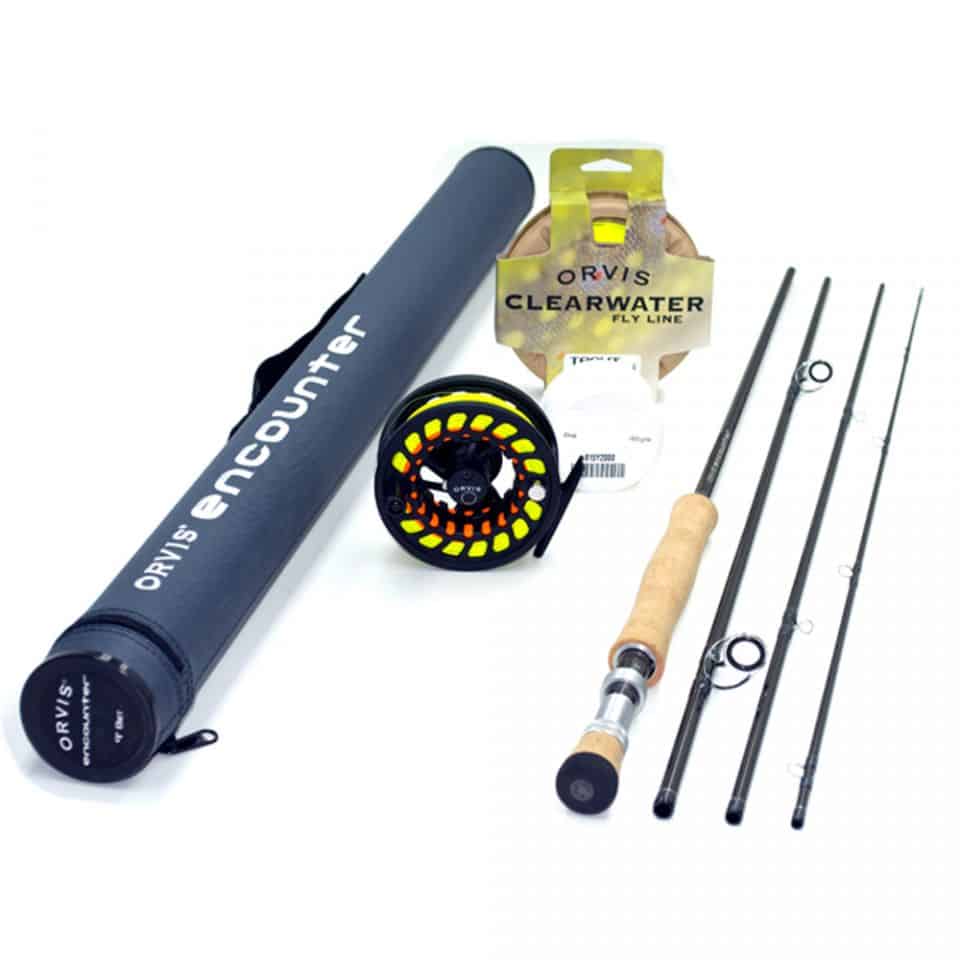 Orvis Encounter Fly Rod and Reel Combo: A Buyers Guide
Our Verdict
The Orvis Encounter combo is an excellent all-around entry-level rod and reel for starters to the sport. For most fly fishing beginners, it will get the job done for the vast majority of fishing situations, all at a reasonable price tag.
The Good
As with all Orvis gear, this rod and reel combo keeps with its great quality tradition
Huge 25 Year warranty on the rod
Great price point for an entry level combo
Reel comes with fully loaded leader and line
The reel in the combo set is an extremely capable quality addition
The Not So Good
An Entry level rod and reel combo, not for the specialised fly fisherman
A lack of options for the rod
Struggles a little more than other Orvis rods in difficult conditions
In recent years, Orvis has joined the effort to give people of all income levels a fair shot at the sport. The Orvis Encounter Rod and Reel Combo is an entry-level price structure and can provide years of experience regardless of your skill level. 
Affordability and fly fishing don't always go hand-in-hand. Often, if you sacrifice on price, you're sacrificing on quality. Thankfully, there are fly fishing companies striving to make the sport more accessible for those not able or willing to break the bank on equipment.
In this article, I will cover: 
Orvis Encounter Size Options
Orvis Encounter Rod Features and Quality
Orvis Encounter Long Distance Casting Accuracy
Orvis Encounter Short Distance Casting Accuracy
Orvis Encounter Reel Features and Quality
Overall Review 
Orvis Encounter Rod Size Options 
Since the Encounter combo is the entry-level Orvis option, you don't have as many options when it comes to size. However, the options Orvis does provide are by far the most versatile-sized rods. You can buy a five, six, or eight-weight rod and reel combination. All of these can be fished in a variety of situations and are great for an angler's first or backup rod.
Orvis Encounter Rod – Features And Quality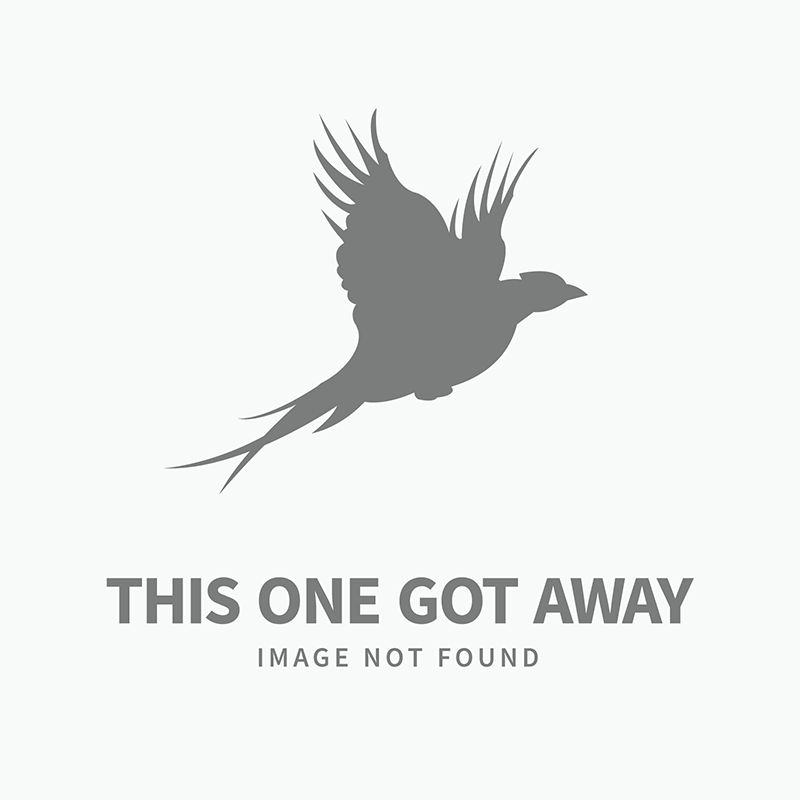 The Orvis Encounter rod quality is nothing to laugh about. You receive everything you would on Orvis' other rods besides some of the most advanced technology. These rods and reels are good at a variety of things but aren't perfect at any.
If you're looking for a more specialized rod, this isn't for you, but it's ideal for a more versatile option. 
Rod Build Quality 
When it comes to choosing a fly rod, anglers often want a certain material, color, and length. Being picky is more of a challenge when purchasing an affordable setup. You're limited to graphite with the Encounter. It has a medium action, so it's equipped to throw both larger and smaller flies. You'll feel the small bites from fish in the dead of winter and also be able to handle a larger double-digit fish. 
Rod Weight 
The heaviest option for the Encounter rod weighs approximately 118 grams. Most anglers would likely say that the 8-weight feels more like a true 7-weight. The 6-weight feels a bit more like a 5-weight and a 5-weight feels like a 4-weight. 
The less weight is why Orvis places a weight-forward line on the reel. The heavier tip of the rod makes casting easier. You won't have any problem getting the line out of the rod as you cast. 
Tip: The encounter rod is supplied with a 33 inch Cordura fly rod case.
Long Distance Accuracy 
Long-distance casting is where the Encounter shows its lower quality. Due to its lightweight and medium action, the Encounter doesn't function as well on windy days. Anglers have to be confident in their casting abilities to hit all of their spots on days with tough conditions. 
The rod will allow you to cast accurately at 50 or so feet, but after that, the length of the cast depends on your abilities. You'll need to complete quite a few false casts to get your fly where you need it. Your timing needs to be right on the money when casting the Encounter long distances. 
Since the rod is light, you'll feel heavier flies as you're making casts. If it's a bead-head fly, work on your casting rhythm, but you'll eventually find a speed that doesn't even make you feel the fly. The Encounter isn't going to let you cover a massive amount of water, but it performs well enough that you can get to where you need to throughout a day of fishing. 
Short Distance Accuracy 
When it comes to casts less than 50 feet, the Encounter is surprising. The sensitivity of the rod allows you to pick your spots. You can even take the 8-weight into tight casting lanes and perform well. 
You can river load as well as a roll cast. The Encounter excels in pocket water and tighter seams. What you lose in overall power, you can make up for in your finesse casts for larger fish. 
Orvis Encounter Reel – Features and Quality 
For beginning anglers, setting up a fly reel is confusing. Finding the proper backing, fly line, and leaders isn't easy, and then putting those on is even more of a challenge. On top of it all, you have to ensure you have the proper size reel arbor.
Orvis takes care of all these worries when you purchase the Encounter setup. They'll do it all! 
Materials
Orvis Encounter reels are made out of composite plastic. For some anglers, this is a massive red flag. Thankfully, the Encounter is able to withstand saltwater and won't corrode with the proper care. The reel is anodized and that is fairly rare to find on an entry-level fly setup. However, the reel isn't sealed so you'll need to be sure to clean it if you ever use it in saltwater. 
You can tell that the encounter reel is not at the topmost superb quality of the Orvis range, but it by no means feels cheap. 
Drag System
The Encounter reels come with a disc drag system as well as a nice adjustable drag knob. You can easily set the drag to whatever resistance you need. Plus, you can adjust the drag to a necessary level in the middle of the fight. 
Size
The Encounter reel is a large arbor reel and can hold up to 150 yards of line. This is enough line for you to fight any sort of larger fish you find. You can lose your worry about getting spooled, so enjoy the fight. 
Line 
The Orvis Encounter reel comes fully equipped with a weight forward (WF) sink-tip line attached. For beginners, a weight forward sink-tip is a great option. You'll see that dry flies get pulled under, but you can easily fish nymphs and streamers.
Orvis Fly Fishing Reel Manuals
If you ever run into a concern with any of your Orvis reels, you can download a pdf version of the Orvis Encounter reel manual here!  This link will also allow you to download all the pdf reel manuals including the Orvis discontinued models.
Tip: As with most reels, the Orvis encounter is able to be switched from a right to left-handed and vice versa.
Overall Review
The Orvis Encounter combo is a great choice for anglers of all skill levels, but it works best for those beginners that are new to fly fishing. 
My personal view is that this combo is the Orvis starter kit – It's not in its element on large water with difficult conditions, but it will handle just about everything else. 
However, on clear days and on medium-size bodies of water, the Encounter will feel right at home. You'll be able to cast 50-60 feet and pick your spots. It's going to handle larger fish, but not without a full fight. You work for every cast and fish with this rod, but it's hard to find an entry-level setup that's much better. 
The reel is the best aspect of the Encounter. On top of the fact that it comes fully equipped with everything you need to begin fishing, it will fight whatever you throw at it. 
It's made of a hard plastic, can take a beating and you don't have to worry too much about any intricate aspects of the reel breaking. It's a fairly simple setup that will go above and beyond anything you ask of it and work when you need it most. 
If you're new to the sport, start your fly fishing beginnings with an Orvis Encounter combo setup. You'll get a taste of what they can do at the low end. As you gain skill, the Encounter can become your backup rod after you replace it with something that fits your needs and skills a bit better. For an entry point rod and reel combo, you're in for a real treat! 
Check out my review article on the mid-range Orvis Clearwater here!
Check out my review article on the mid to high-range Orvis Recon here!
Check out my review article on the high-end range Orvis Helios 3d here!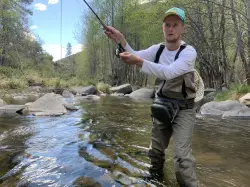 Latest posts by Daniel Mooers
(see all)