Disclosure: Some posts contain affiliate links, which earn us a commission if you make a purchase through them. Positive Fishing © participates in various affiliate networks including the Amazon Services LLC Associates Program.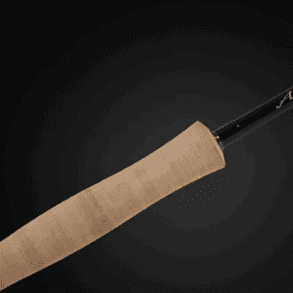 G. Loomis Asquith Fly Rod Review: The Best Ever Fly Rod Made?
Our Verdict
There is no better fly rod on the market than the Asquith. Yes, it has a high price but it's unlikely you will never have a better fly rod in your collection. The super lightweight and strong rod gives an amazing performance in every category and with its amazing energy transfer and power coupled with the perfect sensitivity, this rod in my opinion is the best that you can buy.
The Good
Suberb casting ability
Super Lightweight
Overall feel and comfort
Amazing energy transfer and blank recovery
Superb in the wind
The Not So Good
Well the price - But if you want the best!
If you're looking for a new fly rod, and want to fish with probably the best fly rod ever made, let me introduce you to the G. Loomis Asquith fly rod. 
When the Asquith was released by G. Loomis in 2016/17 it turned a serious number of heads as it was being sold as an upgrade to the G. Loomis NRX, one of the best fly rods ever. It was hard for anyone to believe that things could get better than the NRX but we were all proved wrong. 
Join me as I run through an in-depth review of the G. Loomis Asquith fly rod so you can understand why it's one of the best fly rods out there and decide if you want to spend a small fortune on it. 
The G Loomis Asquith Fly Rod
The G. Loomis Asquith fly rod is one of the best all-around fly rods in the world, ever. This is a bold statement I know, but you'll struggle to find many people who disagree. 
The Asquith is built using a very special and proprietary method developed by Shimano and G. Loomis called Spiral X Technology. The use of Spiral X has allowed Shimano and G. Loomis to make a fly rod that is extremely powerful and really strong as well as being super light.
What a combination!
If you have ever fished with a Loomis NRX, you'll know it's pretty much unbreakable. Well, the Asquith is the same but it's lighter and actually performs better.   
You can buy the Asquith in every rod weight from 4 to 12, meaning you can use the Asquith to target everything from backcountry brown trout to tarpon, GTs, and sailfish. It's a stunning rod to cast with as the fast action, light swing weight, and energy transfer combine to provide more distance and accuracy than ever. 
When casting the Asquith, you can literally feel the energy transfer from the butt to the tip as the rod flexes and the blank recovery is out of this world. This allows you to create a huge amount of line speed and thus push long distances and cut through the wind. 
The G. Loomis Asquith fly rod comes with all the top extras including super-lightweight titanium guides, and a tough aluminum reel seat, and it comes with a lifetime warranty to boot. It's a rod for life. 
The one negative thing about the Asquith is how expensive it is. You're going to be paying $1100 to $1500 USD for this fly rod but you do get what you pay for in the fishing world, and you're getting a lot with the Asquith. 
The lifetime warranty also means that whatever happens to your Asquith, you can send it back to get fixed for free, most of the time. 
Where are the G.Loomis Asquith Fly Rods Made?
The complete manufacture and construction of the entire collection of  G. Loomis fly rods are undertaken in Woodland, Washington State, USA. Loomis is a subsidiary of Shimano American Corporation.
It is important to note that each rod blank is hand-crafted from rod blanks
Pros 
Super powerful, strong, and is very hard to break 
Light and easy to cast with 
Amazing energy transfer and blank recovery 
Incredible casting distance and accuracy 
Great for punching through the wind 
Great range of weights for all fishing situations 
Top quality titanium stripper and snake guides 
Super durable aluminum reel seat with CI4+ insert and fighting butt
Includes a lifetime warranty 
Cons
Specs 
Type: Single/Double handed
Weights: 4- 12wt 
Length: 9 feet 
Material: Graphite 
Rod Action: Fast
Pieces: 4 
Is G. Loomis any good? 
If you ask around about G-Loomis in the fly fishing guide community, you're only going to hear good things. Getting on the G. Loomis guide program is very hard but despite this, many fly fishing guides still pay full price for these rods when they already have guide discounts with the likes of Sage or Thomas & Thomas. This says a lot! 
G. Loomis has been around since 1982 and has brought the fly fishing industry some of the best rods ever made. Rods like the Loomis NRX and the excellent Loomis Cross Current are the fly rods guides get excited about and the Asquith has now joined this list. 
G. Loomis is partnered with Shimano and they are all about improving their fly and conventional rods through design, technology, and innovation. They go as far as making new ways of building rods just to improve them as they did with Spiral X and the Asquith, but more on this later. 
All G Loomis fly rods come with a free lifetime warranty and chances are you won't need it as they are super tough. It's never a bad idea to buy a rod from G. Loomis, you'll fish better and have it for life. 
Design and Features Of The Asquith
Design, Build & Materials 
The G – Loomis Asquith fly rod is the first-ever fly rod to be made using Spiral X Technology and it's the genius of Spiral X that allows the Asquith to be so strong and light at the same time. 
It utilizes a three-layer design that reduces the amount of materials required while not sacrificing any power or rigidity. This comes together to give you a fly rod with a very low overall weight which makes long casting days easier without compromising on pulling power. 
You can go up against any big fish with the Asquith and the rod will be bent double and survive. If it's sailfish, tuna, tarpon, or huge GTs you're after, the G. Loomis Asquith fly rod is up for the job. 
What weights & lengths does the Asquith come in? 
The Asquith fly rod range includes single-handed fly rods in weights 4 to 12 and they are all the standard 9 feet long. The freshwater range includes weights 4 to 6 with a medium-fast action and the saltwater range from weights 7 to 12 with fast action. 
The Asquith range also includes double-handed Spey rods in weights 6 to 10 which range in length from 12ft 9 inches to 15ft. 
Whether you want to swing flies for salmon, stalk permit on the flats, or fish the mayfly hatch on the River Test, there is an Asquith model to match. The range has all the options for every fly fisherman.
How good is the Asquith for casting? 
When it comes to casting, the Asquith really does perform exceptionally well. If you're a proficient caster, then the G. Loomis Asquith fly rod is going to take your casting to a new level. 
Thanks to the Spiral X technology in the blank combined with the fast action, the Asquith has all the attributes of an amazing rod. It has a load of feel and sensitivity which gives you more connection and control on the cast for greater accuracy. 
The stiff blank and quick recovery also mean you can get some serious line speed and punch into the wind without any worries. Also, quick pick-up and go casts are made easier, ideal when you need to make a second shot at a moving fish like a permit. 
Another great casting feature of the Asquith is its low swing weight. This rod is light which will make days of blind casting to fish like steelhead a lot less tiring. 
Is the high price worth it? 
All the top-end fly rods in the world cost around $1000, so paying a little bit more for the Asquith is worth it in my eyes. It's also important to remember that with the lifetime warranty, you do have a rod for life.
Verdict – Should You Buy The Asquith?
Yes, if the G Loomis Asquith is within your budget, you will never ever regret the day you bought it. The G. Loomis Asquith fly rod is a joy to fish with and it will take your fishing game to the next level. 
Final Thoughts 
Loomis has produced over the last 30 years some of the best rods the fly fishing world has ever seen. The technology of the materials and design provides us, fly fishermen, the best there is to offer.
This Asquith fly rod generates a lot of power and accuracy, coupled with its fast line speeds it's a true best-in-class rod. Its ability in windy conditions or when long casts are required cannot be matched by any other rod on the market today.
You can read my recommendations on a  full range of fly fishing rods for the budget angler and those looking to upgrade here!

Latest posts by Jamie Melvin
(see all)