Disclosure: Some posts contain affiliate links, which earn us a commission if you make a purchase through them. Positive Fishing © participates in various affiliate networks including the Amazon Services LLC Associates Program.


Freshwater spin fishing requires all sorts of different gear depending on what fish you're targeting and where you're targeting them. Fishing companies haven't made it easy for anglers to decide what gear is necessary and what type of gear should be used. 
Whether you're targeting bass, trout, or muskie, you will want to use different gear that fits your style.
Take your time and make sure you're making the right decision! We rarely buy or change rods yearly, which are not cheap! So to purchase the proper gear, do some solid research. 
In this article, let's learn more on:
Choosing The Right Spinning Rod Action
What is Rod Size?
What is Rod Power?
What Spinning Rod is Best for me?

Panfish and Trout Rod
Bass Rod
Musky and Pike Rod
Choosing The Right Spinning Rod Action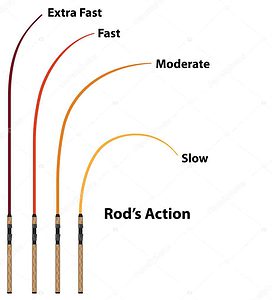 The next step in purchasing your spinning rod is deciding what action works best for you. With fly rods, you really only have four options! Some spinning rod companies provide their customers with more, but you don't have as much variety in fly rods. 
Slow Action Rod
A slow-action rod is definitely the rarest action that anglers use. It's a more traditional action than many of the original fly rods normally have. If you spend the majority of your time on small mountain streams chasing wild trout, a slow action rod isn't a bad idea. You'll find that these rods are extremely flexible and will slow everything down for you. 
If you're a beginner, the slower the action, the easier it will be for you to learn. However, the obvious downside with a slow-action rod is that you're limited in how far you can cast. Also, any inclement weather will make using a slow-action rod a challenge. If it's windy at all, you'll find yourself fairly frustrated. 
You can throw dries and nymphs, but streamers won't be easy. You'll have to put quite a bit of effort into casting them. 
Moderate Action Rod
A moderate-action rod is extremely versatile! It has more backbone than a slow action rod but is not as unforgiving as a moderate fast or fast action rod. This rod is only going to bend for half of its length. You can fish various types of flies and water conditions with a moderate action rod. A moderate action rod is ideal for a beginner! 
Moderate-Fast Action Rod 
Moderate-fast action rods are a step up from moderate action in various ways. Moderate action rods can be more versatile, but moderate-fast action rods combine versatility with performance. It still has a nice amount of flex but can perform well depending on the type of fishing you're doing. 
Streamers, dries, and nymphs are all fair game with a moderate-fast action rod! Even if the weather isn't ideal, you won't have much trouble with a moderate-fast action rig. 
Fast Action Rod 
Fast-action rods are powerful and a favorite of more advanced anglers. If you can nail the timing, fast-action rods provide the longest casts and have the most power when fighting a fish. However, you'll find that it's not an ideal action for beginners! 
What is Rod Size?
The next decision you have to make is the rod length that will work best for you. Most rods are going to be anywhere from 5 to 8.5 feet long. Those shorter rods around 5 or 6 feet are great for creek or stream fishing. Whether you're going after trout or smaller panfish, choose a shorter rod so you can make more finesse casts and still have enough power to fight them. 
As the fish you target get larger in size, you'll start to increase the length of the rod you're using. You'll likely need to make longer casts and need that extra leverage for fighting something that might be a bit larger. Fishing longer rods takes a bit of time to get used to, but once you do, you'll enjoy the extra power that comes with it. 
What is Rod Power?
The most important detail for many anglers when it comes to rod choice is the rod's power. You have seven options when it comes to choosing the power of your rod. 
Your first "category" of power is light. You have ultralight, light, and medium light. An ultralight rod is great for panfish, crappie, and trout. A light rod can work for panfish, walleye, and trout! A medium-light option can actually work for medium size freshwater and saltwater fish. 
The next "category" is a medium power rod. This rod size is really versatile and can handle lures from 1/4 to 3/4 ounces. Whether throwing spinnerbaits or popping corks, a medium rod can do the trick. 
Your final category is the "heavy" rods. A medium-heavy rod is what most bass anglers find themselves using. You can fish jigs or soft plastics, and the medium heavy will do the trick. A heavy rod is good for deep structure! If you're fishing deep, then go with a heavy. 
The extra-heavy rods work for fishing with 1/2 to 2-ounce lures! It's really stiff and allows for extremely quick hook sets. 
If you are looking for a 6 to 7ft top-quality spinning rod, then look at the CR5-30 Cadence spinning rod. The range covers all the power categories listed above, and I highly recommend and use this rod personally.
What Spinning Rod Is Best For Me? 
When choosing the right rod for you, ensure you understand where you're going fishing and what fish you're targeting! This will give you the best and most accurate information to help you decide. 
Ideal Panfish and Trout Rod 
Some anglers will disagree on the ideal measurements for an all-around panfish and trout rod. However, you can't go wrong with an ultralight or light rod that is 6 to 6.5 feet. You'll also want to ensure the rod's action is medium-fast! 
These rods have enough sensitivity that you aren't missing out on any strikes you get but still have enough power to land a bigger fish without too much trouble. 
Ideal Bass Rod 
If you're new to the world of bass fishing, you likely won't have a preference for the type and style of rod you want to use. The first thing to know is that you'll want a bass rod to be around 7 feet long. Some anglers choose 6′ 8", and others will choose 7'6", but you don't want to go far beyond those lengths! 
The next thing you'll want to make sure of is that it has medium or medium-heavy power. Bass are strong fighters, and you need to have quick hook sets; otherwise, you'll lose your fair share of them.
The final detail you want to have is to make sure it's a fast action! You won't get as much bend in the rod, and this assists in making sure you have a quick hook set. 
Ideal Pike and Musky Rod
You'll want to use a 7′ 6" or 8" long rod for your pike and musky rigs. Again, these help you make longer casts and give you more leverage when fighting them. You'll need to use a medium-heavy or a heavy model with fast action. This will give you all the necessary leverage and power to target these bigger fish! 
Final Thoughts
Choosing the proper size rod for you doesn't have to be as complicated as it may seem.
Make sure you do your research and fully understand how and where you're going to fish! This will allow you to make the proper decision without worrying about wasting time or money. 
If this article was helpful, please read my other article on Ideal Fly Rod Weight and Action – How To Choose The Best Option.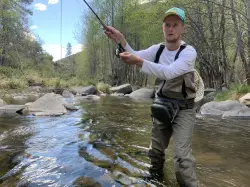 Latest posts by Daniel Mooers
(see all)