Disclosure: Some posts contain affiliate links, which earn us a commission if you make a purchase through them. Positive Fishing © participates in various affiliate networks including the Amazon Services LLC Associates Program.


In another article I recently wrote on types of fishing reels, I discussed the complexity of choosing the right reel. In this article on types of fishing rods, the variations of all the different rods are far more confusing than that of reels!
But don't worry, as I will explain all your options that are available, what each of them is good for, and when you should use which one. 
By the end of this article, you will know every type of rod available, and be able to decide when is the right time to use each of them. 
What Are The 13 Main Types Of Fishing Rods? 
Here are the main types of rods fishermen use: 
Spin-Cast Rods 
Spinning Rods 
Telescopic Fishing Rods 
Baitcasting Rods
Ultra-Light Rods 
Fly Rods
Ice Fishing Rods 
Surf Casting Rods 
Trolling Rods 
Coarse Poles
Pen Rods
Travel Rods
Bolo Rods 
One key thing to get right is using the right fishing rod or pole for the right purpose, and this can be dependent on species, where you are fishing, how you are fishing, your budget, and your skill level too. 
Spin-Cast Rods 
Spin-cast rods, also known as casting rods, are the most basic and usually the most affordable fishing rods you can find on the market. These fishing rods are made for kids and true beginners who have never cast or perhaps seen a fishing rod in their life. 
Spin-cast rods look a bit like spinning rods, except they pair with a spin-cast reel on the top side of the rod with the eyes facing upwards. The push-button casting system makes them so easy to use for novices. 
A new angler can use their thumb to press the button on the bottom of the reel to release the line when they want to cast. This method also evades tangles and lets the angler think about their casting technique without worrying about line management too much. 
Spin-cast rods tend only to come in smaller sizes and are therefore suited to smaller fish like bass, bluegill, crappie, trout, etc. 
When To Use A Spin-Cast Rod 
Spin-cast rods are great for smaller species and when kids or beginners are learning how to fish. They are made in smaller sizes to suit the smaller fish and are incredibly simple. 
Pros 
Easy to cast with 
Minimal tangles 
Super simple 
Good casting accuracy 
Cons 
Limited fish sizes you can target 
Internal tangles are a nightmare 
Spinning Rods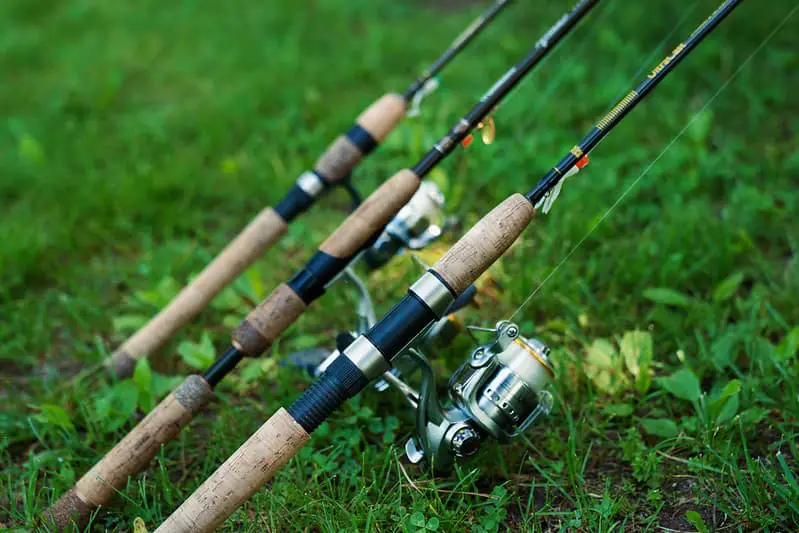 Spinning rods are the most common fishing rod on the planet and one of the most versatile too. You can pretty much catch every fish on earth from a small bluegill or roach to a black marlin with a spinning rod. 
What makes a spinning rod different from other rods is that it is used with a spinning reel that sits on the underside of the rod. This makes casting your lure or baits incredibly easy as you can use both hands to create a lot of power, and the line will just flow off the reel mid-cast without the need for any management. 
Spinning rods come in a huge range of sizes from 4lb to 80lb ratings and above, are super simple to use, and are great rods for beginner anglers plus pros alike. 
You can use them for bottom fishing with bait, popping, trolling, casting, and retrieving jerk baits, spinners, and more. Their versatility is truly endless! 
When To Use A Spinning Rod   
You can use a spinning rod in pretty much every fishing situation just make sure you match the size and strength of the rod to the size of the species you intend to catch. 
Pros 
Incredibly versatile 
Very affordable 
Simple to use
Come in a huge range of sizes 
You can catch all species with them 
It doesn't tangle much 
Great for beginners 
Cons 
Telescopic Fishing Rods 
Telescopic fishing rods are essentially spinning rods but built in a telescoping fashion. This means that instead of the rod coming in say two, three, or four separate pieces that you have to put together, it comes with one section inside the next. 
This makes telescopic rods incredibly portable as they collapse into themselves and thus are super compact when stored. Setting them up is also very easy as you just have to pull out each section one at a time. 
Once set up, telescopic rods are essentially spinning rods, but they are usually made in small to medium weights and are therefore best for small to medium-sized species. 
They are a great rod of choice for backpacking trips, hiking, and traveling, but they can also be quite annoying to fish with. The sections can collapse while you are fishing, and they don't deliver the same casting performance as a regular spinning rod.
When To Use A Telescopic Rod  
The only time to use a telescopic rod is when the need for portability outweighs everything else. Telescopic rods are great to use when you are hiking, camping, or leaving in your car, just in case you go past somewhere that is asking for a cast. 
Pros 
Affordable 
Super portable 
Great for trips
Easy to use
Pretty versatile 
Cons 
Not the best casting performance
Can collapse whilst using 
Only for smaller to medium size fish 
Baitcasting Rods
Baitcasting rods are a mix between a spinning rod and a spin-cast rod. They have the versatility, power, and size range of spinning rods, but the reel and rod eyes sit on the top of the rod, just like on a spin-casting rod. 
Pro anglers tend to use baitcasting rods as they are the next step up from a spinning rod. This has nothing to do with the rod; it is the reel that is hard to get your head around, as it requires practice and countless tangles until you master it. 
Once an angler has mastered baitcasting though, their casting distance and accuracy go through the roof, meaning they catch more fish than ever before. 
Therefore, baitcasting rods are best used when casting accuracy and distance are required to succeed. Imagine putting a crankbait into deep cover within inches of mangroves, for example – dedicated smallmouth and largemouth bass fishermen will only use baitcasters. 
When To Use A Baitcasting Rod 
You should only use a baitcasting rod when you have mastered a spinning rod and are looking for the next step. Then whip them out when excellent casting accuracy and distance are needed. 
Pros 
Versatile 
Great casting distance 
Awesome casting accuracy 
Cons 
Hard to dial in 
Backlashes are common 
Ultra-Light Rods 
Ultra-light rods are usually spinning rods but can technically be any fishing rod. To qualify in this category of fishing rods, the rod has to be super light, hence the name. 
Ultra-light rods are literally designed to make catching very small fish species a ton of fun and are made to work with line weights around the 2lb – 5lb mark. Think of catching crappies, bluegill, and trout around one pound in weight, and you have the intended fish size for ultra-light rods. 
Some professional anglers also enjoy the challenge of catching big fish like 5lb largemouth bass on ultralight gear, as it takes the skill level up a notch. 
Ultra-light rods do not offer much casting distance as everything is too light, but they are incredibly accurate and subtle, making them great for spooky fish. 
When To Use Ultra-Light Rods 
Ultra-light rods are there to make catching smaller species a lot of fun. They are also great when casting accuracy and subtlety are more important than casting distances. 
Pros 
Make small fish seem big 
Accurate casting 
Loads of fun
Light, small, portable 
Easy to use 
Cons 
Make big fish very challenging (also a pro)
Not great for casting distances
Can snap easily 
Fly Rods
Fly rods are specifically made for fly fishing and have a very different build from all the other rods featured in the article. Fly rods are usually much longer, ranging from 8 to 14 feet, and are built to be used with fly reels and fly lines only. 
The fly line is weighted and, when cast with a fly rod, it loads the rod with energy to help a fly angler achieve long casting distances of up to and even over 90 feet. 
You can find a fly rod in every size, from a 1 weight which is designed for tiny fish, up to 3-5 weights which are made for trout and similar-sized fish, all the way up to a 14 weight which is designed to catch monsters like marlin and bluefin tuna. 
When To Use A Fly Rod
Considering that you can catch any species on the planet with a fly rod, you can use them any time you like, but you do have to want to be fly fishing over everything else. To be honest, fly fishing is the hardest way to catch a fish, so you have got to be sure about fly fishing if you want to use a fly rod. 
Pros  
Versatile 
Casting is a delight 
A great way to catch fish 
Cons 
It is not easy 
The wind can make it very challenging 
Long distances casts are very hard 
A completely new form of fishing to learn 
Ice Fishing Rods 
Ice fishing rods are pretty much super short spinning rods that are just 1-2 feet in length, and this is to make fishing directly above an ice hole a lot easier. Since you don't have to do any casting when ice fishing, as you are literally just dropping the lure or bait into the hole, the rod can be very small. 
Can you imagine using a normal-length spinning rod of around 7-8 feet long and trying to drop your lure or bait through a tiny hole? It would be not easy and make ice fishing a lot less enjoyable. 
Since ice fishing rods are so small, they are also great for very young kids around 4-6 years old to use and learn to cast with. 
When To Use Ice Fishing Rods 
Obviously, ice fishing rods should be used for ice fishing, but they are also great for young children to use when they first start general fishing since they are so small and easy to handle.
Pros 
Made short making dropping bait in an ice hole easier 
Strong and handle fish up to 10 lbs 
Fun to catch fish with 
Great for young kids 
Cons
Surf Casting Rods 
Surf casting rods, also known as surf fishing rods, are designed for sea fishing from beaches, rocks, or piers when you need to get your bait past the breaking waves in the hope of catching a big saltwater fish. 
Surf fishing rods are, therefore, super thick and strong to be able to handle larger species like sharks. They are very long rods, too, so that one can cast long distances and get the bait behind the breaking waves where the best chance of catching fish is. 
Surf fishing rods can be used with either a baitcaster-type reel with the reel and eyes on the top side of the rod or combined with a spinning reel where the reel and eyes sit on the bottom of the rod. They come with longer handles for more leverage when distance casting and can be more than 15 feet long.
When To Use Surf Casting Rods 
Surf casting rods should be used when you are fishing from the beach, rocks, or pier and need to cast large baits long distances to catch some big fish. 
Pros 
Long casting distances
Strong for big fish 
Work well with big baits 
Cons 
Big and heavy
Hard to use 
Not versatile 
Trolling Rods 
Trolling rods are shorter rods that are used with trolling reels, and they are used only for trolling, which means pulling lures around typically using a boat. 
The most common use of trolling rods is pulling lures around the ocean in search of pelagics like tuna, wahoo, mahi mahi, sailfish, and marlin, but you can also use them in lakes and rivers too. 
Since you don't have to cast while trolling, trolling rods are short, stubby, and very strong. They come in a range of weights from 15 lb class for light line fishing to 130 lb class for landing colossal marlin. 
When To Use Trolling Rods 
When trolling lures in the ocean, large deep lakes, or wide rivers. 
Pros 
Super strong 
Light
Come in a range of sizes 
Made for trolling 
Cons
Coarse Poles 
Coarse poles are very different from all the rods we have discussed as these are actual poles that do not use a reel. They are long carbon fiber poles that can be broken down into sections and come with a bungee on the end to which you tie your leader line. 
Coarse poles are mainly used on small lakes and canals for catching species like carp, roach, tench, and more. They are very popular in Europe and are exclusively used with a float and bait.
The reason coarse poles are so effective is the accuracy they provide, as there is no casting involved and you can literally place your bait in the exact position you want it to be in. 
When fishing for coarse species, one usually baits up an area to attract the fish, and with a pole, you can drop your hooked bait right on the spot. 
Coarse poles are extremely popular in the UK and the rest of Europe. They can reach up to 16 meters in length and some can cost over $5,000.
When To Use A Coarse Pole 
Coarse poles are great for use on small lakes and canals when going after all types of coarse species. 
Pros 
No casting required 
Accurate bait drops 
Very effective 
Cons 
Pen Rods 
Pen rods being small telescopic rods have limited use for fishing. Their main benefit is the ability to take them anywhere with you for some impromptu fishing. They are not strong enough for larger fish and are not able to hold a standard-sized fishing reel. 
Most serious anglers see them as a gimmick or a toy, they can however be a good stepping stone into the world of angling for children fishing for the first time. They are easy to use and very inexpensive.
When To Use A Pen Rod
Pen rods are suited for small fish due to their size and strength. Whilst being extremely portable they are not very versatile. 
Pros 
Very portable
Lightweight
Easy to travel with 
Cons 
Inexpensive 
No versatility
For small fish only 
Travel Rods
Travel rods are not an exclusive type of fishing rod but are a subset of some of the other rods on my list. Travel rods have a place in fishing due to their ease of carrying on a plane, bicycle, or motorbike. 
You can buy travel rods for fly fishing, spinning, and saltwater use. Most will break down into shorter 2, 3, or 4 pieces and can be carried around in a short rod holdall of around 3 feet, which can even fit inside your backpack for ease of getting around.
Bolognese Rods
Most anglers (even experienced ones) have not heard of bolo rods, let alone used one! These rods are almost exclusively used in Europe fishing on rivers or even in the sea. They are unique due to their long length which often can reach up to 30 feet.
Bolo fishing is almost always done standing up, the purpose of the long rod is to ensure the line is not on the surface of the water. This allows the angler to naturally present, keep the bait in a specific spot, and not allow it to drift down the river or the sea current. 
It's a technique that is not easy to accomplish but is a proven tactic when done correctly.
Final Thoughts 
Thanks very much for reading my article. I hope you found it useful and now understand the differences between all the types of fishing rods and poles.
Spinning rods can double up for multiple uses and are the most versatile rods. Only if you plan to be specialized in a particular form of fishing such as fly fishing, or surf casting, then your first choice should be a spinning rod. 
Now you know all the types of fishing rods, please check out my article on all the types of fishing reels. 
Latest posts by Steve Fitzjohn
(see all)