Disclosure: Some posts contain affiliate links, which earn us a commission if you make a purchase through them. Positive Fishing © participates in various affiliate networks including the Amazon Services LLC Associates Program.


The most challenging decision for many fly anglers is choosing the proper fly line. Since fly lines are unique only to fly fishing, it takes a while to understand and make sense of the numerous options. Fly fishing companies make fly lines for extremely specific purposes. 
Thankfully, you don't need to be overly specific in choosing the line for trout! You can be as specific as you can afford, but it's not the number one factor when targeting trout. 
In this article, I will cover: 
Types of Fly Line
5 Best Line Options for Trout 

Rio InTouch Gold Trout (My Best Overall Pick!)
Snowbee Thistledown2 (My Most Versatile Pick!)
Scientific Anglers Frequency Trout (My Most Budget Friendly Pick!)
Rio Lightline (My Best Dry Flies Line Pick!)
Airflo Nymph Indicator Fly Line (My Best Nymph Line Pick!)
What Are The Types of Fly Lines? 
The science of fly fishing shows up primarily in fly lines. Here you're going to deal with weight, length, and specific purpose. If you're not the type to dive into all of these things, that's okay. There are a few things to consider before you make your purchase, but you don't have to be overly invested to understand what you need for trout. 
Floating Fly Line 
Floating fly lines aren't very hard to explain. If your entire fly line stays on the water's surface when you cast it, you can assume it's a floating line. As long as it's only your leader, tippet, and fly (if it's a nymph or streamer) that's below the surface, you know you're using floating. 
Floating fly line is extremely popular amongst trout anglers. It's a versatile option that allows you to fish dries, nymphs, and streamers. It's great for fast-moving rivers and streams because it won't get pulled under the surface and get hung up on obstructions. 
You'll find this line in weight forward or double taper! If you're new to the world of fly fishing, then a floating line should be your choice. 
Sinking Fly Line
The next obvious option is a sinking fly line. Sinking fly line falls below the surface. These are primarily weight-forward fly lines, and you can even choose the rate at which the line will sink! 
If you know you're going after fish that are sitting at the bottom of a deep pool or lake, then a sinking line isn't a bad option. It'll get to the bottom fairly quickly and allow you to work your bait along the bottom instead of it constantly being moved to the surface. 
The entire line is going to be below the water! 
Sink Tip Fly Line 
A sinking tip fly line is different from a sinking fly line! This is a combination of floating and sinking lines! The final 10 to 12 feet of sink tip lines will fall below the surface. The rest of the line is going to stay on the surface. 
A sink tip line will work great if you're fishing streamers in deeper rivers. It'll get your streamer in the right location but won't get hung up on branches or rocks. Essentially, if you're using streamers for trout, then the sink tip line should be on your reel.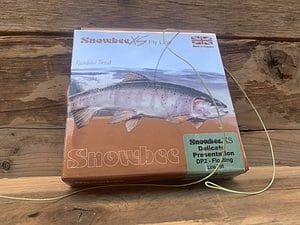 Types Of Fly Line Tapers 
It's also necessary to understand the tapers of fly lines. Tapers will help you with your casting and improve specific types of fishing! Know what taper you're buying before you make your purchase. 
Weight Forward 
Weight forward line is what you're going to find on the majority of fly lines on the market. Weight forward line is set up with the final 30 feet or so of the line becoming a bit thicker. The first 50 to 60 feet are a thinner diameter, then it gets thicker over the last 30 feet, and the final 5 or 6 feet go back to a thinner diameter. 
Weight-forward lines are great for trout and making casts in challenging weather conditions. 
Double Taper
A double taper fly line is most often used for delicate presentations. The middle of the line has the majority of the larger diameter. The first and final 15 or 20 feet is a bit thinner, so you can throw smaller flies and not worry about your line slapping the water. It won't cast as far, but you'll still land plenty of fish. 
Rio InTouch Trout Gold – My Best Overall Pick!
If you know anything about fly fishing, you know that Rio is the most popular fly line creator on the market. They've earned this position! Their line is phenomenal. The Rio InTouch Trout Gold is an ideal line for anglers who switch between different styles of fly line. It's a floating line, so keep that in mind! 
There are a few things that make the InTouch Trout Gold line special. First, the "head" section of the line is 47 feet long. This is much longer than most other trout fly lines. The longer the head, the easier it is to mend and control. Don't worry; you don't sacrifice casting distance even though it's not as thick in a variety of areas. 
The second thing that makes the InTouch Trout Gold line special is the new ConnectCore. The ConnectCore technology does not allow the fly line to stretch as much. Stretchy fly lines mean less sensitivity. Less sensitivity means a slower reaction time on your line. Thankfully, Rio recognized this and created a line that barely stretches. 
Also, a less stretchy line allows you to set the hook and pin the fish before it has time to react. This line is a jack-of-all-trades and nearly a master of none. No, it's not going to be a perfect option for every style, but it will work great for dries, nymphs, and streamers. You'll be pleasantly surprised at every feature of this line – a real allrounder! 
This is the top-of-the-range and higher-priced range fly line. It will cost you more than others, but it's worth paying the extra! 
Snowbee Thistledown2 Fly Line – My Most Versatile Pick!
Snowbee has potentially revolutionized the world of fly lines. Based in Europe and more well-known for their waders, Snowbee realized that the science of fly line doesn't have to be as complicated as one might think. 
Snowbee Thistledown2 Line is made for three different weights. For example, you can purchase a 2-5-weight line that works on any rod or reel that falls within the weight category. This makes fishing much easier and allows anglers to switch between different types of rods and fishing scenarios. 
The line is 90 feet long, and that's fairly standard for the majority of fly lines. Plus, it comes pre-looped on both ends, so you don't have to waste any precious time tying the line onto your backing. Snowbee has ensured this line has zero memory issues, so it doesn't get hung up on your rod. 
Another great aspect of this line is that it's in the middle-range pricing bracket. Get in on the cutting edge of fly line design. 
Scientific Anglers Frequency Trout – My Most Budget Friendly Pick! 
Scientific Angler has sometimes been labelled as Rio Fly Line's little brother. This isn't always the case. Over the years, SA has found its way into the top group of fly line creators. Plus, it doesn't hurt that their lines are generally a bit more affordable. 
The Scientific Anglers Frequency Trout line is a weight-forward line that is quite easy to cast. It's extremely slick and floats high on the water. Perhaps the most impressive feature of the Scientific Anglers Frequency Trout line is the length of cast you get from this line. It's smooth and can launch your line quite far. 
Also, it's a fairly versatile option. You can cast your nymphs, dries, and streamers with this line. You may need to change the length of your leader depending on what type of fly you're using, but it's able to handle it all. 
The best part of all? It will only cost you at the low end of the price structures, true value for money. 
Rio LightLine – My Best Dry Flies Line Pick!
Rio LightLine is an ideal option for anglers looking to throw only dry flies. If you spend time fishing the hatches, make sure you have LightLine attached to your reel. Keep in mind that Rio LightLine is made for slower-action fly rods. Since dry fly rods will have slower action due to the necessary sensitivity, Lightline is a great option. 
It has a short front taper and weight distribution to throw it on smaller bodies of water. Like the InTouch Gold, the LightLine comes with the same durable Slick Cast coating. It flies through your rod with absolutely zero memory. Also, the MaxFloat Tip technology keeps your fly and line high on the water. 
Rio LightLine is a middle-range cost line. Ensure you have it as an option on your next dry fly excursion. 
For more information on fly rod action, Check out my in-depth article on choosing the right fly rod weight and action here!
AirFlo Nymph Indicator Line – My Best Nymph Line Pick!
If you're a nymph angler, you must try Airflo's Nymph Indicator Line. Airflo is an extremely environmentally conscious company that creates a wonderful product. The Indicator line has a thick tip and is floating. The thicker tip lets you turn over your line and make all the mends you might need. 
Also, it has a low-stretch Power Core and allows you to set the hook at a longer range. Fish won't have time to realize that they're hooked into an artificial fly. It's a middle-range cost line, and you'll be pleasantly surprised by its performance. 
Final Thoughts 
Purchasing a fly line should be something that is done after extensive research. Understand where you're fishing, what you're targeting, and the rod you're using.
You should match the weight of your fly line to the weight of your reel and rod. A well-balanced setup will make a massive difference in how you fish. 
I hope this article gave you some insights into the fly line characteristics. Check out my other articles on choosing the best fly rods for trout fishing, and if you are just starting out on your fly fishing journey, then check out my in-depth article on the beginner's guide to trout fishing, which explains many more aspects of this fantastic sport.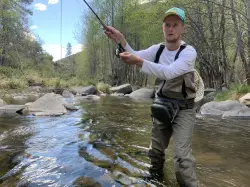 Latest posts by Daniel Mooers
(see all)