Disclosure: Some posts contain affiliate links, which earn us a commission if you make a purchase through them. Positive Fishing © participates in various affiliate networks including the Amazon Services LLC Associates Program.


Whether you're planning a week-long fishing trip or hoping to escape and do some fishing on a family vacation, travel fishing rods are an essential item for any angler. They often pack down to fit in the backs of vehicles, a rucksack, or even on a checked item on an airplane.
Fly anglers, spin anglers, carp anglers, and saltwater anglers all have travel rod choices. Take a look at the following eight options and see what's best for you! 
In this article, I will cover: 
What to Look for in a good Travel Fishing Rod
Travel Fly Rods
Travel Spinning Rods
Travel Carp Rods
Travel Sea Fishing Rods
Frequently Asked Questions
What To Look For In A Good Fishing Travel Rod 
When you're looking to purchase a travel rod, you want to make sure you're paying attention to a few separate details! 
Size 
Most anglers in search of travel rods aren't hopping on an airplane and traveling across the world to pursue a unique species. Many are jumping in the car or taking public transportation to their favorite location. As a result, you're wanting to make sure your rod you travel with is collapsible. If possible, you want to make sure your rod can collapse down to 36 inches or so! 
Depending on the type of rod, you may be able to only find one that can break down to 40" or 46". You don't want to sacrifice quality for a smaller size. Do your research before you make your decision. 
Quality 
You'll find that many companies are making their own versions of travel rods that are not quality. They are often affordable, but anglers pay the price when they hit the water. The rods easily break or they aren't as advertised. 
Stay with well-known fishing brand names that can be trusted and have a warranty. You wouldn't waste your money on a poor-quality normal travel rod, so follow that same protocol with your travel rod! 
Best Travel Fly Rods
Thankfully, most fly rods are "travel". Many break down into four pieces and are somewhere around 36". However, if you need rods that are even smaller, there are some good options for you! 
Orvis Clearwater 6 Piece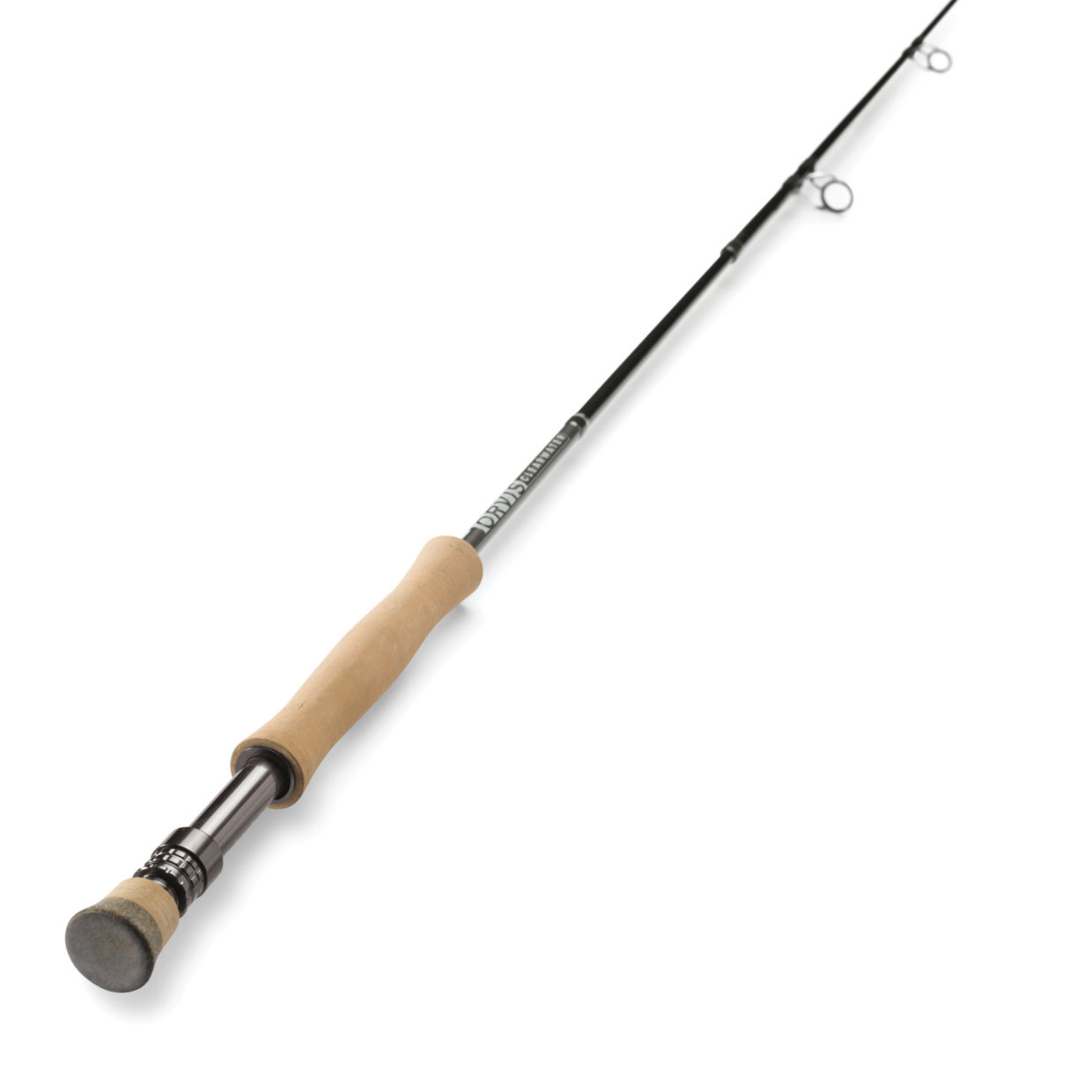 If you're familiar with Orvis, you know how high quality their fly rods are. The Clearwater 6-piece travel model is the option for intermediate anglers. It isn't overly complicated to fish. The moderate fast action is good for streams, rivers, and lakes. 
You will likely struggle to find a travel fly rod that's better than this! You have a 4-weight 8', 5-weight 8'6", 5-weight 9', 6-weight 9', and 8-weight 9'. These weights and lengths are great for trout fishing, bass fishing, and even some steelhead and salmon fishing. Whether you're on a plane or traveling in your car, this rod is going to fit. 
When broken down, the six pieces break down into 22.5 inches. This is extremely small and can fit into any sort of carry-on or even a personal item! You'll still have Orvis' 25-year warranty when you purchase this rod. This is a nice warranty since travel rods get heavy usage and there is more that can go wrong when there are six total pieces you're working with. 
Orvis also offers a travel fly combo outfit option that comes with line and reel. If you aren't interested in pairing the rig with your own equipment, you can purchase your own reel and everything will be well-balanced. 
Whilst Orvis isn't known for bargain basement pricing, for a mid to high-priced range, you're going to get one of the best travel fly fishing rods on the market. 
Redington Trailblazer Fly Rod 
The Redington Trailblazer is another travel fly fishing rod that's going to be up for any challenge that you put to the test. Redington makes both a 3-weight and 5-weight option for anglers. The 7'6" 3-weight is great if you're heading to backcountry mountain streams or small alpine lakes. The 9'6" 5-weight is good if you're heading somewhere with bigger fish or more challenging conditions. 
When broken down, the rod tube is only 30", so you should be able to fit it on a plane on your carry-on or under the backseat of your car. Wherever you use it, it's going to store away nicely! Many anglers will choose to use this as their backcountry rod. While fly rods aren't heavy, the Redington Trailblazer is especially light! It'll fit nicely on your backpack and you won't even notice that it's there. 
The red and yellow colors look great! It's a more unique design in terms of fly rods. Don't worry about the quality. It's protected by Redington's lifetime warranty, so you can fish this hard. 
In the mid to high-priced price range, you'll have a similar price to the Clearwater from Orvis. They're similar rods in terms of quality! Redington is a reputable brand and they have continuously flown under the radar. Don't underestimate the quality of these rods. 
Best Travel Spinning Rods
In terms of travel rods, you will find the most options available come in the form of spinning rods. Companies that don't even specialize in fishing equipment have found themselves in the travel spinning rod market. It's those poor cheap quality travel rods you should avoid!
My two choices are far from unknown, Shimano and Fenwick are right at the top of their game when it comes to fishing rods.
Shimano S.T.C. Mini-Tele Spinning Rod
Shimano has been a reputable fishing company for years. Anglers of all levels have success with these rods! The mini-tele spinning rod is a unique design that is perfect for travel. This rod comes in two pieces. The first piece is the handle, the cork and reel seat are on this portion of the rod. 
The next section of this rod is the telescoping part. Whatever rod you choose, there are 8 different weights and lengths that you can choose from to fit whatever type of fishing you're doing. All of these models have 8 line guides regardless of the weight and size of the rod you choose. 
These rods are made with Shimano's XT60 blank material, a full cork grip, and a Shimano DPS reel seat. You have all the normal guarantees of Shimano packed into the travel rod. 
You have rods ranging from 70 inches to 106 inches! 
These rods break down into a case and are easily stored in a backpack or in the trunk of your car. When fully broken down, the longest models are only 15 inches long! Take them with you as you bike, hike, or take public transport to a local lake or river. Trout, panfish, and even fish like bass and pike are all catchable with this rod. You likely don't want to fish anything heavier than these. 
This is my only telescopic choice in all of my rods for using for travel, I am not a big fan of telescopic rods due to their inferior quality and strength. However, the Shimano STC is the exception – its well constructed and is a top telescopic option for a travel rod.
Fenwick HMG Travel Rod 
The HMG Travel Rod from Fenwick is another affordable and high-quality option for anglers looking to fish while they're traveling. If you have any knowledge of fishing history, you'll remember that Fenwick rods are the first rods that used graphite technology. 
The travel rod uses Powerlux 100 resin technology, a lightweight graphite blank with stainless steel guides, and a cork handle. The Powerlux technology increases the strength of the rod by over 10 percent from previous models. 
Fenwick provides anglers with an extra tip in case you snap or break yours. This is a great feature for travel rods. Since they're used in challenging and tight spaces, accidents can happen. The extra tip gives you peace of mind that you can fish the rod hard without worrying about what could go wrong. 
The rod breaks down into three sections that work well for traveling. When fully broken down, it's only around 30 inches. When packed in the rod tube, you can fit it easily in your trunk or on the side of your backpack. The most common option for anglers is the 7'6" model. This comes in both a medium light or medium action depending on your needs. 
Both the Shimano STC Mini-Tele and the Fenwick HMG travel rods are both mid-price range options. This means you're getting a great deal choosing either of them for fishing when traveling! 
Best Travel Carp Rods
Carp rods are a prized possession for many anglers. With carp being a species that's easily found all over the world, it's hard not to travel with your carp rod! You never know when you have a chance to get away and fish a local pond or river that's packed with them. 
Buying a carp travel fishing rod is also a great option for stalking for carp in the margin areas. Their shorter length makes them able to get to the harder-to-access areas, where trees are overhanging and it's near impossible to cast with longer rods.
Nash Scope Rod – Full Shrink
Nash is a trusted and popular brand amongst carp anglers. The Full Shrink handle model is one that many anglers could use in a variety of situations. It's all one piece, but the rod telescopes into itself and packs down into a nice and compact design. 
You have the choices of 9ft. and 10ft. long rods with test curves ranging from 3 lbs, 3.25lbs, and 3.5lbs. All these options are sufficient for almost any carp, personally, a 9ft rod with a 3.25lb test curve is my personal preference. 
Many anglers are able to cast upwards of 150 yards with the 9ft scope. You can fish the margins or larger waters and the rod will be at home in either place. When fully contracted, the 9-foot models fold down to 44 inches and the 10ft models fold down to 50 inches. No, they don't fold down as small as other travel rods, but the longer sizes ensure that the quality is high. You won't find these rods breaking after two or three uses.
You can haul in 30-pound carp with no problem with the Nash Scope Rod. Also, if you get the chance to target salmon, pike, steelhead, or bass, these will equally work well for those. They're designed to tackle carp, but they're more than capable of landing most other freshwater species that you can find. 
This rod is going to work well with the angler. If you're an experienced angler, you'll find that you're able to get more out of this rod than you would think. If you're new to the world of fishing, it's going to work with you and your abilities. 
At a mid-point price range, the Nash Scope Rod is a great travel rod deal that's going to work well for years.  
X5 Max Travel Fishing Rod 
The X5 Max Travel rod is one of the most unique fishing rod designs on the market. Within this one rod, you have nine different length combinations that you can use. It can be used as a travel spin casting, bait casting, float fishing, carp fishing, and even a fly fishing rod. There are 12 interchangeable sections that work with themselves to create the type of rod you need. 
However, the carp features on this rod are great and work well for any size carp that you can find. 
The four separate tips come with rod casting weights ranging from 10-20g, 15-30g, and 25-50g. It truly is a remarkable rod with all the different features and pieces that are included. Most anglers find one method that works for them and stick to it, but if you're finding yourself feeling a bit adventurous you can change things to be whatever you need. 
When broken down, all aspects of this rod are able to fit in a 17" travel case. It'll strap nicely onto your backpack, fit in your trunk, or even be a carry-on rod on an airplane. For a mid-range priced portable rod, you're getting an impressive rod that's up for whatever challenge you need. Anglers often find themselves surprised with how capable this rod is. It's a jack of all trades that is one of the best and most versatile travel rod options. 
Best Travel Sea Fishing Rods
Travel sea fishing rods can be a point of contention for some anglers. Obviously, sea fishing rods are going to have to be extremely durable. You're catching generally much larger fish and in a less forgiving environment. Travel saltwater fishing rods must be able to match the power and durability of a standard saltwater rod, otherwise, you have the potential of snapping your travel rod at any point.
Fiblink Portable Saltwater Offshore Travel Rod 
The Fiblink Portable Saltwater Offshore Travel Rod breaks down into three pieces and comes in four different sizes. You have a 6' heavy, 7' medium heavy, 7' heavy, and 8' heavy. The heavy models are able to handle 30-50 test and the medium heavy models can handle 15-30 pound test. 
The Fiblink is built for saltwater use. As a result, you don't have to worry about any saltwater corrosion. A good clean with fresh water once you're done is going to keep this rod in great shape. Anglers have hauled in 80-pound sharks with this rod! Give yourself a chance to target some heavy fish and see what you find.  
This rod only breaks into three pieces, so it doesn't lose quality or power compared to a 4-piece rod. Each piece is either 2 feet, or 2.5 feet, depending on the size of rod you purchase. While this isn't the top-of-the-line sea fishing rod, it can hold its own and will last if you take good care of it. Most anglers wouldn't use it as their primary fishing rod, but it works great for short-day trips to the sea! 
At an affordable low to mid-range pricing, you're going to get a quality rod with the ability to fight the vast majority of saltwater fish you're planning to target. 
World Traveller Travel Fishing Rod & Reel
Unlike all the other rods on the list, the World Traveller travel fishing combo comes with both the rod and the reel. This makes it my only travel combo rod and reel on this recommended list. One of the biggest challenges anglers face with travel rods is finding a reel that balances well with the weight. World Traveller makes your life easier and gives you a properly balanced reel. 
The two options available for this rod are medium and heavy. The medium rod is 7' long and is able to handle bass, panfish, and smaller pike. The heavy rod is 6'2" and able to handle a substantial amount of weight. 
Some of the nice features of this rod and reel is that there are two additional tips that come with the rod. Both are made of fiberglass and are extremely powerful. Also, this rod breaks down into six separate sections which makes storing this rod especially easy. When broken down, this rod is only 16 inches long. 
The reel has a 5:1:1 ratio You also receive an extra spool when you make the purchase! The reel is high quality and saltwater ready. A quick rinse at the end of the day is going to prevent any sort of corrosion that is possible when fishing in saltwater areas. 
The pairing reel which World traveler provides in this travel combo has an interchangeable handle for a left or right-hand retrieve.
World Traveller offers anglers a two-year warranty when they purchase this rod brand new. This is a great chance to fish this rod hard and see what it's capable of doing. You'll struggle to find a travel rod that's as high quality and reputable as this. At around mid-ranged pricing, you're getting a great deal. 
Best Travel Rods Summary 
There are hundreds of travel fishing rods for anglers to purchase. These decisions can be overwhelming! These packable fishing rods are typically not your regular rod, but they still should be up to the challenge of whatever fish you find. 
Just a reminder again, please don't buy the cheap inferior travel fishing rods from lesser-known manufacturers.
Travel Fishing Rods – Frequently Asked Questions 
What Is The Difference Between A Travel Rod And A Standard Rod?
Generally, travel rods are collapsible and can be stored in smaller storage tubes. This way you can travel easily with them. 
Will Regular Rods Still Travel Safely?  
Yes, regular rods can still travel, but you need to use an extra large rod tube that can fit your rod! Generally, these are more expensive and more cumbersome for traveling. 
Can I Take A Fishing Rod On A Plane?
Yes, airlines will allow fishing rods to be carried on a plane. If it is oversize (in length) like a normal fishing rod, then you will need to check it in separately which could cost an additional fee. However, with travel rods being short and you can easily hand carry them or pack them safely into your check-in luggage. 
Check out this Jetstar airlines notification on Can I bring my fishing rods on the plane? most airlines will allow fishing rods on the plane.
What Are The TSA Regulations On Fishing Rods?
TSA allows fishing poles and also other tackle for carry-on and checked bags. For the most up-to-date information check out the official TSA link here!
What Is The Best Travel Fishing Rod For Bass?
The Ugly Stik GX2 Spinning Rod is the bass travel rod. Its features, strength, and ability to be one of the most versatile rods on the market make it extremely hard to beat. Starting at a length of 4 feet 8" it's an ideal fishing travel companion.
Final Thoughts
Travel fishing rods can be somewhat frightening to purchase. The quality is always a question for many anglers. There are always horror stories about hooking into a massive fish, but it breaking off due to one of the sectioned pieces snapping. 
Any of my recommended travel rod choices in the list above are going to perform well for you. You never know when the opportunity to fish is going to come up on a trip, so it's best to be prepared.
I hope this article was helpful and gave you all the information you need to know, check out my other posts on fishing rods here! covering every type of fishing style.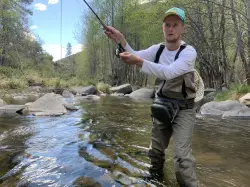 Latest posts by Daniel Mooers
(see all)