Disclosure: Some posts contain affiliate links, which earn us a commission if you make a purchase through them. Positive Fishing © participates in various affiliate networks including the Amazon Services LLC Associates Program.



Nash Bushwhacker Baiting Pole System – Is It Worth It?
Our Verdict
There is no doubt that the Nash bushwhacker baiting pole system is for dedicated and serious carp anglers. As an alternative to bait boats is clearly an awesome accessory to get your rig and bait to almost any position in the lake. A game-changer for carp anglers looking for an additional chance to land their personal best.
The Good
Much more value for mony than a bait boat
Fantastic option for adding deeper pro camera onto the unit
Good allround features, such as the light function
Easy to use
Can be used in almost any location on the lake including margin areas
The Not So Good
Lack of available spare extensions
Getting feed bait particles and the rig with pinpoint accuracy is always challenging for carp specimen anglers. The secret to catching those larger fish is not only finding the right spot on the lake but also getting a large quantity of feed particles concentrated in a small area.
However, carp don't always feed in open water, they often stay in areas under trees or heavy cover. Getting a bait boat to these areas can be a challenge. Using the traditional spod or spomb to these areas is almost impossible and of course, does not position your rig over the baited area.
Many fishing tackle manufacturers have come out with baiting poles, they are not a new invention. 
In this article let's review this innovative solution from Nash and see if it is worth it.
Nash Bushwhacker Baiting Pole System
Nash a few years ago developed a baiting pole which can be shipped out with a spoon loaded with bait and your hook bait in those previously inaccessible areas. 
The original version has been very successful and in 2022 Nash now has an upgraded XL version of the Bushwhacker.
Original Nash Bushwhacker Baiting Pole System – T2076
The original Nash Bushwhacker Baiting Pole System (T2076) measures a maximum of 15m when fully assembled. However, to use its full-length capability you will need to buy additional 1.5m extra extension sections. The standard 15-metre baiting pole is made up of ten sections, and by adding an additional twenty 1.5m extensions it is possible to reach distances up to 45 metres!
Adding sections and shipping the pole out is easy and safe due to the locking system which has a simple spring button mechanism. The fast-fitting together of the sections and also the pulling apart of the sections is much easier than it looks.
The pole has a head section with a removable self-floating spoon and can hold 1 Kg of your chosen particles, bait and your rig in one go. This is a lot of bait which essentially means there is no need to continue to ship out and back in multiple times. In fact, the best way to use the bait pole is to just fill it full again after every retrieval of your tackle, as the bait is likely to last on the bottom for at least an hour.
The pole spoon has twin buoyancy ballasts on each side of it. This makes pushing out your bait and rig very stable and with no concerns about losing any bait even in the wind and also with lakes with a choppy surface.
There is also an internal lead recess and two line slots These ensure that your rig doesn't get dislodged or moved around when shipping out.  By using your rod and line pressure, the spoon can be tweaked to get the position accurate to the perfect spot time and time again.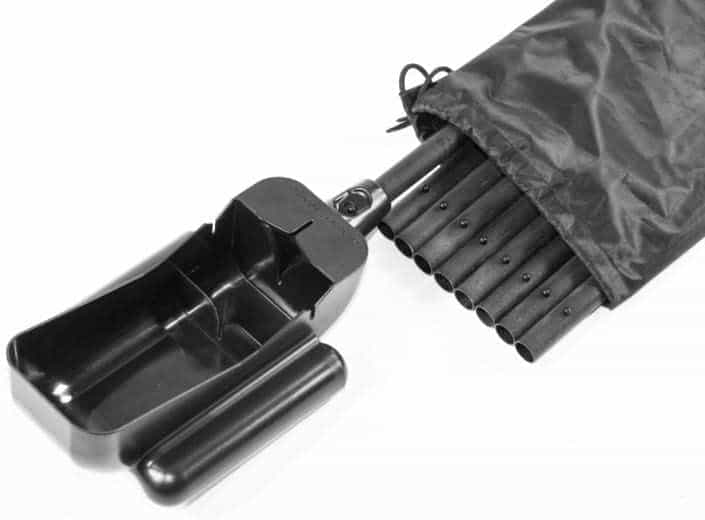 Features
Sections 10
Section length 1.5m
Solid fibreglass construction
Uniquely stable buoyant large capacity bait spoon
Additional 1.5m lengths available   
Supplied in drawstring carry bag
Capacity:
Bushwhacker – Approx 1kg boilies
One of the key points with this baiting system is that it works great for impossible places at long lengths, but also that you can go in the margin areas under overhanging trees at 10 to 15 metres. 
These great margin fishing areas hold the big shy carp and now it is accessible with this baiting system with so much ease!
Nash Bushwhacker Pro Baiting Pole System – T2069/T2070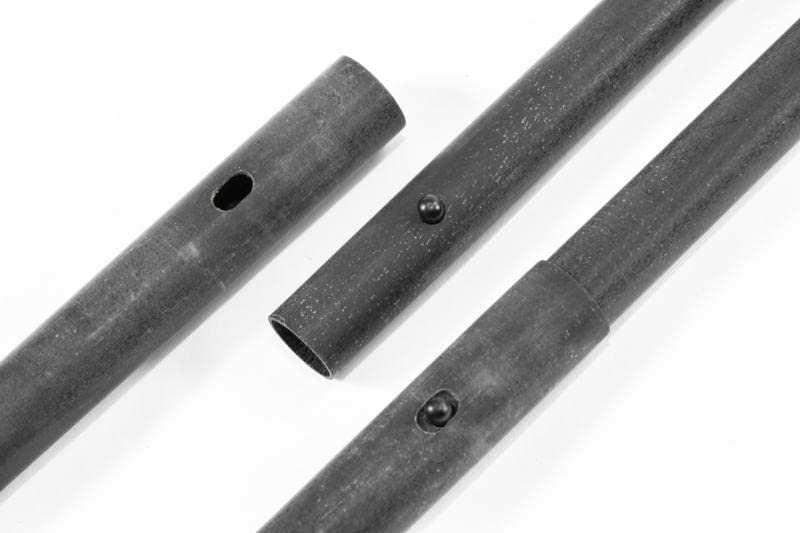 The pro system was released at the beginning of 2022, and the Nash PRO version has two options:
Standard T2069
Extra Large T2070
The Extension sections are available at 1.5m in length (T2071), which is exactly the same as the original Bushwhacker.
Following on from the success of the original Bushwhacker baiting pole that took the carp world by storm. This latest pro version has a mounting that can hold a deeper pro sonar unit. The camera has to be purchased separately, but by adding a camera to the pole you can see everything that is going on around your bait, what the lake bottom looks like, and position your rig and bait into the perfect position.
To check the bottom, just simply thread a lead onto the recess of the bridge adapter, turn the spoon over, and retrieve and drop the lead to get a basic view of the lake bottom.
Additionally, Nash has added an attachment point where you can add a Moonshine multi-lite. This light system allows you to see perfectly when shipping out the pole when fishing at night. Features
10 x 1.5 metre sections
Bushwhacker Pro spoon
Leading Bridge
Deeper Mount
Drawstring carry bag
Bushwhacker Pro – Approx 0.8kg boilies
Bushwhacker Pro XL – Approx 1.5kg boilies
Pros
Compared to carp anglers spending 1000 pounds on a bait boat to deliver feed to the concentrated spot the Bushwhacker is a much cheaper option. The 45 metres limit is not always enough for some of us casting over 50 yards but it's still a viable option.
The bushwhacker can be used in fisheries where bait boats are banned, however, there are certain fishing syndicates where both boats and the bushwhacker are banned. Always, check the rules for your fishery before you use them.
With the amount of bait it can hold, the shipping in and out process will be less frequent (and a little less tiring!)
It's very easy to use.
Adding a deeper pro camera to the pole certainly has a major advantage for those who want pinpoint accuracy and a view of what is going on at the lake bottom.
Cons
As a new purchase, the sections clip and stay together very well. There could be some concerns about the robustness and fitting of the connection points after a lot of use. 
The Bushwhacker is in high demand and getting extra spare sections is always difficult. Some anglers have purchased a second unit just to ensure they can ship out to the maximum 45-metre range!
Whilst it does come in a carry bag, it is still a fair weight to carry if you have 30 sections in a bag. 
XL Bushwhacker Version vs Original Bushwhacker
1. 50% Bigger Carrying Capacity 
The XL 2022 model offers around 50% more weight in particles or in boilies. The two floating pods on either side of the carrying spoon ensure the great buoyancy that was found in the original version. 
2. Torch Light Function 
Carp anglers are night owls, spending 48 hrs or even more means they fish at night which is a favourite time for catching carp. With the light mounted to the baiting pole, the challenge of using the pole at night is now overcome, especially at long distances where it is almost impossible to see what you're doing. Clipping on the Nash Multi-Lite Torch to the spoon solves this previous concern brought up to Nash by many anglers in the past. 
3. Deeper Mount Option
Just in front of the baiting spoon, Nash has added a bracket to which you can attach your deeper pro camera. Pinpointing the right areas to fish at the start of your session is now much easier than before. 
4. Using Your Lead To Find The Best Bottom Area To Fish
The Leading Bridge, allows carp anglers to ship out just a lead weight, or a complete rig directly attached to the rod and reel. Lifting and dropping the rod in this method can establish the best places to drop your bait on. A crucial part of presenting bait for carp.
My Best Tips For Using The Nash Bushwhacker
Use a V shape pole roller behind you for carrying your pole sections when you ship in and out.
Split the pole into 3 or 4 sections only (4.5m to 6m long) This ensures you are only adding and removing a few when shipping in and out.
If you are right-handed load the line to the left, towards your rod position. If you are left-handed load your line to the right.
Always run a dry cloth over the length of the pole baiting system once you have completed the task. Sticky hands and loose baits on the pole will create issues the next time you use it.
Share it with your fellow carp anglers if possible. 
Load up your particles or boilies first, then drop the rig inside on top.
Use it only when really necessary, it's for specific positioning and hard-to-get places and not for areas in open water where you can do the traditional spodding and clipping up.
Don't overfill the spoon. It can be difficult to guide and position if it's overloaded.
Always carry it in the bag provided to prevent damage at the intersection joints.
Nash HD Bushwhacker Carry Bags
Nash has a dedicated carryall for the bushwhacker baiting pole system. Depending on the choice of bag they can carry different quantities of sections. With capacity inside the standard size for 32 sections in total, and 50 in the XL version.  
There is a reinforced PVC main case and also a separate external pocket to keep the spoon safe.
There are two types of bags available for the Bushwhacker. 
Bushwhacker HD Carry Bag
The HD bag carries the 15m pole (10 x 1.5 sections) and also an additional twenty extensions. The bag has a handle and also a shoulder strap, made from 600D nylon material its pretty rugged and has a three-sided zip for removing the sections easily.. 
Bushwhacker XL Carry Bag
The larger XL bag has a capacity of 50 extensions and is constructed with the same 600D material. The spoon and any other accessories can be stored in the large zipped pocket located at one end of the bag. Sections are well protected by the reinforced PVC base.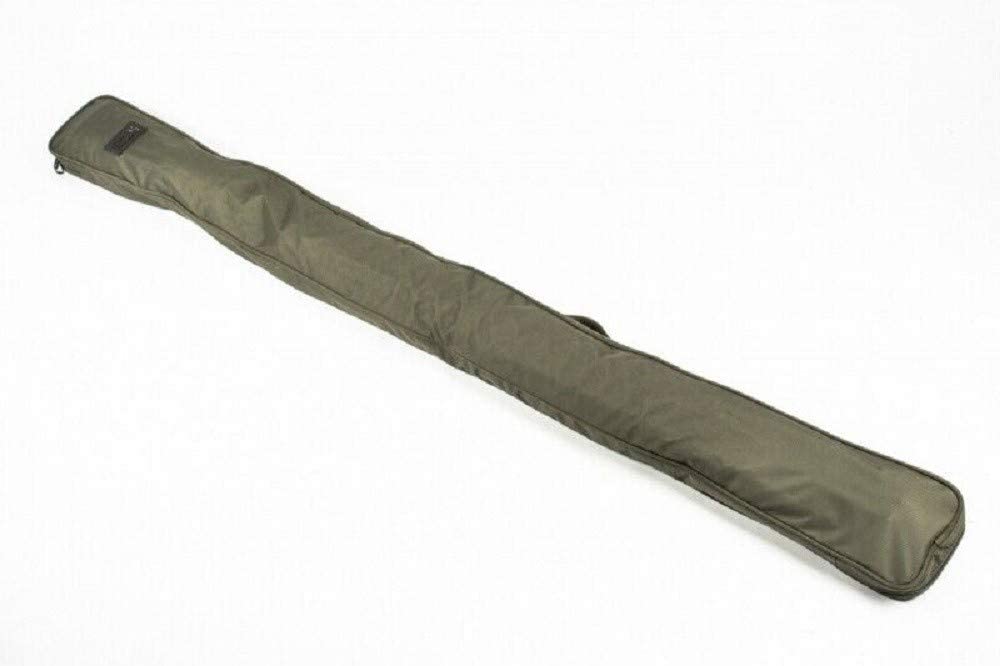 Features
PVC Reinforced base to protect section ends
Separate zipped top pocket for the spoon and accessories
Elasticated webbing carry handle
Shoulder strap
Specifications
Standard size capacity approx. 32 sections
X-Large size capacity approx. 50 sections
Nash Pole Roller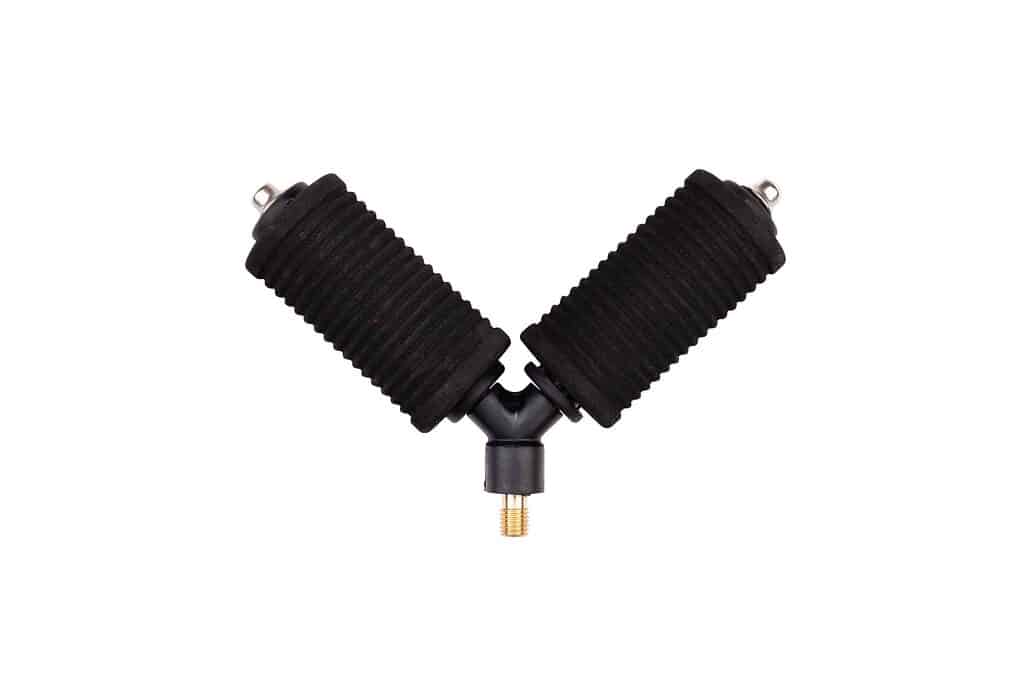 All poles require support when they are shipped back and taken apart, the Nash bushwhacker is no different. The V-type Nash pole roller is perfect for holding groups of 3 or 4 sections at once and protects them from getting damaged and dirty from the mud and stones.
You can also check out my picks for the best pole rollers here! For the Bushwhacker it's not necessary to purchase the Nash V roller, any roller will do the job.
Nash Bushwhacker FAQ
How Long Is The Nash Bushwhacker?
All bushwhacker versions, the Standard, Pro, and Pro XL have a length of 15m (10 x 1.5m) as part of the package. Adding separately purchased extensions can extend the length to a maximum of 45 metres. 
How Do You Load The Nash Bushwhacker?
The best way to load the bushwhacker is to load your boilies, particles, etc in the spoon first, and then add your baited rig on top prior to shipping it to the position you want to fish.
What Is A Baiting Spoon?
A baiting spoon is a deep rectangle-shaped container made from PVC which anglers place their bait inside in large quantities. Once positioned the spoon is turned and the bait falls out into the water into the position they are fishing.
Can I Get Spare Sections For The Nash Bushwhacker?
Spare sections are available to purchase, however, they are in short supply. Where possible buy them at the same time as your bushwhacker baiting pole system rather than ordering separately. 
Final Thoughts
There is no doubt that the Nash Bushwhacker baiting pole system is for dedicated and serious carp anglers. As an alternative to bait boats, it's clearly an awesome piece of kit to get your rig and bait to almost any position in the lake.
Thanks for reading my article I hope that it was informative and gave you all the input you need to go out and buy one. You can read lots more articles such as my pick for the best carp bivvies and also other accessories including the best carp fishing scales here!
Latest posts by Steve Fitzjohn
(see all)