Disclosure: Some posts contain affiliate links, which earn us a commission if you make a purchase through them. Positive Fishing © participates in various affiliate networks including the Amazon Services LLC Associates Program.


A top-quality pole roller is key to your success when fishing with a pole. Being able to ship your pole back and forth easily, especially when using a long pole of 16 meters, for example, is the only way you will be able to put your bait out and successfully land a fish, too. 
If you do a quick search online for pole rollers, you are going to be inundated with options, and being able to pick the right pole roller for you is almost impossible. 
Luckily, we have done the hard work for you and have whittled down all the options to the five best pole rollers featured below for you to choose from. 
Our Best Pole Rollers 
Map Dual Pole Roller – Our Best Overall Pick! 
The Map Dual Pole Roller is quite new to the market, and it comes with a unique design that features a removable central roller, which means you can use it as a flatbed or double roller. 
You can put the removable roller in three different positions to have multiple options when you're double shipping out your pole. The main roller also comes with a soft foam coating to reduce vibrations to a minimum and thus not lose any bait while shipping your pole out. 
The legs are adjustable and completely removable, meaning that you can set up on any terrain and get it level, but it doesn't come with a spirit level, so you'll need to guess a bit. 
You can also set up the pole roller at many different heights, and it comes with a set of standard and short legs, so you can even use it at ground level. 
This pole roller comes with a nice carry case, is pretty light, and is super portable as it packs down small. 
Pros
Works as a flatbed or a double roller 
The removable roller can be placed in 3 positions 
Soft foam roller for minimal vibrations 
Works at ground level with short legs 
Legs are removable for use at different heights 
Cons
Specs
Type: Double & Single 
Adjustable Legs: Yes 
Spirit Level: No 
Storage Bag: Yes 
Preston Innovations Inception Flat Roller – Our Best Value Pick!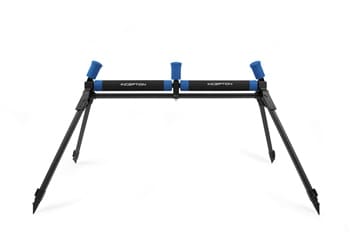 The Preston Innovations Inception Flat Roller is a favourite with match competition anglers as it has almost everything you could want from a pole roller. 
This pole roller features fully adjustable legs, so you can use it on multiple terrains and always have it sitting at the right level. In addition to the telescopic legs, you can also lay them flat to have the roller super low. To top it all off, this pole roller also comes with a spirit level, so you can be sure it's always level when set up. 
This unit comes with three rollers for excellent stability and reliability, and each roller has silent bearings, which are super smooth to make shipping your pole as easy as possible. 
The vertical rollers are designed to be fixed at an angler, which ensures the pole stays on the roller, even in heavy weather conditions. 
On top of it all, this pole roller packs down small and comes with a storage bag, so it is highly portable. It is undoubtedly one of the best pole rollers around when it comes to combining function, quality, and affordability. 
This roller also comes in three size options – Standard, XL and Super XL.
Pros
Three rollers for reliable stability 
Telescopic legs can be individually adjusted 
Easy to match the legs to most terrains 
Also, works laid flat from low setups 
Spirit level to ensure it always level 
Silent bearing on the rollers makes shipping easy
Cons
Specs
Type: Double 
Adjustable Legs: Yes 
Spirit Level: Yes 
Storage Bag: Yes 
Preston Innovations Pro V Roller – Our Best V Type Pick!
If you're shopping on a budget, then the Preston Innovations Pro V Roller is the one you want to go for, as it is an awesome roller while being affordable. Since its release, it has been the number-one-selling V pole roller in the UK. 
The legs on this pole roller are adjustable in length/height and angle, too, which means that no matter the terrain, you will always be able to get this to the right level for effective shipping. The centre pole is also height adjustable, so you can always get the perfect setup for your pole. 
It's incredibly easy to use as it comes with quick-release clasps, and the drop-down extensions easily slide out. It also folds down easily and is incredibly light and compact, so carrying it around is about as easy as possible. 
Pros
Very affordable if on a budget 
Compact and portable 
Height adjustable centre pole 
Secure and stable 
Adjustable height and angle of the legs 
Super light 
Cons
Specs
Type: Single  
Adjustable Legs: Yes 
Spirit Level: Yes 
Storage Bag: Yes 
Matrix Freeflow MKII Standard Roller 
The Matrix Freeflow MKII Standard Roller is another excellent pole roller that makes shipping out a 16-meter pole as easy as possible. 
The legs on this pole roller are adjustable and extended out into three positions so you can easily manage steep banks. Each leg also rotates 180 degrees, so you can always level out, and if you need longer legs, you can easily buy extensions separately. 
The rollers come with excellent stainless steel bearings, which ensure a smooth ship every time. Plus, each roller is covered with soft EVA foam and, therefore, will reduce vibrations and help you hold onto your bait securely while shipping in the incredibly smooth motion they allow. 
The uprights on the sides ensure your pole stays secure even in heavy weather conditions, and there is even a carabiner clip so you can add weights for more stability. 
To top it all off, this pole roller packs down small and easily thanks to the quick-release cam locks on each leg, and it packs up small for portability. But, the one thing it is missing is a spirit level. 
Pros
180-degree rotating legs 
Adjustable leg heights 
Easy to set up and pack down 
Super smooth EVA rollers 
Uprights hold your pole in the wind 
Easy to attach weights to the carabiner, included 
Cons
Specs
Type: Single  
Adjustable Legs: Yes 
Spirit Level: Yes 
Storage Bag: Yes 
Tubertini T-Roller Double FLX Pole Roller 
Another great pole roller on the market is the Tubertini T-Roller Double FLX Pole Roller, and it's designed especially for handling super steep banks. 
The legs are fully adjustable, but you can adjust the front legs to be set long and the back legs to be super small, meaning you can get this pole roller sitting level no matter what terrain you are fishing on. 
The roller stands on the side ensure that your pole stays secure and make shipping as smooth as can be, especially when combined with super smooth rollers in the middle. The bearings are top quality and ensure silent, smooth shipping all day long.  
This pole roller arrives in a neat case for portability, and it's not too heavy either, so it will be easy to get to the bank with the rest of your gear. 
If money is no object, then seriously consider this Tubertini range. It has been tried and tested by European match anglers.
Pros
Ideal for steep banks with long legs 
Use with front legs extended and back legs short 
The pole doesn't slip off the rollers 
Rollers roll very nicely
Packs down small 
Easy to set up and pack away 
Cons
No spirit level 
Higher price than the other recommendations 
Specs
Type: Double 
Adjustable Legs: Yes 
Spirit Level: No 
Storage Bag: Yes 
Do You Need A Pole Roller?
Yes, after investing a lot of money in an expensive pole, we must take care of it. Poles are fragile, and pole rollers will protect them from damage while shipping the pole in and out. Also, rollers keep them from lying on the ground where they can be stepped on and broken.
Also, poles can be heavy after a few hours of use. Rollers make using poles much easier and more efficient to use, even more so in a match fishing competition. 
How To Choose The Right Pole Roller?
Choosing the right pole rollers is not so simple. Each venue requires a different setup due to the space available, the angle of the bank, and how long your pole is.
If you are unsure of what setup pole rollers you need, then go for a flatbed roller; these are the most versatile and probably what you will end up using the most, especially if you are a match angler.
They have a wider target position to ship the pole back and sit better in windy conditions. Since the bank height is different for each venue, having the option to adjust the heights is critical. Typically, 1ft 6" to 2ft 6" is the perfect range for fishing on a level bank. 
If your seat box position is high above the water surface or the bank slopes away from behind you, then the roller should be adjusted to 3ft to 5ft. Likewise, if the bank behind you climbs steeply, then you will need to adjust it to a lower height of around 1ft.
In summary, ensure your pole roller can adjust to a larger range as much as possible to avoid getting a bad back or a very uncomfortable fishing trip.
A double roller is perfect for those fishing multiple lines and also where you have no choice but to break the pole down into two sections when shipping back; this is always a problem where your fishing peg has a lack of space behind you or when fishing on canals.
In some lakes and canals, the area behind you can be limited, and it's in these cases where the V roller is best suited. The V roller typically has a higher height adjustment and fits in smaller spaces. A deep-cut V like the Preston Innovations Pro V Roller is the best choice as it holds the pole better during strong winds.
Do I Need Two Pole Rollers?
One roller is sufficient if you are fishing with a pole up to 10m long. If your pole is above 10m, you must support the pole weight and length with a front and a rear roller.
If you plan to only fish in the margins, you need only one roller. My 10m Preston Innovations Edge monster margin pole works perfectly with a single front roller.
What Angle Do I Set My Pole Rollers Behind Me?
The best angle is at 30 degrees. Never set them up directly behind you, as this means you are always twisting your body to find the roller. At 30 degrees, it's perfect for finding the roller with a quick glance behind you.
Pole Roller Alternatives, Pole Rests?
There are not many alternatives to a pole roller. Pole rests will not allow you to fish comfortably or efficiently as they cannot carry the weight and length of the pole. These inexpensive bank stick screw-in type rests are not recommended due to their small size and fixed height, and they cannot remain stable. 
Rolling Out 
Thanks very much for reading my article. I hope you found it useful and have found the right pole roller. It's all about finding a pole roller that works for the areas you fish in and making shipping long poles as easy as possible. 
If you haven't decided on the pole roller you want, I highly recommend the Preston Innovations Inception Flat Roller. It's a great value versatile roller. You won't find an easier pole roller to set up between the spirit level, adjustable legs, and super smooth rollers, or that makes shipping any easier. It's also light, compact, and portable.  
If you plan on buying a new pole (or a secondhand one), look at my in-depth article on all the criteria for selecting the right pole when you head to the pole alley. And check out my in-depth review of the best pole socks on the market.
Latest posts by Steve Fitzjohn
(see all)