Disclosure: Some posts contain affiliate links, which earn us a commission if you make a purchase through them. Positive Fishing © participates in various affiliate networks including the Amazon Services LLC Associates Program.


Canal fishing is, without doubt, one of the most accessible forms of fishing to anglers in the UK and it's one of the most affordable too. 
No matter where you live in the UK, chances are you are a stone's throw away from a canal you can fish in, even in the middle of cities like Birmingham and London. Another great thing about canal fishing is that you can successfully catch a lot of fish with very basic gear making it great for beginners and children anglers alike. 
This article on Canal Fishing for beginners will cover everything you need to know about canal fishing from the permits required, the tactics you will want to employ, the right tackle to use, and lots more. 
If you are new to fishing, you will find this article very useful, and having read it you should know everything you need to catch fish while canal fishing.
What Fish Species Can You Catch While Canal Fishing?
Every canal in the UK is pretty much packed full of small roach and perch. These are the bread and butter fish of canal fishing and they are great for beginners and kids to catch. Roach and perch are quite easy to catch and you can really rack up the numbers over the day. 
When beginner and children anglers start fishing, it is key that they have fun and don't get bored, which means catching fish so perch and roach are the ideal targets. 
Some canals also have more trophy fish species in them too including carp, pike, tench, bream, gudgeon, dace, rudd, and chub. As you can see there is a huge range of species you can try to catch while canal fishing so once you're hooked, you'll have a ton of different fish to target. 
Where the rivers flow into the canals it is possible to catch brown trout and rainbow trout, especially in the cleaner water areas and less populated areas.
Canal Fishing Near Me
There are many canals in the UK. There are 5,000 miles of canals and rivers that are navigable in Britain. 2,700 miles of UK canals and rivers are connected up to form a waterways network.
Check out this link on where to find a navigable map of where to find canal fishing near you and more canal information at the Inland Waterways Association which is an independent national charity.
Best Known Canals For Fishing
50% of the UK population live within 5 miles of a canal! There are far too many for me to mention here. So let us run through the most popular ones for fishing:
In London there are two canals, the Grand Union Canal comes in from the west to Little Venice and it meets the Regent's Canal, which heads North into the river at Limehouse. Anglers can fish the full length of both of them. You can find a map of the Regents canal here!
Grand Union Canal
The Grand Union Canal is the most well-known canal in the UK and links London to Birmingham. Being the longest and probably the busiest canal it passes through diverse landscapes such as countryside towns and villages to industrial towns.
The stretch of the canal through Milton Keynes is a favourite of mine when I was going to school. You can find a map of the canal here!
Kennet And Avon Canal
The 87 miles long Kennet & Avon Canal, links London with the Bristol Channel and passes through some spectacular landscapes including Wiltshire and the beautiful Cotswolds. You can find a map of the canal here!
Llangollen Canal
The 46 mile Llangollen Canal crosses the border between England and Wales. The area around Whixall is a favourite with many anglers due to being less busy with boats. You can find a map of the canal here!
Shropshire Union Canal
The Shropshire Union Canal is mostly very beautiful and the Llangollen canal joins it at Hurleston. The section near Croughton offers great variety for anglers, with plenty of features to fish towards. It runs from the Manchester ship canal in the North You can find a map of the canal here!
Is There A Closed Season On Canal For Fishing?  
There is almost no closed season for canal fishing which means you can head to your local canal to catch a few fish any day of the year. However, always check with your local angling club on the regulations before you go!
That being said, wintertime is the slowest time of year for canal fishing, and all fishing to be honest. When the water cools down the fish become less active and they, therefore, don't feed so much. 
That being said, you can catch a lot of fish in canals in winter if you fish it correctly. Don't over bait your swim or else you won't get any bites, less is more and you should slowly build up your swim until you get some bites. 
Some anglers love to target big roach in the canals in winter and they do this using bread. Roach love to eat bread in winter, so this is a great way to keep yourself entertained while canal fishing while waiting for spring to arrive. 
When Is The Best Time Of Year To Go Canal Fishing? 
Fish love to feed when the water isn't too hot or too cold. This makes the best time of year to go canal fishing is in spring and autumn. 
When spring takes full force the fish start to feed heavily to make up for the weight they lost over winter. The same thing happens in autumn when they gorge on everything they can get their hands on to fatten up before the cold waters of winter are upon them. 
Summer can also be a great time to go canal fishing so long as it is not too hot. When the water gets too warm the fish will sit deeper in the water column in order to find the colder water near the bottom. If this happens be sure to fish as deep as possible. 
What Permits Do I Need To Go Canal Fishing?
To go fishing anywhere in the UK you will need to buy a rod license first. You can buy a day, week, or annual rod license that covers you for all coarse species in the UK, including all the ones in the canals. 
You can buy your rod license at your local post office or online here. 
When canal fishing you will also need to buy a permit from the Canal Rivers Trust OR from an angling club that manages the section of the canal you intend to fish. Not to worry though, as all the licenses and permits are very affordable. These permits are called Waterways Wanderers and cost 24 pounds per year. 
You can find out how to buy your Canal Rivers Trust permit online here. 
What Tackle Do I Need For Canal Fishing?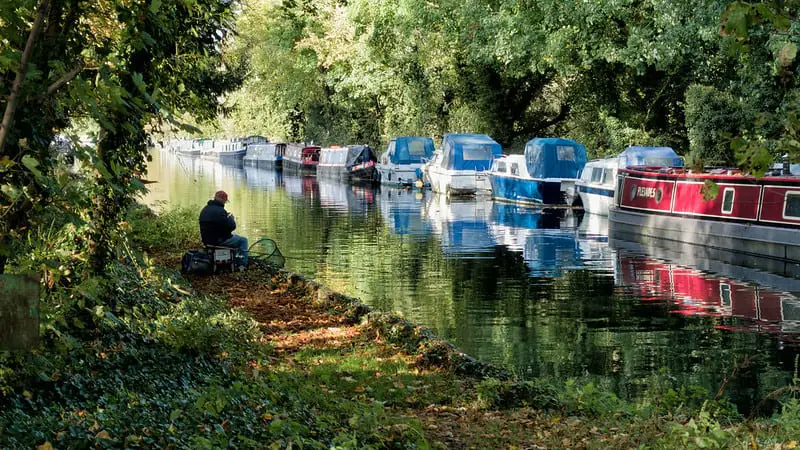 One of the great things about canal fishing is that the tackle you need for it is extremely basic and very affordable too. 
All you need to catch fish in a canal is a rod, reel, line, bobber/float, hooks, split shot, and bait. Once you have all this ready, getting a chair to sit on and a basic landing net is all that's needed so you can fish in comfort and land fish with ease. 
Once you're hooked on canal fishing though, chances are you will start collecting lots more tackle so that you can use new tactics and hopefully catch more fish and species. 
Should I Use A Rod and Reel or a Pole for Canal Fishing? 
If you are new to fishing or looking to buy some gear for a young angler then I would suggest buying a rod and reel instead of a pole. If you are looking for an inexpensive and very good-performing pole check out my article on the Best Margin Pole Ever here!
The reason to use a rod and reel over a pole is that it is a much more affordable way to get started and it's much easier tackle to use. Plus, once you have mastered how to use a spinning rod and reel you can start fishing anywhere from lakes to rivers and in the sea too. 
Canal fishing with a pole is probably the most effective way of catching fish. Poles allow you to use a much lighter line for a more subtle approach and it allows you to be very accurate in positioning your bait in the same part of the swim every time which leads to more consistent catches. 
However, poles are both quite expensive and not very easy to learn how to use so for beginners and kids it is best to start off fishing with a rod and reel and then progress to a pole. 
You can also opt to use a whip instead of a pole as these are smaller, easier to handle, and a lot more affordable too. 
Check out all my articles on pole fishing here!
What Are The Best Fishing Tactics To Use On Canals? 
When fishing on canals it is best to use a waggler float with split shot and a size 16 to 20 hook underneath on a 2lb to 3lb breaking strain monofilament line. The reason for using a float over say a ledger on the bottom is that canals have a lot of snags on the bottom so it's best to avoid fishing down there so you don't lose your tackle.
I would recommend using a sliding float as this allows you to adjust the depth of where your bait will sit. This means you can change depths in a couple of seconds to get your bait to exactly where the fish are feeding. 
What Is The Best Bait For Canal Fishing? 
The most popular baits used in canal fishing are, without a doubt, maggots and worms. Perch love worms and roach love maggots and therefore these are the baits that will catch the most fish on a canal. 
Bread, caster, meat, and sweetcorn are also very effective baits to use while canal fishing and species like chub and tench are big fans of sweetcorn and bread, as are roach in the wintertime. 
Using ground bait to bait up your swim is a great way to ensure you consistently catch fish throughout the day in the same spot. Ground bait will keep fish in your swim and it clouds up the water which makes fish far more comfortable feeding since they can't be seen by big predators. 
The best ground bait to use when canal fishing is bread crumbs mixed up with maggots, hemp seeds, and sweetcorn. 
You may want to employ some different baits, however, when targeting trophy canal species like carp and pike and we'll discuss this more later in this article. 
What Size Hook Is Best For Canal Fishing? 
When thinking about hook sizes for canal fishing you need to take into account two things: fish size and bait size. 
Considering the majority of the fish in canals are small fish you will want to choose a hook that will fit in their mouths otherwise you won't be able to hook them. When you combine this with using baits like maggots, worms, and sweetcorn hooks in sizes 16-20 makes the most sense. 
Hooks in these sizes are both the perfect size for the baits and small enough to fit in the mouth of a small roach or perch. 
How To Target Different Species When Canal Fishing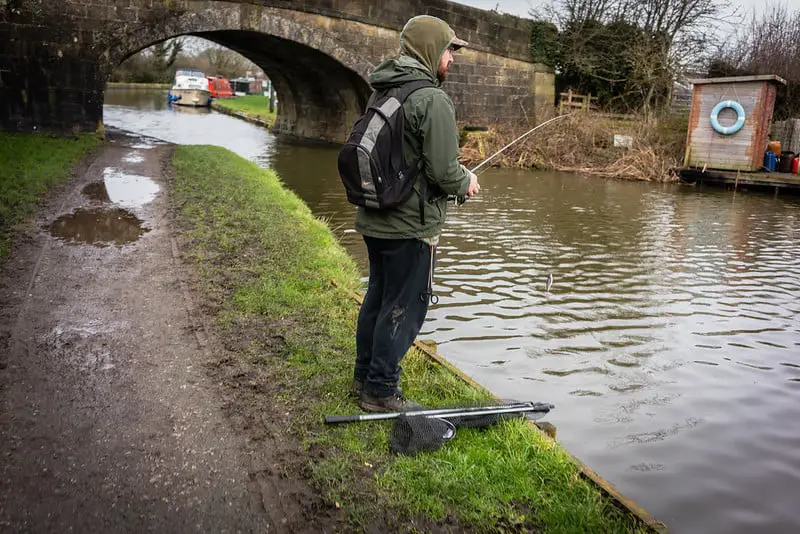 Fishing For Canal Pike 
Canals are a great environment for pike since they are predators that love to eat small fish like roach, bleak and rudd and there are tons of them inside canals. 
When fishing for pike you will want to use a wire trace as they will quickly bite through your leader line. Also, you will need to select a far more heavy-duty setup than the one you will use for roach as canal pike can grow to be over 20 lbs. 
The best bait for fishing for pike includes live bait or dead bait, lures, and spinners. Not all places allow you to fish with live bait but if they do, you will have to use live bait from the same fishery. This involves catching a few small roach, hooking them through the back by the dorsal and letting them swim free. 
When choosing dead baits for canal fishing for pike the smellier the better. I always choose dead mackerel or sprat as the oils and smells of this bait attract pike from a distance. I once caught a 20lb pike doing exactly this on the Grand Union canal. 
The most effective way to catch pike in a canal is casting lures and spinners in my opinion. This is a very active form of fishing where you continue to walk the banks and cast your lure or spinner across the canal in places pike might be lurking. 
You should fish light to cover a lot of the canal and focus your casts on deep water around moorings and marinas or around structures like sunken or overhanging trees. 
The most exciting thing in canal fishing is when a pike hits your lure or spinner while you're winding it back. The hit comes out of nowhere and they pull hard too. 
Small spinners work really well for canal perch!
Fishing For Canal Carp 
You will find some very big carp in canals but they are not in every canal so you will want to do some research to ensure you are fishing in a canal with some carp in it.
Once you have found a canal with carp, working out where in the canal to fish for them is the next step as they won't be everywhere in the canal. You should look for good carp swims by walking up the canal. 
Good carp swims include overhanging trees where carp can hide, places with minimal foot and boat traffic, moored-up boats that offer good cover, and carp also love to go in the margins and deeper ledges too. 
When fishing for carp in canals you will want to use some heavier tackle than you would for roach and perch. It's best to use standard carp tactics which include using meat, boilies, pellets, and sweetcorn. 
In the summer you can catch them on the surface using floating dog biscuits, and they will sip them off the surface. This is a very visual way of catching carp and it is a ton of fun. 
Catching carp while canal fishing is a game of patience as these fish move around a lot in canals, even more so than in lakes. A great way to get carp biting and staying in the same spot is by pre-baiting a swim for a few days or even weeks before you fish it. This is much easier if you live close by to the canal. 
Canal Fishing Safety And Etiquette
Canals can be a busy place, especially in the summer months. Many narrow boats share the waters with anglers and it's important to understand the canal etiquette.
Never fish inside a lock or within 25 metres of lock gates, swing bridges or water points. 
If you see no signs at visitor moorings stating fishing is permitted, then anglers can fish in these areas. However, mooring boats do have priority during the boating season. During other times the access is on a first-come first-served basis.
Anglers should not fish between boats on permanent moorings, or at visitor moorings where there is a sign prohibiting fishing.
Fishing opposite boats moored on the far bank is allowed. Just make sure that when you cast it is not going onto the boat or hitting the sides.
Narrowboats do have priority over fishermen, so if required move your tackle away from the boat lane if it seems it might interfere.
Boats are required to keep to the middle of the canal and also only go at a steady speed creating less wash.
The towpath can be very narrow and It's important that anglers lay your equipment out neatly on the bank so that others can pass by you easily. Cyclists and walkers often use the towpath and if you are not careful it can lead to a broken rod or a serious injury.
One awesome point to make here is that you may take your dog fishing with you on the canal with no restrictions unless your angling club rules state no dogs allowed.
Floating Out 
Thanks very much for reading my article. I hope you enjoyed it and now know everything you need to know in order to enjoy some canal fishing. 
Remember, start out with maggots and worms under a float to begin with as you will catch a load of fish and then move on to species like carp and pike once you are ready to upgrade. 
Please share this article with your fishing buddies through the social links on the website, and check out some of our other in-depth fishing tips and guides here!. 
Latest posts by Steve Fitzjohn
(see all)