Disclosure: Some posts contain affiliate links, which earn us a commission if you make a purchase through them. Positive Fishing © participates in various affiliate networks including the Amazon Services LLC Associates Program.



Moonshine Vesper Rod Review: Is It Worth It?
Our Verdict
Moonshine has done an awesome job in designing and manufacturing this Vesper series of fly rods. Its lightweight construction and good quality are right up there with the best, coupled with a lifetime warranty making it one of my personal standout best trout fly rods.  With it at an attractive price for the high performance of the rod makes it a great buy.
The Good
Casting capability is really nice
Lightweight and easy to manage
Extra rod tip and carrying case is a big bonus
Aesthetic look is professional and stylish
The Not So Good
Fly line tends to make a low noise while going through the guides
Making the right choice for a high-end fly rod is stressful. The idea of spending several hundred or even thousands of dollars on a piece of fishing equipment is a decision that shouldn't be taken lightly. With dozens of options to choose from, it can be a challenge to know what's best for you. 
Moonshine Rod Co. created their Vesper series for this exact situation. A small fly fishing company with your best interest in mind is always a great choice for your next fly rod. 
In this article, I will cover the following: 
Moonshine Vesper Rod Features 

Build Quality
Extra Rod Tip and Case
Action
Weight
Warranty
Aesthetics
Price
Casting Accuracy

Long Distance
Short Distance
Moonshine Vesper – Is It Worth Buying?
Who Is Moonshine Rod Co?
Moonshine rod company is based in Nashville, Tennessee, and has a presence in Virginia and Colorado. They are an American-owned fly rod company that designs and manufactures unique, affordable, quality fly fishing rods. The rods themselves are not manufactured in the United States; they are assembled from blanks from South Korea and shipped to the United States for final inspection and quality control.
Moonshine Vesper Features
Moonshine Rod Co. didn't pull any punches with the Vesper Series. You'll know the quality when you read the reviews and receive the rod. They've thought of many things that larger fly-fishing companies have yet to discover! 
Build Quality
The Moonshine Vesper is made from Nano Matrix performance graphite. Yes, the rod does have almost a "brittle" feel to it, but once you start using it, you will feel how smooth it truly is. It doesn't have the same feel as fiberglass, but the performance isn't lacking. You'll quickly trust it with large fish. 
The guides are made of titanium and appear to be very durable. There's not much give to them, so make sure you don't push them up against your car or a tree. Unlike ice fishing or spin rods, the guides don't move around too much. This stiffness gives your fly line a smooth place to move. 
The cork is AAAA Grade and feels great in your hand. It doesn't feel overly firm, and you'll find that your hand begins to morph into it as you fish. You won't experience any excessive sweating or rubbing. 
The reel seat on the Vesper is unlike any reel you've seen. It's extremely unique, and the design immediately catches your eye. The tiger-style aluminum looks great and is ready for any fresh or saltwater adventure. 
Vesper Extra Rod Tip And Carrying Case
Moonshine includes one extra spare rod tip and also a portable Cordura carrying tube. Each of the 5 pieces fits into a compartment rod sock for extra protection from scratches and general handling.  
Action
The Vesper 5-weight is a moderate-fast action. This is not too rare for a high-performance rod. Most high-performance rods are fast or extra fast. Before you scoff at the moderate fast action, give it a chance. It's the most versatile action for all types of fishing. For the middle-weight rods, you'll want a moderate fast action that can keep up with you. 
You'll have the power of a fast action rod but also keep the sensitivity you would find on a moderate or slow action. There's a balance in all of these, but Moonshine has figured out the formula. It's a great compromise of power and feel. 
Weight
The Moonshine Vesper rods are lightweight. No matter what weight you select, you'll be pleased with how well the rod handles and feels. There's no worry about having shoulder or wrist tightness. You can purchase the Vesper series from a 3-weight to a 10-weight. 
Warranty
The warranty on the vesper rod is great! It's a lifetime no-fault warranty if you can provide proof of purchase. For many big companies, this isn't the case. You have to go through numerous steps, and it's often a nightmare getting spares or having them repaired, etc. Being a smaller company, Moonshine is extremely responsive and will help you along the way. 
The only downside is that you have to pay a $45 replacement fee. You can fish the rod hard without too much worry; you will be completely out of luck if your rod breaks. 
Aesthetics
The aesthetics of the rod are an added bonus. Most anglers don't care all that much about how their rod looks, but it never hurts if the design is unique. Moonshine took the design of their high-performance rod extremely seriously. The matte blue rod with the tiger-patterned reel seat is especially unique. More and more companies have followed suit since they've seen Moonshine's design. 
There are also orange dots on each piece of the rod to help you line things up and get on the water faster than normal. 
Price
In terms of price, you'll struggle to find a high-performance rod that is priced better than the Vesper. For around $500, you will find a rod that performs at the level of all the high-performance rods from the large, more well-known brands. Most other companies are going to charge you upwards of $1000 for a rod that does something similar to the Vesper. 
Moonshine Vesper Casting Accuracy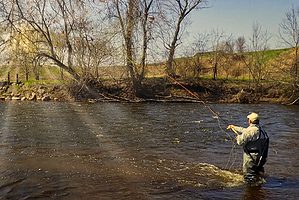 When you start feeling the Vesper's performance, you get a great idea of what this rod can do. With a high-performance rod, the last thing you want to worry about is how the rod will cast. 
Long-Distance Accuracy
You can easily make 60 to 70-foot casts with this rod. Even if you have to fight through a bit of wind, you'll be fine. The power for a moderate-fast Action (3wt to 6wt) rod is pretty spectacular. As you're casting, you'll notice that most of the power comes from the lower part of the rod near the cork. You'll never feel outmatched in terms of power. 
Pick your spot across the river or out near structures in a lake and let it go. You'll have a blast getting there. 
Short-Distance Accuracy
When you're purchasing a rod, it's important to remember that short casts are equally as important as long 60 feet casts. Most fish are caught within 20 or 30 feet of you! If you aren't able to make the casts in these areas, then you're in trouble.
Thankfully, the fast action (7wt to 10wt) makes it easy to maneuver, and you don't feel as if the rod is too touchy. You'll easily be able to make natural presentations all day long. 
Moonshine Vesper – Is It Worth Buying?
If you need power and don't want to mess around with working too hard to make long casts, then the Vesper is the rod you should choose. 
Paired with the right line, you'll find that the line flies through the guides without trouble. Let this rod be your workhorse on the days with a bit more challenging conditions. Paired with its sensitivity, you'll have a rewarding time out on the water. 
One of the only downsides of the Vesper is that your line makes a whining sound as it passes through the guides. As your line gets wet, the noise begins to diminish, but keep this in mind if it might be something that would bother you. 
Moonshine Rod Co. is giving hope to smaller fishing companies. They're proof that people will support you if you can make a good product. All of their rods, especially the Vesper model, are worth the investment. Take a chance on this rod! You won't be sorry, and know you'll receive high-quality customer service.
Final Thoughts
Moonshine has done an awesome job designing and manufacturing this Vesper series of fly rods. Its lightweight and quality are right up there with the best, coupled with a lifetime warranty, making it one of my personal standout best trout fly rods. 
I hope this article helped you decide to purchase an additional rod or your first fly rod. For further information on fly rods, you can read more in my article about the Best Trout Fly Rods here!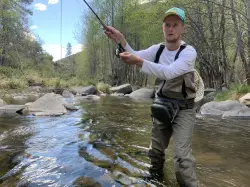 Latest posts by Daniel Mooers
(see all)