Disclosure: Some posts contain affiliate links, which earn us a commission if you make a purchase through them. Positive Fishing © participates in various affiliate networks including the Amazon Services LLC Associates Program.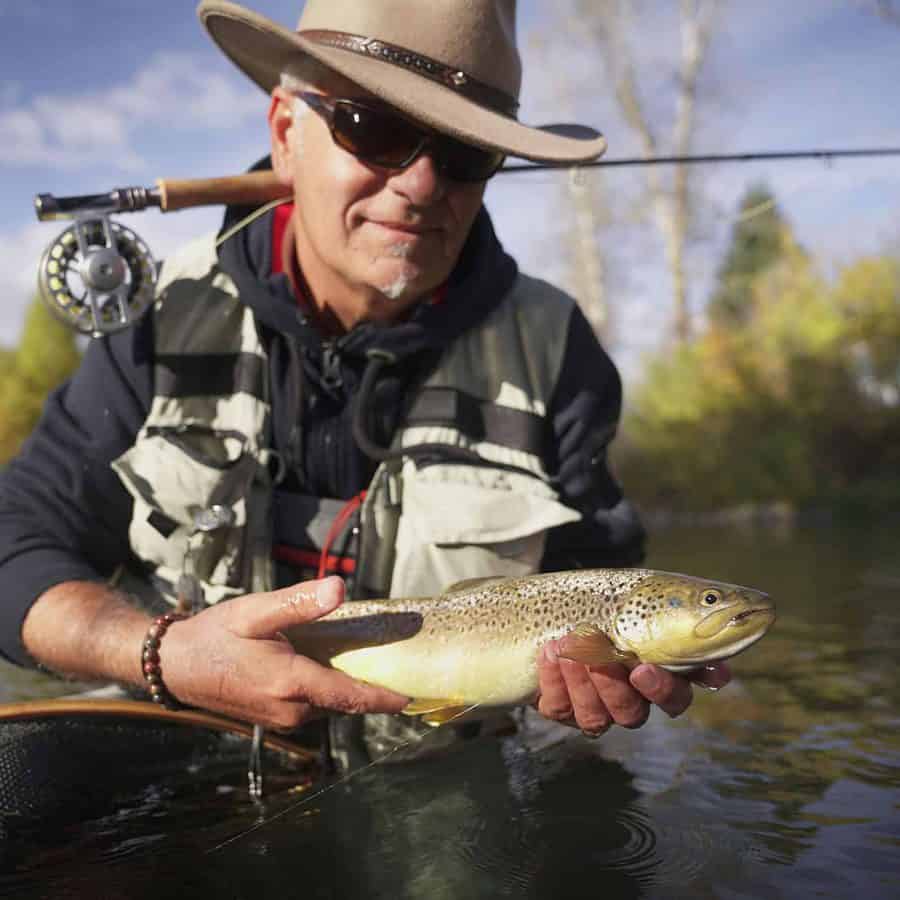 Orvis Ultralight Fly Fishing Vest: Buyers Guide
Our Verdict
The Orvis Ultralight Fishing Vest is an outstanding choice. The design and quality are second to none and this vest will last for a very long time. The lightweight construction allows full movement while fishing as well as all the pockets and features you will need.
The Good
Very Lightweight
Great Quality
Superb Design
Gives Great Flexibility Of Movement While Fishing
The Not So Good
Not The Cheapest In The Market
Fly Fishing Vests are essential for having all your fly fishing accessories with you close at hand whilst you are engrossed in your fishing.
Having all the important small key items with you not only makes things a whole lot easier but can also prevent losing a fish and helps be much safer in the water or on the bank.
To some fishermen looking the part on the water is important. A great-looking fishing vest is not only practical but also gives confidence and is classy! 
In this article, I will cover the following:
What is a Fly Fishing Vest? 
Orvis Ultralight Vest – (My Best Overall Pick!)
Best Alternative Orvis Fly Fishing Vest
What is a Fly Fishing Vest? 
Fly fishing requires carrying a lot of items with you as you wander along the bank or wade through the water in search of fish.
Having everything you need on hand will save time and give you the flexibility to change the fishing style as you go. A selection of flies, extra leaders, tippet spools, a knife, forceps, floatant, etc, the list is endless.
Fly fishing vests are designed to carry all your fishing gear and also keep your valuables such as a mobile phone and car keys safe.
There are a few major points to consider when choosing the right vest: 
It must be comfortable.
The vest should protect you from rain showers.
The pockets must be enough to carry your essentials and also be easily accessible.
The vest must give you casting flexibility.
The vest should be breathable with ventilation
Choose a light vest if possible, it can be troublesome wearing a heavy vest for several hours. 
Make sure the vest is well made and uses quality materials.
Orvis Ultralight Vest – (My Best Overall Pick!)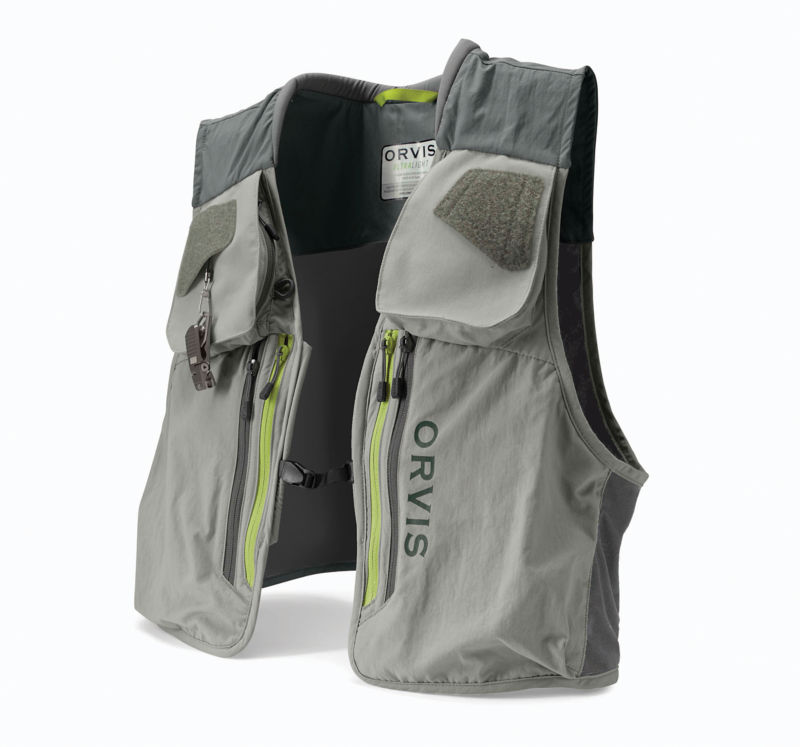 As with every single Orvis product I have used, the quality and design are second to none. But how does the Orvis Ultralight fishing vest compare? Is it really worth it?
Let's have a quick look at the main features:
Features: 
Super Lightweight – 12 oz or 0.34kg
Single color option – Storm Grey
Five sizes available – S(34-36), M(38-40), L(42-44), XL(46-48), XXL(50-52)
Unisex, ideal for women and men
Material: Outer vest is nylon (DWR), Collar is 92% polyester, 8% spandex
This vest features eleven pockets: 6 exterior, 4 interior, and 1 rear.
Four large vertical chest pockets for fly boxes, two of which have internal stretch mesh organization pockets. 
Two exterior vertical chest pockets higher on the shoulder hold leaders, tippet, and other accessories. The two vertical interior chest pockets can hold valuables and the right pocket has a key clip. The two lower interior stretch mesh pockets allow odd shape items to be kept due to the give in the mesh structure.
The large zipper pocket on the rear is perfect for holding items such as a water bottle, spare reel, or even a hat!
None of the pockets is specifically designed for a mobile phone, but any of the four interior pockets can be used perfectly.
Other than pockets the Orvis ultralight vest has a landing net holder hook at the rear of the vest. There are two zinger ports hidden behind the two front fly drying patches. The inner part of the patches can hold your forceps, pliers, and other small handy items. Across the front of the vest, there is a handy feature to allow you to clip a tippet bar. This is great for holding any spare line and tippet spools. 
Tip: A Zinger is a lanyard that clips onto a fly fisherman's vest and is used to keep fly fishing accessories easily available to use. Items such as forceps can be attached to the retractable cord to help easily unhook a fish.
What I personally love is the low-profile design which keeps everything closer to the body and solves the bulk that you get with many cheaper conventional vests. The vests' flat body-hugging form, even with full pockets is comfortable to wear and doesn't feel bulky.
Tip: DWR means "durable water repellent," which is a layer of waterproofing liquid applied to the outside of the vest to repel oil, grease, dirt, and water.
The pockets can be used for any accessories as you feel, being different sizes and some with mesh, you can put whatever item you want into any pocket. There are no rules about what should be kept in any specific pocket.
Once you try the vest on and get out fishing, then you can adjust the arrangements to your personal feel and comfort.
I can fit all my fly fishing items in this vest and with some room left. The key to me when fly fishing is having the ability to not be hindered when casting or moving around. The Orvis Ultralight is the best vest choice for me.
The Ultralight is the mid-range pricing out of the three Orvis options.
My Verdict? 
The Orvis Ultralight really does make the perfect sense to every fly fisherman. Its quality and design bundled together with so many features is a real winner. After several hours of fishing with it you hardly even realize that you're wearing it.
The Orvis Ultralight is a truly minimalistic design, it avoids all the unnecessary features that are on most fishing vests. If you want a good looking, simple and really utilize the features this is the vest for you.
Best Alternative Fishing Vests?
Orvis has a couple of alternatives to the Ultralight. 
Orvis Pro Vest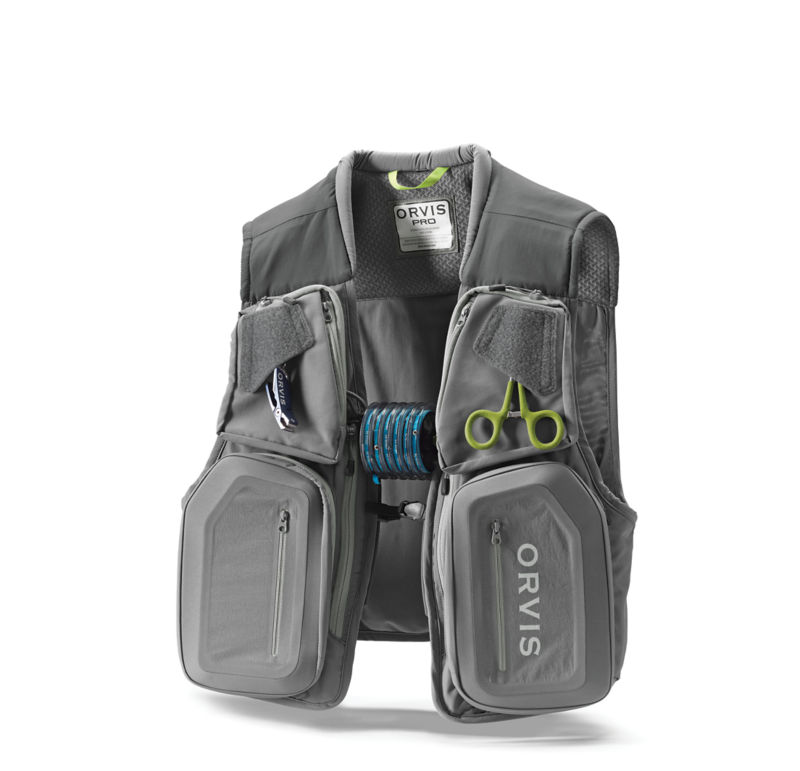 The Orvis PRO vest is quite similar in quality, materials, and design. The main difference is that it has a total of 18 pockets, more than the Orvis Ultralight. 
The two lower front pockets are more rigid than the Ultralight, these allow better protection for more fragile items. However, the main drawback for me is the extra weight of the PRO vest. At 22 oz, this is almost double the weight of the Ultralight. 
The sizes and color options are the same as the Ultralight. 
If you are a fly fisherman with so many accessories this is probably your best choice in a fly fishing vest. However, in my opinion, the extra cost over the Ultralight is just isn't worth the extra added storage space.
The PRO is the Highest range pricing out of the three Orvis options.
Orvis Clearwater® Mesh Vest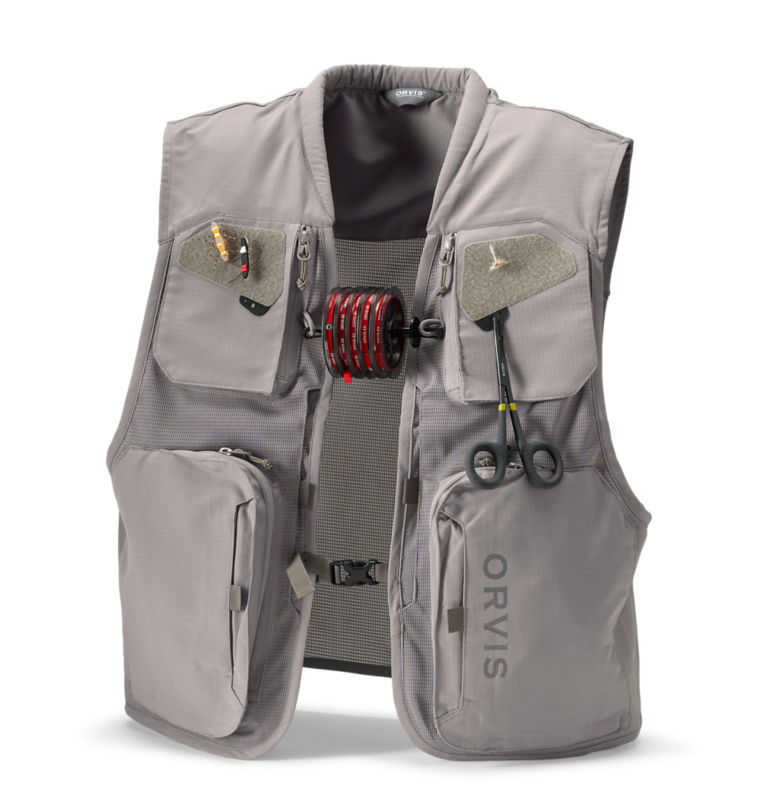 The Clearwater Mesh Vest is made from 100% polyester. Colors and size options are again the same as the Ultralight and the PRO.
One difference is that the straps are sewn into the vest and do not slide. The ultralight and Pro have a sliding adjustable closure feature. However, in my opinion, this is not a big concern, the Clearwater is targeted as a lower-priced option with fewer features.
For anglers who prefer a more budget price range, this is a really good choice. It still has the same quality that all Orvis vests have, if the price is a concern to you and you only carry minimal extra accessories, then the Clearwater is a great option
It only has eight pockets, four zippers, and four Velcro pockets. These can still hold your fly boxes and some accessories. It still has the two chest fly-drying patches but with rubberized tabs for tool attachment. The elastic loops for easy tippet bar attachment remain along with the tri-ring landing net holder. 
At 15 oz, this is 25% more weight than the Orvis Ultralight. 
The Clearwater is the Lowest range pricing out of the three Orvis options.
Taking Care Of Your Fly Fishing Vest
Almost every fishing vest uses a Durable Water Repellent (DWR) coating. It should be noted that this is not waterproof or rainproof. It purely acts as a prevention to stop water from penetrating the interior of the vest.
However, after washing several times this coating degrades and needs to be replenished. The best brand around for this is Nikwax. It's commonly available and will restore the water repellent properties back to new. 
Tip: Always make sure the vest is washed in warm water, not hot. This is critical to reviving the  DWR properties and should be done every time you launder your jacket. Once washed, put it in the dryer on low or medium heat for 20 minutes to reactivate the DWR finish.
Washing Orvis clothing products is not too much of a concern since the materials are high quality. If you own a cheaper, less rugged vest option you may need to take much more care. I have washed my fishing vest multiple times with no degradation of its shape or properties.
Final Thoughts
Fly fishing vests are a great investment for every fly fisherman.
Orvis is the leader of the industry and these three high-quality options give every angler a chance to own one. As we discussed in the article the price range and the options vary between the three, so choose carefully which suits your style of fly fishing best. 
My choice is the Ultralight, I have used one for many years and have never been disappointed.
I hope this review was helpful and informative. Please check out my best choices for fly fishing waders here and also my in-depth review on the Ventures Fly Co starter fly fishing starter packs!
Latest posts by Steve Fitzjohn
(see all)