Disclosure: Some posts contain affiliate links, which earn us a commission if you make a purchase through them. Positive Fishing © participates in various affiliate networks including the Amazon Services LLC Associates Program.


If you are looking to get into coarse fishing, browsing around a tackle shop or an online store for the fishing tackle you need can be extremely daunting. There are thousands of rods, reels, lines and more to choose from, so how do you get started?
The answer is that it is extremely difficult to pick the right equipment that will have you fishing successfully for a while. Buying a fishing tackle starter kit is the answer.
In this article I will cover the following:
Best coarse fishing starter kit combos, for beginners that have everything you need to start fishing.
Best coarse fishing starter kit components you can choose and create your own starter set. 
Best Coarse Fishing Starter Kits For Beginners
For beginners, the best way to start fishing is to buy a starter set. These kits come with everything you need to go fishing for the first time, such as a rod, a reel, a landing net, a tackle box, and terminal tackle such as hooks, floats, weights, floats and line.
Whilst these are not perfect they are a great affordable way of starting fishing. If you are looking for a birthday fishing gift or a Christmas fishing present for kids these are a great way to start them off.
Roddarch Beginners Starter Coarse Float Fishing Kit Set – My Best Overall Pick!
This Roddarch beginner set has everything and more to get you starting in coarse float fishing! It contains a very comprehensive fishing kit and has a quality carbon match rod!
What makes this set really great for the beginner is that it comes with a Roddarch seat & tackle box allowing you to not only store all your fishing tackle and accessories but also a seat to fish from.
This really is a nice starter kit which will last longer than anything else on the market.
Pros 
Good quality 
Matching rod and reel 
Has far more components than any other starter kit
It will last longer than most other fishing sets
Carbon rod
Cons
More expensive than other fishing sets
Rod Details:
Hunter Pro 10ft 3pc carbon construction rod
Ceramic-lined stainless steel eyes
Closed-cell neoprene handle
Brushed aluminium quick-screw adjustable reel seat mount
Carbon black colour
Lightweight & responsive match / float fishing rod
Reel Details:
Hunter Pro HP40R Reel
Complete with 6lb line
Ultra smooth bearing system
Micro variable rear drag
Precision engineered 5.1:1 gearing
Left or right-hand folding handle (interchangeable)
Silent anti-reverse
Precision 'Anti-Twist' line roller
Supplied in retail packaging
Other Tackle Specs
Roddarch© 'Tough Box' seat & tackle box
Roddarch© 2 tray tackle box
Rod rest & bank stick
2m Keep net & bank stick
78″ Telescopic micromesh landing net
1.5ltr bait box
5pc Waggler float set
6-way split shot weight selection
2 x ZEN hook packets (20pc total)
Hunter Pro match bait catapult 
Disgorger 
Matt Hayes Adventure Complete Fishing Set 12ft Match Rod / Reel – My Best Value For Money Pick! 
This Float Fishing Starter Set from Fladen and Matt Hayes is an ideal coarse fishing starter set. It has everything you need to go out on the lake, river, or canal to catch fish. Its quality level is better than any other starter kit in 2022.
Not only for kids but this is an ideal kit for adults wanting to begin fishing. The kit has all the tackle required to fish including a fibreglass 12ft/3.6m 3-piece match fishing rod and matching reel, and even includes some artificial corn and maggots!
Even for those without any prior fishing knowledge, the set comes with a fishing guidebook full of tips. The only item that is not included is a fishing chair, check out my article here for my best fishing chair picks!
Pros 
Good quality 
Matching rod and reel 
Has everything you need at a great value
It will last longer than most other fishing sets
Super affordable 
Cons
Does not come with a fishing seat
The fishing line (15m) is not long enough to fill the spool and can only be used as a leader
Specs
A 3pc, 3.6m match fibreglass rod
A fixed spool spinning reel with a gear ratio of 5.2:1
Landing net
2 V-shaped rod holders
Loaded float tube with float assortment
Artificial corn bait and maggots
15m/0.12mm spool of line
Disgorger
Rubber stoppers
Float ring assortment
Barbless hooks to nylon size 14 and size 16 
Fishing handbook and guide
Matt Hayes Adventure Complete Fishing Set – 2 x Rod (Carp & Float) & 1 x Pole Option
Another option for the Matt Hayes kit is with the 2 x Carp and float rod set up and also includes a 5-metre long pole. This set is more comprehensive than the standard option, but if you are just starting out fishing it may just have too many options for you at the beginning of your fishing journey. 
If you are looking to buy a fishing pole, check out my article here on what to look for when selecting the right pole for you.
Matt Hayes Adventure – Complete Feeder Ledger Fishing Set 
This set is unique to ledger fishing and not float fishing. The main difference is the rod and reel selection is a little more powerful and also has some different terminal tackle and other gear.
If you plan to go ledger fishing rather than float fishing then this feeder ledger starting set has all the basics to get you started.
The selection of feeders is perfect for various fishing baits, a block end for maggots, an open end feeder for groundbait, a cage feeder for a mix of baits and mashed bread, and also a method feeder with mould for shaping your soaked pellets or groundbait.
The rod has 3 interchangeable top tips to help spot the bites when legering (fishing hard on the bottom using a lead weight) These tips allow you to change the sensitivity of the rod when fishing in lakes, slow-moving rivers, or canals.
Pros 
Reasonable quality 
Matching rod and reel 
Multiple rod tip selection
It will last longer than most other fishing sets
Reasonable price 
Cons
Does not come with a fishing seat or tackle box
The fishing line is not particularly good quality
Specs
3 section 3m rod rated 4 – 8lbs, 
Rear drag reel with 6lb line, 
Block End Feeder, Open End Feeder, Wire Cage Feeder, Method Feeder with mould
Hooks to nylon in sizes 10, 12 & 14
Beads and swivels
Telescopic bank stick and rod rest head
Groundbait mixing bowl
Matt Hayes Useful guidebook of fishing
Lastly, if you are looking at starting fly fishing, check out my in-depth article on my choices for the best fly fishing starter kits here! 
And also take a look at my review on the awesome Ventures fly co fly fishing starter packs here!
Gear Needed To Make Your Own Best Coarse Fishing Starter Kit 
Buying a fishing starter kit in a combo with all the rod, reel, nets etc can be an easy way to get started in fishing. However, very few of these made-up sets are of good quality and some won't last you long. 
Whilst some combos may have a reasonable rod, but the matching reel is almost unusable. Likewise, some come with a good reel and a poor-quality rod. Lastly, you will still need to buy some items which are not included. Even if the sets do provide these accessories they are usually not very good quality.
So let us review the best options for making up your own set which provides quality and affordability for an angler to enjoy, and use easily and they will last a lot longer than the fishing starter combo sets.
Shakespeare Ugly Stik Elite Spin Rod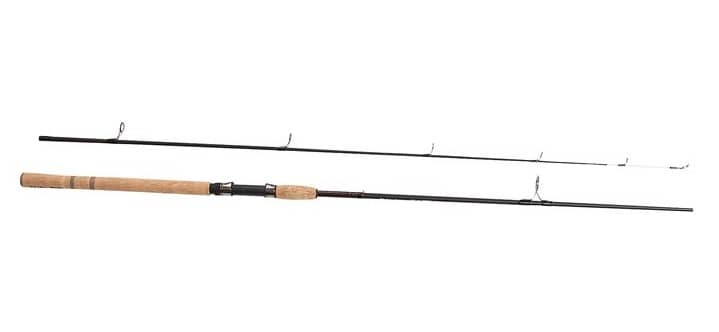 A great coarse fishing rod to start out your fishing career with is the Shakespeare Ugly Stik Elite Spin Rod. Almost every coarse fisherman on the planet has owned one of these rods and it is probably still in their tackle cupboard. 
These fishing rods are made with a composite of graphite and fibreglass which makes them both light and almost unbreakable. They have incredible lifting power and you can hold fish with them with ease. 
Being light they are also great for casting and you can get some great distances and excellent accuracy with them too. It comes with a lovely cork handle, durable guides and an excellent reel seat too. 
Another thing I love about this rod is how versatile it is as you can use it for float fishing, lure fishing, and even saltwater fishing too. The one downside is that it comes in two pieces which makes travelling with it a little difficult. A genuine all-rounder!
Pros 
Almost unbreakable and will last 
Lightweight and easy to cast with 
Great length for long casts
Casts well and accurately 
Clear tip for great bite detection
Has a durable reel seat and lovely cork handle 
Super affordable 
Cons
The two-piece design makes it harder to travel with due to the extra length
Specs
Length: 10 feet 
Pieces: 2
Material: Composites 
Weight: 25-60 grams 
Shimano Baitrunner ST-6000 RB Reel 
The Shimano Baitrunner ST-6000 RB Reel is an awesome reel for a beginner to start off with as it is simple to use and you can really grow with it. Shimano also makes excellent reels that you can rely on, so you can be sure that this reel is going to last. 
Built from graphite it can handle corrosion and it is light too which makes long casting days about as easy as possible. This reel works super smoothly with a great pick-up and smooth drag, and you can crank up the drag pressure when you need to. 
It also comes with a baitrunner function which lets you put the reel in a free spool to give time for fish like carp to take your bait. Once they have your bait, you can engage the drag at the flick of a switch and hook up. This is a super useful tool to have on a reel. 
To top it off, this reel is also extremely affordable and will last, making it ideal for a beginner. 
Pros 
Durable design that lasts 
Will handle fresh and saltwater 
Great retrieve rate
Lightweight and easy to use 
Baitrunner function lets you free spool 
Solid line capacity 
Great maximum drag 
Super smooth performance 
Excellent value 
Cons
Specs
Weight: 550g
Material: Graphite 
Gear Ratio: 4.6:1
Retrieve side: Both 
Max Drag: 6 kg 
Retrieve Rate: 87cm.
Line Capacity: 0.30mm 270m 0.35mm-240m 0.40mm-140m.
If you are interested to find out more about Shimano fishing reels, please check out my in-depth Shimano baitrunner article here!
Daiwa Sensor Line 
You might not think that choosing the right line matters but with the wrong line, you'll spend most of your fishing time undoing tangles instead of fishing. The Daiwa Sensor Line is a great choice to fill up your spinning reel with as it is high quality and affordable. 
This is a supple monofilament line that is easy to tie knots with and it's super strong too so you can be sure it won't snap. Once a knot is tied, it seats well and stays strong too. 
Another great thing about this is the low memory of the line which means it doesn't remember the shapes it has been held in. This means your line won't come off your reel in coils and therefore you can avoid getting tangles. 
There is a very affordable line that casts well and it has low visibility in the water but it is not invisible to fish like fluorocarbon which is a lot more expensive. 
If you are going to invest in fishing gear, never buy a poor-quality line. Line is not that expensive and can last one year, so always buy the best you can.
Pros 
Low memory for fewer tangles 
Great quality with a lot of strength 
Low visibility in the water 
Supple and easy to tie knots with 
Provides excellent knot strength 
Very inexpensive 
Casts well 
Cons
Not invisible underwater like fluorocarbon
Specs
Material: Nylon Monofilament 
Meters: 180 to 3000 
Diameter: 0.33 mm (12 lbs)
Breaking strains: 4 to 60 lbs 
Preston Innovations Dura Wag Adjustable Float 
The next thing you are going to need once you have the rod, reel, and line, is a float. The Preston Innovations Dura Wag Adjustable Float is a reliable float that is sensitive to bites so you will never miss even the subtitles of them. 
The blue colour and orange top make it easy to see while the carbon stem ensures the float stays stale even when the water is choppy on the top. It's also an easy float to use and it is durably built. Wagglers can be used for many styles of the lake, river, and canal fishing, making it a great float for the beginner to use.
You will want to buy a few of these floats in different sizes so you can use the right one for your chosen baits. 
Pros 
Affordable
Versatile 
Good range of sizes 
Brightly coloured for bite indication 
Stable in choppy conditions 
Durable and lasts 
Cons
You will need to buy 2 or 3 for suiting multiple conditions
Specs
Weights: 2-5 grams 
Colour: Blue and Orange 
Material: Plastic & carbon 
Kamasan B560 Barbed Spade Hooks 
Once you have added the float, next comes the hook, and the best hook to use in my eyes is the Kamasan B560 Barbed Spade Hooks. 
These hooks have been designed for versatility as they come with a large gape that allows you to use them with a load of different baits from worms to sweetcorn, maggots and more. 
They also come with a unique shape that provides a much better hook-up rate than others. In fact, very few fish are lost when using these hooks. Each hook is also built strong so you don't have to worry about them bending or breaking, or you losing any fishing. 
The points on these hooks are also chemically sharpened to ensure that if a fish does eat your bait you can hook up with ease. You'll also find these in a range of sizes to match whatever species you want to focus on. 
If you are not sure whether to buy barbed or barbless hooks check out my in-depth review here!
Pros 
Strong hooks that don't bend 
Super sharp tips for a quick hook up 
Excellent gape for lots of baits 
The great shape ensures more fish are hooked 
Amazing price for the quality 
Comes in a solid range of sizes 
Cons
Specs
Sizes: 10 – 22 
No Hooks: 10 
Material: Carbon 
Dinsmore Shot Dispenser 
Now that you have your hook tied under your float, it is time to add some split shot under the float so it stands up tall and so your bait sinks too. 
The Dinsmore Shot Dispenser have a few options with up to 7 different size shot. My recommendation is the 5 different size split shots and between all of these, you will be able to get all your floats to stand upright. 
The shot is non-toxic to comply with regulations and it the dispensers come in a round shape or a square shape depending on the sizes you wish to buy.
If you want to learn and understand more on the concerns of lead weights please check out my article on lead fishing weights here!
Pros 
Good value 
Excellent range of weights
Simple and easy to access 
Non-toxic and simple to add to your line 
Square shape dispenser for better fishing success 
Cons
Specs
Shot Included: AAA, BB, No 1, No 4, No 6
Type: Non-toxic (Lead-free)
Shape: Square 
Leeda Landing Net Handle & Shakespeare Landing Net 
Now that you have everything you need to catch fish, you are going to need a net to land them in. When you buy a landing net you have to buy both the handle and the net separately so we will run through them one by one. 
The Shakespeare Agility Landing Net is both durable, affordable, and safe for fish too. It's made from a lightweight aluminium frame that lasts and won't rust and the net is made from a rubberized mesh. The mesh ensures fish aren't harmed and it is durable too. 
The Leeda Extending Net Handle is also made from aluminium and this makes it super lightweight, durable and rust resistant too. 

It is an extending landing net handle which stretches out to two meters so that you can scoop up any fish that comes close to the bank with ease. 
Together, the net and handle, give you an excellent landing net that is both affordable and lasts. Plus, it is excellent for landing good size fish too. 
Pros 
Lightweight handle for easy landings 
Handle extends to 2 meters for a long reach 
The aluminium build is durable and lasts 
A rubber mesh net doesn't harm fish 
Deeply shaped landing net for holding big fish 
The aluminium frame keeps the weight down and durability up 
Cons
Specs
Handle Type: Extending 
Handle Length: 2 meters 
Handle Material: Aluminum 
Net Frame: Aluminum 
Net Material: Rubberized mesh 
What Fishing Gear Do I Need?
When going fishing you don't need every piece of tackle that is available on the market. The essential gear is as follows:
Rod
Reel
Line
Tackle Bag
Hooks
Some terminal Tackle (such as weights, floats, and lures)
Landing Net
And of course BAIT!
The best way to identify what gear you need when going fishing is to actually fish a few times and understand what else you need based on that experience and of course look at what others are using, and ask them for advice. The more fishing you do, the more you will learn and so much faster!
Winding Up 
Thanks very much for reading my article. I hope you enjoyed it and found it useful! If you own no fishing gear and want a coarse fishing starter kit, the Roddarch Beginners Starter Coarse Float Fishing Kit Set is a great option to go coarse fishing anywhere.
 
Makes sure that you buy the necessary fishing license before you go. Check out my articles here on how to get your fishing license in the UK, Europe, and the United States (including How to get a fishing license at Walmart)
Latest posts by Steve Fitzjohn
(see all)