Disclosure: Some posts contain affiliate links, which earn us a commission if you make a purchase through them. Positive Fishing © participates in various affiliate networks including the Amazon Services LLC Associates Program.


Whether it's just to keep a sunset beer cold for after that last cast, ensure your lunch and drinks are refreshing on the flats and offshore, or for a weekend of camping and wading for trout – you're going to need a cooler on every single fishing trip you go. 
Coolers come in all shapes and sizes and some are much better quality than others and it's the better ones we need for fishing. Fishing is brutal on equipment and takes place in some of the most remote places on the planet, so for all of us fishermen, we need not only a durable cooler but one that stays cold as long as possible. 
I have run fishing lodges and guided around the world, and I can't tell you how important a good cooler is – knowing your water is cold, your beer is icy, and your lunch keeps fresh while you're fishing for the day. 
Here Are Our Best Picks For Fishing Coolers  
YETI Tundra Cooler – My Best Overall 
OtterBox Venture Cooler – My Best Budget Cooler!
YETI Hopper Flip – My Best Cooler For Short Trips 
Join me as we take a look at the best fishing coolers I have ever used so that you can pick the right one to take on all your future fishing trips. 
YETI Tundra Cooler – My Best Overall Fishing Cooler Pick! 
If you haven't heard of Yeti by now, then you must have been living under a rock or in the jungle with no comms. Yeti is the cooler manufacturer used by every guide operation on the planet. I used them in the Bahamas and also used them when I was a guide in the Seychelles islands. 
The Yeti Tundra Cooler was the cooler that was sent out to sea every day and came back looking just as good. These fishing coolers are built to be "bear safe" meaning a bear can not break them, and therefore are extremely tough and durable. 
They are made using a Rotomolded Construction with thick walls to create a cooler which is pretty much indestructible. 
The Tundra coolers feature PermaFrost Insulation and a sealing gasket, the same as a fridge would use. When packed with 50% ice and 50% food and drinks, these coolers not only stay cold but maintain the ice for at least 5 days! and can even last up to 7 or more days. 
This means everything you have with you on a day trip will always be cold, but it also opens the doors to long-term expeditions like spending a week on an island you have always wanted to explore. 
These awesome fishing coolers close with rubber latches securely and when closed make a pretty great seat as well. We had cushions installed on them in the Bahamas and it was the seat for the guests. The latches can fail after a while due to salt and humidity but they are easily replaceable. 
Overall, these are the best fishing coolers on the planet in my eyes but they aren't cheap – you are getting a fishing cooler for life after all. My one complaint after having used them every day for years is that they are heavy to carry. 
They come in a range of sizes from the smallest, the Tundra 35 to the largest, the Tundra 350. The 350 is an awesome fish box if you're going commercial for a day, while the best day coolers are the Tundra 45 and the Tundra 60.  
If you are looking for something to ease the transport then you can also consider the Tundra Hual which has two large wheels and a handle for pulling along behind you.
Pros
An exceptionally durable cooler that can handle all environments
Holds ice for ages, up to a week
Comes in a huge range of 9 colors and 12 sizes
Bear safe, so you won't find it destroyed
The latches are replaceable
Comes with a 5-year warranty
Rotomolded and bear-safe 
Permafrost Insulation
Cons
It's an expensive option but well worth the quality
The latches can have some issues after a year of saltwater abuse
They are quite heavy but this is needed
Specs 
Capacity: 45 quarts
Ice Retention: 5-7 days
Warranty: 5 years
Dimensions: 26 x 16 x 16.75 inches
Weight: 27.5 lbs
Sizes: 35 – 350 liters
OtterBox Venture Cooler – My Best Budget Cooler!
If you're looking for an awesome fishing cooler that is similar to the Yeti Tundra but a bit more affordable, then the OtterBox Venture Cooler might be the best fishing cooler for you. 
The Otterbox fishing cooler is made using the same roto-molded construction as Yeti's and is therefore super durable. You'll be able to bang this fishing cooler around in the back of your truck, on the deck of your boat, and take it into the wilderness without concern. 
It's not "bear safe" though like the Yeti, and would be useless unless you buy the locking kit accessory. Speaking of accessories, there are quite a few cool add-ons to this cooler including cup holders, side tables, and a separator for dry and wet storage. 
The insulation on these coolers is fantastic and as good, if not better than the Yeti, as it will hold ice for up to 10 days or more. This means day fishing trips and long expeditions with cold beers and food are very much a reality. 
The latch locking mechanism is simple and easy to use plus being made of plastic, they don't wear out or wear away. The handles on either end of the cooler are designed to make it easy to carry but in practice, they can be uncomfortable, especially when the cooler is full. 
As with all more affordable products, this one also comes with some weaknesses and the main one is the hinge – it tends to break after a year or so of intense use, and this cooler only comes with a one-year warranty. 
While the Otterbox is great and more affordable, it's not worth saving money if it's going to break and be out of warranty. If you don't use a fishing cooler often, then this is the best option for you, but if you're going fishing all the time with your cooler, stick with the Yeti Tundra. 
Pros
You can add on useful accessories such as a table 
Includes anti-slide rubber feet 
Affordable for the quality 
User-friendly latches that don't break 
Excellent capacity for up to two days of fishing 
Two colors – Hudson (White/Blue) and Rideline (Tan/Green)
Awesome insulation keeping ice for up to 10 days
Super durable and long-lasting 
Simple to use and works as a seat 
Cons
You have to buy an additional locking kit for it to be bear safe
The hinges are not very durable
The handles aren't very comfy 
Short warranty 
Specs 
Capacity: 60 quarts or 75 lbs of ice
Keeps Ice: Up to 10 days
Warranty: 1-year
Dimensions: 40.01 x 18.83 x 18.76 inches
Weight: 32 lbs
Sizes: 25 – 65 liters
YETI Hopper Flip – Best Cooler For Short Trips! 
The Yeti Hopper Flip is the best fishing cooler around when it comes to short fishing trips or when you're going fishing for the day on your own. This is not a fishing cooler to own instead of the other two, it's one to have in addition. 
The Hopper Flip is a soft fishing cooler making it very light, easy to travel with, and comfortable to carry. It's made from a nylon dry hide shell that is 100% waterproof, puncture-resistant, and handles abrasion with ease. Seriously, these coolers will probably last forever if you look after them. 
This soft cooler is designed with ColdCell Insulation meaning it uses closed-cell foam to ensure much better insulation than any other soft coolers out there. The results are fantastic as these coolers will happily maintain ice for 3 to 4 days. 
They come with a 100% leak-proof HydroLok zipper meaning any melted water stays inside the cooler, and no water from your fishing grounds can get in there either. The zipper locks to ensure a waterproof seal but this does make opening it a little difficult sometimes. 
For the Flip 12 model, you can fit 12 bottles of beer in these coolers along with ice and water. This is an ideal size for sunsets with small groups, a day trip on the river with food for two, and when you go for an evening cast but want a few beers to take with you. The Flip 12 is my personal size choice in the range of Yeti soft coolers due to its versatility.
For the largest version the Yeti Hopper M30 soft cooler is designed for larger groups, and even can store your catch to take back home. It can hold 26 cans.
The smallest version in the range is the Flip 8 soft cooler which is great for an individual on a shorter day fishing trip and holds up to 6 cans or bottles. It's a super portable fishing cooler!
The one downside to these fishing coolers is that they are expensive but they do come with a solid warranty and chances are they will last forever. 
Pros
Built with super high-quality materials 
Very durable and long-lasting 
Uses closed-cell insulation 
Keeps ice and things cold for age 
Lightweight and very portable
Comes in five different size options with 2 to 4 color options
Easy to travel with 
Waterproof & UV resistant Dryhide shell protects the contents 
100% leak-proof zipper 
Excellent warranty 
Perfect size for a day trip 
Cons
Expensive but worth it
Zip is tough to open sometimes
Specs 
Capacity: 12 cans
Ice Retention: 3-4 days
Warranty: 3 years
Dimensions: 12.62 x 10 x 11.5 inches
Weight: 3.1 lbs
Sizes: 8 or 12 cans
What To Look For In The Best Fishing Coolers 
Durability
Fishing is harsh on gear and being a professional fishing guide we are pretty harsh on our coolers! 
They become platforms, seats, and anything else we might need them to be in a pinch. Ensuring your cooler is tough as nails is key to its survival and to you saving money as a weak one will break! 
Choose a cooler like the Yeti Tundra that is bear-safe and almost indestructible so that you have the cooler for the rest of your life. 
Size & Portability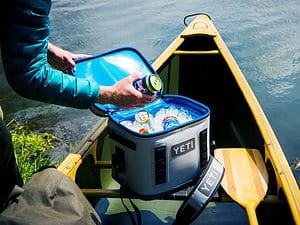 Think about the kind of fishing trips you go on and match them to the size of the fishing cooler you need. 
Are you going on 5-day camping missions with four friends? Out on boats all day long in the heat? Or simply planning on going for solo sessions on your local trout river each weekend? 
Pick a cooler size with more than enough space so that you are held back by it. 
Size also equals portability, and smaller soft coolers are much more portable for day trips and easy to travel with than a 45-liter molded cooler.
It's always best to have both cooler types in my eyes so that you're always ready. 
Insulation 
The longer your fishing cooler can keep things cold, the more options you have when it comes to fishing trips. With coolers like the Otterbox and Yeti Tundra featured, you can go on week-long expeditions into the wilderness without any worries, knowing your food and drinks will stay cold and fresh throughout your trip. 
Warranty 
Warranties are important as coolers are an investment and your investment should be protected somehow. YETI stands by their 3 to 5-year warranties and even if your cooler is out of the warranty, they'll try to find a repair for it. 
Freezing Out 
Thanks very much for reading my article, I hope you enjoyed it and have now found the best fishing cooler for you. If you are still thinking about it or in a bit of a muddle, trust me when I say these are the best fishing cooler choices on the market today, these are the coolers I own and love. 
I recommend getting both a Yeti Tundra and a Yeti Hopper Flip. Having both will give the flexibility for every fishing scenario for the rest of your life. Whether you're going on a short day trip, a long camping exploration, or just a sunset beer, these coolers will have your back. 
Pair up your cooler with one of my recommended fishing water bottles, and you will be set for some awesome fishing trips.

Latest posts by Jamie Melvin
(see all)