Disclosure: Some posts contain affiliate links, which earn us a commission if you make a purchase through them. Positive Fishing © participates in various affiliate networks including the Amazon Services LLC Associates Program.


Fishing accessories are extremely hit-and-miss. Every few months, a company creates an accessory that they claim is the thing that we as anglers need to take our angling skills to the next level.
To be honest, many of these accessories are useful in very few scenarios. As an angler, I spend quite a bit of my time preparing to go fishing in the dark. Whether I'm getting back to my truck late or prepping early in the morning, I walk around with my phone flashlight in one hand and try to do the rest of my work with the other. 
The discovery of LED lighted gloves has been a game-changer for fishing preparation in any low-light scenario. Anywhere your fingers point, you have light at the push of a button. 
In this article, I will cover: 
Which Flashlight Fishing Gloves Should I Buy?

Are Led Flashlight Gloves Rechargeable?

LED Flashlight Gloves Details

Materials 
Quality
Lights 
Price
LED Flashlight Gloves Overall Review

Practicality
Overall Uses
Cons 
LED Gloves Buying Tips
Final Thoughts
Which Flashlight Gloves Should I Buy?
Mylivell is a very popular choice but there are many others to choose from. 
There are many companies manufacturing these LED flashlight gloves, check out the options first before buying. Our starter pick is the Mylivell LED Flashlight Glove and if you are looking for a pair with a longer warranty (18 months) which comes with a screwdriver and two extra batteries check out the Biuonk Flashlight Gloves. 
Are Led Flashlight Gloves Rechargeable?
One other option is to purchase a rechargeable LED pair of gloves. The CRANACH Led flashlight gloves with waterproof lights will cost approximately 10% more than the standard battery versions. 
These Cranach flashing gloves have a fish pattern on the top and a USB power charging cable. If you don't want the hassle of changing batteries then these are a great option.
LED Flashlight Glove Details 
LED gloves are new to the world of fishing. Where headlamps were the primary option for many anglers, gloves have provided a new avenue for simplifying the world of fishing. 
Materials
These gloves are made entirely of polyester, so you can get a decent amount of stretch in them. Also, polyester is a material that can do well in active situations. You can sweat in these gloves and the polyester makes them water-resistant, but not entirely waterproof. Beware of this before you make your purchase.
If you need an entirely waterproof LED light glove, these aren't the best option for you. 
The strap on these gloves is velcro. You don't have to mess with a button or other latching system. Simply velcro the strap to the appropriate tightness and you'll be good to go. 
The casing on the lighting is made from hard plastic on the back of your palm. This plastic cases the lightbulb and there's a button on top that lets you switch the light on and off. 
Quality 
For an affordable price, Mylivell will provide you with gloves that have fairly solid build quality. Anglers who purchase these gloves have been happy overall with their performance. The polyester is comfortable and the velcro fasteners are quality as well. As long as you don't abuse them, these gloves will last you for many fishing trips. 
Lights 
The lights within these gloves are LED lights powered by batteries. The batteries are CR2016 button batteries that you can easily find at any department store. Mylivell will also send along a screwdriver to help you unfasten the light casing and replace the battery. 
You have lights on both your thumb and your pointer finger. Wherever you point your fingers, light is going to shine. The lights are impressively bright. For anything you need to do with your hands, you're going to get a nice amount of brightness with them. 
Price 
Mylivell isn't the first company to think of lighting up a person's hands. However, their prices are convincing. For less than $20, you can have a set of gloves that are going to provide some efficiency and less frustration with your work. These gloves are well worth the price for how much you'll find yourself using them. 
LED Flashlight Gloves Overall Review
Understandably, many anglers wouldn't ever think to use LED flashlight gloves. There's reason after reason as to why someone might choose not to use them. However, they do come in handy more often than you think. 
Practicality
As someone who often works with their hands, I find myself getting more and more frustrated when I can't see something properly. As I lose the quality of my eyesight, I'm always searching for more light.
I like to get to the water early in the morning or prepare my equipment the night before I hit the water. This often means I'm getting ready in the garage. Even with the bright garage lights, I keep my fishing equipment stored in a storage bin and I seem to lose sight and track of half of my things. These gloves are a practical solution. 
If you get to your spot before sunrise and need to get rigged quickly, you don't have to rely on the light of your car or cab to string up your rod. Throw on these gloves, search around in your tackle box, locate your line and get yourself strung. You'd be surprised at how easily these gloves can improve things. 
Overall Uses
You don't even have to reserve these gloves for your fishing excursions. If you're fixing the car or fixing the sink, then flashlight gloves are a great asset to have. 
Getting light in those tight spaces without having to bite down on a flashlight or moving your head just right so your headlamp can help is a luxury. You don't have to work around shadows or barriers to get yourself in the proper position. Start working and the light will certainly make the job easier. 
However, if you're fishing, these LED gloves will help you bait your hook in the dark, get yourself prepped and ready in the dark, and even assist when you are unhooking a fish if you happen to be fishing in the night or late evening time. If you need any excuse to help you see better, these are great solutions. 
Cons 
Now, there are a few cons to these gloves. The first con to these gloves is that they aren't overly stylish. You may receive some jabs from your fishing partners for wearing lights on your fingers. Don't let them get to you! You'll get the last laugh when you're able to get yourself prepped and ready faster than all of them because they're fumbling around with their phone flashlight.
The second con is that these gloves are a bit loose for those of us with smaller, more slender fingers. I don't have the world's largest, so I have to wear a second pair of fingerless gloves on my hand if I want to wear them for quite a long time to work on something. However, if I'm doing smaller jobs, they're more than okay to wear. 
Finally, you'll find that these batteries need replacing more than you would like. If you're like me, you lose things somewhat easier. When I use these gloves one or two times, I'll set them somewhere, lose them for a month, pull them back out and have to replace the batteries. Whether they accidentally get turned on or what, I've found that I have to replace them more than I would like. 
LED Gloves Buying Tips 
LED Flashlight gloves make a perfect Xmas, holiday, or birthday gift.
LED gloves have multiple uses during the night.
These gloves will not last forever, keeping them dry and in a safe place will help prolong their lifetime.
Always make sure you measure your correct hand size when you order.
LED gloves can be worn by cyclists at night as an extra safety measure.
LED gloves should be fun but make sure younger kids understand the proper uses. Don't let them shine the lights in their eyes or on other people around them.
Ensure you keep some spare batteries, and make sure that you confirm the battery size and code.
Don't buy the high-end version with Bluetooth capability or different colors until you try out the standard version. 
These gloves are not for the fishing purist. Those that go out night fishing will get some great benefits as an aid to fishing. I don't personally recommend that you use them all the time when fishing, just wear them for those occasions when you need light for any close work such as baiting up, tying hooks, or wanting to see your rods from your bivvy.
Final Thoughts
Fishing gloves with lights are a personal decision depending on the type of fishing that you engage in. No doubt they have some benefits for certain anglers.
The great thing about these gloves is that you can use them for multiple jobs at home as well as for fishing purposes. So given their inexpensive cost, go out and try a pair.
I hope this article gave you some good insights into these gloves. You can read more on many other fishing accessories here!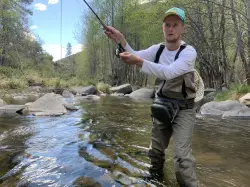 Latest posts by Daniel Mooers
(see all)