Disclosure: Some posts contain affiliate links, which earn us a commission if you make a purchase through them. Positive Fishing © participates in various affiliate networks including the Amazon Services LLC Associates Program.


Saltwater is a different beast and if you think your trout-wading boots will cut it in the salt without falling apart a few months later, you're in for a surprise. Between the hot tropical sunshine, salty water, sand, rocks, oysters, and more, any boots that hit the flats are in for a beating and they need to be designed to survive. 
Having a good pair of saltwater flats boots is key to enjoying saltwater fishing as they guarantee comfort and foot protection, and without your feet in good condition, your fishing trip is over. 
Here are My Best Picks For Fishing Flats Boots 
Simms Flats Sneakers – My Best Overall Pick!
Simms ZipIt II Flats Booties – My Best Budget Pick!
Patagonia River Salt Wading Boots – My Most Versatile Pick!
I have been a flats guide for many years and believe me, a good pair of boots is something you can not fish without. Below, I run through the best fishing flats boots that I have used personally and highly recommend so you can have the right flats boots for your next trip. 
Simms Flats Sneakers – My Best Overall Pick!
Having fished and guided on the flats for years and done a lot of wading during it, I can easily say that the Simms Flats Sneakers are some of the best flats boots you are ever going to find. These flats boots are designed to be comfortable, look good, and survive thousands of miles of surf walks doing it. 
The Simms Flats Sneakers are extremely well built using the best synthetic materials and rubber to create a boot that will protect your feet whether you're walking on sharp rocks or across the sand. I have actually had to kick a shark or two that rushed me and my clients in the face with these boots and I came out on top! 
The sole is incredibly thick and grippy to ensure that nothing breaks through the sole into your feet and that the sole provides you with plenty of grip. You'll be stable in these boots no matter what wet surface you are walking on. They aren't the best on algae but that shouldn't be too much of an issue as there are generally fewer algae on the flats. 
The Simms Flats Sneakers are also built with drainage in mind and quickly release any internal water when you hop off the flat and onto the skiff. They also work very well with Simms' neoprene wading sock & gravel guard combo.
Pros  
Super comfortable even on long walks 
Easy to integrate with a neoprene sock and gravel guards 
Grippy sole that works well on the flats 
Thick sole and outer layers that ensure your feet stay protected 
Durably built to ensure they last for years 
Excellent drainage and features a non-absorbing foam lining
Removable Right Angle® footbed for extra comfort 
Cons
Specs
Type: Boots 
Environment: Saltwater 
Sizes: 7 to 14 
Material: Synthetic 
Sole: Non-Marking Rubber 
If you are interested in becoming a professional fishing guide anywhere across the world, please check out my detailed article here!
Simms ZipIt II Flats Booties – My Best Budget Pick!
The Simms ZipIt II Flats Booties are my second favorite fishing flats boots on the planet and this is for two reasons – they are super comfy and really convenient. 
By being a zip-up neoprene boot you can slip the Simms ZipIt II Flats Booties on and off in less than thirty seconds and wear them with wading socks or with bare feet. This takes the tedious moments away of constantly un-lacing and lacing up a big pair of boots every time you get in and out of the water, which believe me, can get a bit annoying. 
Their build quality is beyond deniable as these booties come with a combination of YKK zippers, perforated neoprene uppers, vulcanized rubber overlays, and a puncture-proof sole. These booties will handle rough surf walks, sand, oyster beds, and any other bottom surfaces the flats want to throw at them. 
The Simms ZipIt II Flats Booties are very comfortable to wear and very supportive at the same time. The sole is very thick to protect your feet and the sole is designed to grip anything you stand on whether it's an algae-covered rock or hard crunching shells. 
While this style of flats boot doesn't come with all the same ankle support and protection as full boots, they are extremely lightweight, affordable, and much easier to travel with – important when the flats are miles away from most of our homes. 
Pros  
Incredibly easy to slip on and off quickly 
Excellent and comfortable fit 
Can be worn with bare feet or with a wading sock 
Super tough and durable build 
Comes with YKK zippers that last 
A thick sole protects your feet from everything 
A grippy sole keeps you on your feet 
Good sole support for comfy long walks on the flats 
Very affordable for the quality 
Lightweight and easy to travel with 
Cons
Not much ankle support or protection 
Specs
Type: Slip-on 
Environment: Saltwater 
Sizes: 7 – 14 
Material: Neoprene & vulcanized rubber 
Sole: Non-Marking Rubber 
Patagonia River Salt Wading Boots – My Most Versatile Pick!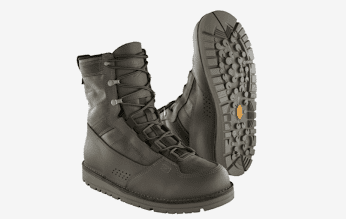 The Patagonia River Salt Wading Boots are unique as they are made to be the one pair of wading boots you need to own for all fishing situations. You can wear these boots wet wading, with waders in rivers, or with wading socks on the flats meaning you only need to own one pair of boots. 
The Patagonia River Salt Wading Boots are also built to be both light and incredibly durable and they will survive a lifetime in any water, salt or fresh. The combination of waterproof full-grain leather with 1000-denier nylon paneling creates a boot that comes to play and will protect your feet from any slips on sharp rocks and stones. 
These boots are built to be dry with special drains on both sides of the upper that help water escapes the boots quickly and ensure they dry fast. The sole featured on these boots is a Vibram® Megagrip Compound Sole which provides traction on both dry and wet surfaces plus you can add studs to it if you need to. 
To top it all off, these boots are super comfortable to wear and incredibly supportive too, there is nowhere you won't be able to wade with these Patagonia River Salt Wading Boots by your side. 
The one catch to these Patagonia River Salt Wading Boots is their price, they are very expensive. But, they do come with Patagonia's ironclad lifetime warranty meaning you will have this pair of boots for life. 
Pros  
Boots are great for both fresh and saltwater wading 
Lightweight for wet wading and traveling 
Built to be indestructible and survive all environments  
Come with a lifetime repair guarantee 
Excellent drainage increases drying time 
The sole is incredibly grippy on all surfaces 
Comfortable to wear and work well with wading socks 
Provide extra protection from abrasion on your ankles 
Thick sole that lasts and provides great foot protection 
You can add studs to the sole 
Cons
They are on the expensive side 
Specs
Type: Boots 
Environment: Fresh & Saltwater 
Sizes: 5 to 14 
Material: Leather & 1000D Nylon 
Sole: Vibram® Megagrip Compound
What To Look For In The Best Flats Boots 
They Need To Be Built For Salt & Harsh Terrain
Whatever flats boots you end up choosing, make sure they feature excellent materials that are put together in the most indestructible way possible. Between the sand, rocks, oysters, coral, saltwater, and the long walks you do when looking for flats species, if the boots aren't built to play they will fall apart.  
Drainage Is Important 
All the boots featured come with an in-built drainage system, and this is a very useful feature. When you're flats fishing, you will go from the flats to the skiff and to another flat around 5 times a day, and it's very handy if the boots don't hold water as they get heavy. 
Drainage is also useful when it comes to getting your boots to dry out which is very useful when you need to put them in a suitcase for a flight after a morning wade on the Bahamas flats. 
If you are interested in learning more about fishing on a skiff, check out my article here!
A Thick Grippy Sole Is Helpful 
The main reason to even wear boots on the flats is to protect your feet and keep you from slipping and most of this comes from the sole. All the boots featured come with a thick grippy sole that will keep your feet safe and keep you upright on the flats. 
These boots also come with non-marking soles which means you won't scuff the hull of the skiff with marks when you wear them on a boat. 
Fit & Comfort 
If your flats boots aren't comfortable or don't fit well, they are going to be a hindrance. When you're flats fishing, you might wade for 4 to 5 hours in a single session and if the boots aren't comfy, your feet will be covered in blisters very quickly. 
If this happens, chances are that you won't want to wade again for the rest of your trip because your feet will have been rubbed raw. Make sure that whatever boots you choose fit well and are comfortable.
Always ensure that you break them in first too, and do some walking in the boots several times at home before you use them for a fishing session. 
Booting Up
Thanks very much for reading my article, I hope you enjoyed it and have found the right flats boots for you. In summary, here are the ones I personally recommend and the main reasons for selecting each type. 
I would suggest going for the Simms ZipIt II Flats Booties if you travel to fish and don't fish the flats more than a few times a year or are on a tight budget. They are light, comfortable, durable, affordable, and great on the flats. 
If you fish on the flats a lot, then getting the Simms Flats Sneakers is a better plan. These are made to survive longer than the others and provide you with more protection than the booties.
The Patagonia River Salt Wading Boots are also worth considering but only if you have a higher budget! 
You can read more in-depth articles on all my fishing apparel here! These articles cover everything you would need for inshore fishing on the flats.

Latest posts by Jamie Melvin
(see all)