Disclosure: Some posts contain affiliate links, which earn us a commission if you make a purchase through them. Positive Fishing © participates in various affiliate networks including the Amazon Services LLC Associates Program.


Finding the ideal spinning rod for your fishing excursion isn't always easy. The countless options for anglers can make for a stressful decision. Plus, with more specialized equipment coming to the market year after year, finding a versatile rod is proving to be not as easy as it once was.
Your fishing rods are under continual pressure and need to perform. Investing in a quality fishing rod is an intimidating decision and one that shouldn't be taken lightly!
You have two main options for spinning rods: freshwater and saltwater. The main differences between them are often strength and the rod's ability to withstand saltwater's wear and tear.
In this article, I will be reviewing:
 The main factors in choosing a spinning rod
 The 5 Best Freshwater Spinning Rods

Shakespeare Ugly Stik Elite – (My Best Overall Pick!)
Googan Gold Series – (My Most Versatile Pick!)
Shakespeare Ugly Stik GX2 – (My Best Budget Pick!)
St. Croix Bass X – (My Best Bass Pick!)
KastKing Perigee II
The 5 Best Saltwater Spinning Rods

Shakespeare Ugly Stik Bigwater – (My Best Overall Pick!)
Penn Squadron – (My Most Versatile Pick!)
Shakespeare Ugly Stik GX2 – (My Best Budget Pick!)
St. Croix Mojo Surf
Penn Carnage II and III
What Spinning Rod Is Best For You?
Before you purchase a good spinning rod, it's important to consider several things. Do your research and fully understand the style of fishing you're hoping to do before you pull the trigger on any of these options!
Know the Species You're Targeting
Just like deciding on the right fishing spinning reel, you should know the fish you're targeting before you make a decision. If you're spending time fishing for freshwater panfish, you will want a vastly different size rod than if you were targeting saltwater predatory fish.
Spinning rods are versatile, but that doesn't mean they'll work for every situation!
Freshwater vs. Saltwater Rod
Your next consideration is whether you're fishing in freshwater or saltwater. You want your rod to be strong enough for saltwater fish and able to last many years of saltwater usage. Saltwater can ruin almost anything, but with proper care, you'll find that a quality saltwater rod will last for years.
Rod Action
Another thing to consider is the action of your rod. You'll find that there are slow, moderate, moderate-fast, and fast-action rods. Each has a specific purpose and will work in different situations. Action is measured based on how much your rod will bend at the tip.
The faster the action, the less bend you get at the tip. Faster action rods are good for more aggressive and heavier fish. They have more sensitivity on the rod tip and are great for aggressive hook setting!
Check out my article on spinning rod weight and action options and understand how they affect your fishing.
Rod Price
Obviously, the final thing you should consider is how much you're willing to spend. In fishing, you absolutely get what you pay for. If you're able to spend several hundred dollars, you're going to get a phenomenal rod. If this isn't an option, you can find budget rods that will perform quite well!
Best Spinning Rod Options
After you've decided on a budget, what fish you're targeting, and where you plan to fish, you are ready to decide. Take a look at the list of rods below, which I have split into freshwater and saltwater choices, which will help you choose a great option!
My Best 5 Freshwater Spinning Rods
In the world of freshwater rods, you'll find that several brands have been around for years, and most anglers choose to stick with rods that have worked. However, manufacturers are increasingly finding formulas for great spinning rods at affordable prices.
You'll find many budget freshwater rods that will perform well for years. Again, knowing what and where you're fishing will help you make the best choice.
Shakespeare Ugly Stik Elite – My Best Overall Pick!
You'll find the Ugly Stik elite on the top of many lists for best spinning rods. It's hard to argue with this choice, and it's also my top spinning rod choice! It is made of a solid combination of fiberglass and graphite. If you know anything about Ugly Stik rods, you know that they're beyond durable.
The handle on it is a comfortable cork and even comes with a 7-year warranty. There are over a dozen variations of this rod that are going to work for your time on the water. The smallest in the range is the 5- feet long ultralight elite, and the heaviest is the 7-foot medium-heavy option. The best part of this rod is that it will cost you less than $100. A real bargain!
If you're looking to spend time landing freshwater fish, take a hard look at the Ugly Stik elite line. You will not be sorry about your choice.
Catch Co Googan Squad Gold Series Finesse Spinning Rod – My Most Versatile Pick!
For those who spend time on YouTube, you're familiar with the Googan Squad. Many anglers in the sport have failed to take Googan seriously. However, they have proven over and over again that their equipment works extremely well.
The Gold Series spinning rod from Googan is seven feet long and has a medium action. This rod is built for whatever finesse-style spin fishing you may find yourself doing. Perhaps the best thing about this rod is the handle. It's one of the most well-designed options on the market, and it fits anglers' anglers' hands quite well.
Whether you want a one- or two-piece option, Googan has it for you. It's made of carbon fiber and feels quite light. You're going to spend $100, but you can be confident that it's made by a smaller company and tested completely by professional anglers.
Shakespeare Ugly Stik GX2 Spinning Rod – My Best Budget Pick!
Yes, Ugly Stik has made two appearances on this list, but you'll find that you can't go wrong with either. If you're looking for a budget rod that still has the ability to perform, don't search any further than the Ugly Stik GX2.
The beauty of Ugly Stik is that you have 23 different types of this rod that will fit your style of fishing. The huge range comes in ultra light. light, medium, and medium heavy. The length ranges from 4 feet 6″ up to 9 feet and even includes a ladies' pink option. Shakespeare has a rod for you regardless of how specific you want to get. Similar to the Elite model, it's made with fiberglass and graphite.
Take advantage of this sleek design and the affordable price! You'll appreciate a great rod for around $50.
St. Croix Bass X Spinning Rod – My Best Bass Rod Pick!
The St Croix Bass X is a premium bass fishing rod, but well worth the money. Any angler who's spent time researching is well aware of the quality of the St. Croix models. This rod is a little less than 7 feet and is made from mid-modulus graphite.
You'll get a 5-year warranty, a utilitarian design, graphite blanks, and aluminum-oxide guides that make for extremely smooth casting. If you're willing to spend around two hundred dollars, you will receive one of the best quality and well-constructed bass rods on the market.
Do yourself a favor and put St. Croix to the test! You certainly won't be disappointed in choosing probably the best bass spinning rod you can buy!
KastKing Perigee II Fishing Rod
If you're searching for a different versatile option than the Googan Squad model, the KastKing Perigee II is for you. You actually get two different rods when you purchase the Perigee. You can swap out the tips depending on your desired action!
It's a carbon fiber and graphite rod with Fuji O-ring line guides, allowing a clean and smooth fight. The interchangeable tips are a new idea that other companies will likely soon follow.
KastKing pedigree comes in single or two-piece spinning rod options from 4 feet 6″ to 7 feet 6″ lengths and are fast action spinning rods. I am impressed with the pedigree, and the design with option twin tips is a really good design idea, and they are well worth the investment.
My Best 5 Saltwater Spinning Rods
If you know you'll spend most of your time saltwater fishing, you have a few excellent options that will surpass the others by far. They're tough, able to withstand salt and handle corrosion, and fight a variety of sizes of fish! You need to have faith in your saltwater rods, and these will live up to the task.
There is a very good range of quality budget saltwater rods on the market, so don't worry about completely breaking the bank.
Shakespeare Ugly Stik Bigwater Saltwater Spinning Rod – My Best Overall Pick!
Like the freshwater rod list, the Ugly Stik Bigwater tops the list for the best overall saltwater fishing rod. This is a surf rod that's able to withstand just about anything you throw its way. Most anglers know Ugly Stik from the commercials showcasing their indestructibility, but they have also vastly improved in performance over the years.
You have rod lengths ranging from 6 feet to 12 feet, depending on the type of fishing that you're doing. It has the Clear Tip technology for durability and is a great option for your time in the big water. Plus, you'll only be spending around $75 to make it yours!
Penn Squadron – My Most Versatile Pick!
What would a saltwater rod list be without the mention of a Penn Squadron II? The Squadron has the potential to top the list as the most versatile and the most budget-friendly rod. It's made with a graphite blank, so it's a bit more lightweight than other options.
It's a one- or two-piece rod, depending on your length preference. With a good range of variety in power and action options! Light, medium light, medium, medium heavy, and heavy power are all available to you! Plus, you can find it will work in spinning and for surf fishing options, depending on what style you plan to fish.
If versatility and budget are two words you need a rod to fit, then the Penn Squadron II is a great option. It comes with a 5-year limited warranty and is available in a full range of lengths and actions.
Shakespeare Ugly Stik GX2 – My Best Budget Pick!
The GX2 model from Shakespeare is going to get you versatility and value. It will succeed in almost any inlet or coastal water you can find. It's strong, casts well, and has the ability to detect those sensitive and small bites.
I hope that this choice has not confused you! But yes, this is the same rod I selected in our freshwater section. This rod can be used in both fishing types, but you may end up with two different rods as the saltwater choice is most likely to be a longer and stronger action. Again, check out the choices and select the appropriate action and length.
Be wary of the stainless-steel guides. They can create some friction that can cause you to burn through your line, but that doesn't always have to be during the cast. Being wary of this is important if you hook into an especially big fish. For an awesome price, you'll find yourself having a load of fun without worrying about the quality of your rod.
You can find this rod anywhere from 4'6" to 9'. Plus, it comes in one to four pieces! Therefore, if you use the GX2 for saltwater fishing, choosing the heavier, more robust option is the best.
St. Croix Mojo Surf Spinning Rod
St. Croix makes some of the smoothest rods on the market. They look great, perform great, and feel great. The St.Crois Mojo spinning rod is made of graphite and has aluminum-oxide guides that you know will release and retrieve line well.
The solid Fuji reel seat on the mojo doesn't allow your rod to go move around or come loose, even if you're fighting one of those trophy fish.
Yes, the St. Croix Mojo is an expensive rod, but you won't struggle at all with quality. Spend a couple of hundred dollars, and you won't regret it. It comes with a 5-year warranty.
Penn Carnage II & Penn Carnage III
Surprise, surprise, a Penn product appears again! The Carnage is a bit more expensive than the squadron, but it's created to catch some of the largest fish on the planet! The non-slip handle, Fuji K guides, and SLS3 blank construction make for one of those rods that you know can perform.
The Penn Carnage is available in types II and III (the latest version)
It's around $175, but well worth the price. Striking and hooking into some of those trophy fish can be a once-in-a-lifetime experience; the last thing you need is for your equipment to fail.
Plus, it's a moderate action that can be both sensitive and powerful.
Select either a two-piece, 11′ – Medium Heavy – 20-50lb, or the two-piece 12′ – Heavy – 30-65lb – yes, they are built for big fish! You can handle most fish with these Carnage options, making it a versatile option.
Final Verdict
For many, their fishing rod is an extension of their arm. It's an important piece of equipment that we love to use. Take your time in making your decision! If you want to purchase a phenomenal freshwater spinning rod, the Shakespeare Ugly Stik Elite is what you need. Choose the right size for your needs and hit the water!
For my best overall pick for saltwater, stick with the Shakespeare Ugly Stik and purchase the Bigwater Saltwater rod. It's affordable and feels great.
For use in freshwater and saltwater scenarios, the Ugly Stik GX2 is our best on a budget option winner. You must select the GX2 options (Length and action) best to suit your freshwater or saltwater fishing style.
To pair up your spinning rod with a great choice of reels, check out my in-depth review of the best spinning reel options for saltwater and freshwater.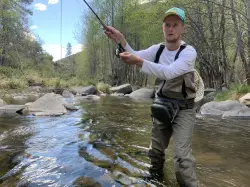 Latest posts by Daniel Mooers
(see all)