Disclosure: Some posts contain affiliate links, which earn us a commission if you make a purchase through them. Positive Fishing © participates in various affiliate networks including the Amazon Services LLC Associates Program.


Several months ago, I was on a fly fishing trip in Colorado. It was a trip I had planned with some friends for months, and after two days of amazing fishing, we were packing up to head to another river for a few more days. We loaded all of the gear in the back of a car, went to bed, and woke up the next morning with the back windshield broken and all of our gear missing. We had a few rods in our house, but other than that, we had lost it all. 
This is what caused me to look into purchasing fishing gear insurance. Losing thousands of dollars in gear is heartbreaking. It was an arsenal I had spent years building, and it will likely take years for me to rebuild it. 
We have insurance for all sorts of other expensive items that we own, so it would make sense that we should be able to insure fishing gear. 
Let's take a look at some of the general fishing gear insurance options, the best companies, and what to pay attention to when making your fishing gear insurance choice. 
Disclosure Note: This article is not professional insurance advice, always check and confirm with your insurance agent or company on all matters with liabilities and coverage. 
Understanding Your Fishing Tackle Insurance Options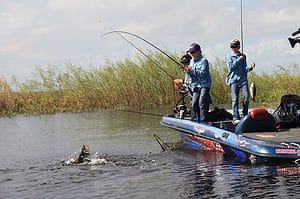 First of all what type of coverage is available for your fishing tackle? There are generally three main categories:
Coverage on your homeowners' insurance plan
Coverage when you are out on a boat
Coverage when you are actually fishing by a river/lake
Finding coverage for your fishing gear isn't always straightforward. Often, it has to be combined with another insurance policy you have, and all these plans from insurance companies are very complicated (with a lot of fine print!)
Fishing Gear Covered Under Homeowners Insurance
If you want to cover any losses whilst your gear is at your home then always check your existing house owner's insurance policy. Usually, this is covered under the section called contents coverage, with a subset category of theft from outbuildings (garage/shed) AND contents in the open. (in your garden or yard) These subset categories have different limits and excess.
Most home insurance policies will have this cover for your fishing tackle, however, I would advise that any costly items that you want to cover, are individually listed in the agreement. Typically they fall under the classification of sporting equipment. Depending on how much gear you have, you'll have a deductible that you have to pay, and then you'll be covered for the rest! 
Another option within homeowners insurance is to schedule your gear with an endorsement. This allows you to have a $0 deductible, but you also have to make a list of every rod, reel, and other major pieces of equipment! Thankfully, you can group the smaller items into one.
This home insurance option does not cover items whilst fishing, left in your vehicle, or on your boat! If you are unsure or the policy is not clear, always check with the insurer to confirm any "grey areas"
Fishing Gear Covered Under Renters Insurance 
If you're renting your place to live, you likely have renters insurance. Renters' insurance companies are able to cover your fishing equipment. They likely cover everything that you own and have on your property. Make sure you list it under your property! 
A detailed inventory of each piece of equipment and the cost of replacing it is required! The more detailed you are, the easier it will be to file a claim and get everything replaced. 
Fishing Gear Covered Under Boat Insurance
Standard boat insurance does not cover your fishing gear! It will only cover your boat, trailer, and outboard motor if you have specified these items.
If you have boat insurance, you have the option to tack on additional insurance for any gear that you have. Many companies call these separate categories "binders". This is a fairly easy option since insurance companies are used to tacking on an added amount for all the gear you own. 
Fishing Gear Coverage Whilst Out Fishing
If you are not on a boat, but instead just fishing by the river, lake, and seashore then you will need personal effects coverage for your gear. These personal possessions coverage will always have limits and often an excess.
All items of any substantial value must be itemized in the policy.
Keep Proof of Purchase
Insurance companies often get away with not replacing your gear if you don't have proof of purchase. Often, the proof of purchase must be a receipt that proves you purchased it brand new. As a result, it can be difficult to have used gear replaced, so keep this in mind. They're going to do everything they can to not have to pay out a few thousand dollars to replace your gear.
When you purchase your insurance, make sure you do a detailed photo inventory of all of your rods, reels, and other equipment. Take photos of each piece of equipment and inventory them. Also, make sure to clarify how much each piece of equipment would cost to replace. Use the MSRP to quantify how much it's going to cost to replace it all. 
You'll find that many companies have caps unless you're able to specify the exact amount that it would cost if you lose it. 
The biggest thing to remember is to save your receipts! Receipts are the first thing many companies will ask for when you file your claim. 
Also, it doesn't hurt to bring an adjuster out to your property to take a look at your inventory and do an assessment of the gear! So, in case it is stolen or damaged, they have seen what you have and won't fight you as hard when it is time to file a claim. 
Fishing Gear Insurance In The United Kingdom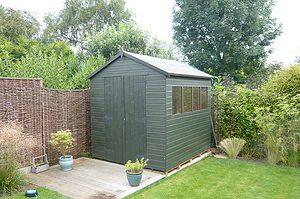 In the United Kingdom, there are far more options for fishing gear insurance. There are specific companies that exist that deal solely with fishing gear insurance claims and issues. 
Insurance Choices
Depending on the company you choose to work with, you'll often get a general coverage policy that you are able to tweak depending on your equipment arsenal. When you get your policy, the premium is going to be dependent on the overall worth of your fishing gear. From here, you can add more coverage to certain things!
Most insurance policies for fishing equipment in the United Kingdom cover loss, theft, and accidental damage. These policies include fishing rods, reels, and any technology that you utilize when you're on the water! Fish finders and GPS systems attached to your boat will be good to go. 
Best Fishing Gear Insurance Companies in the United States
Since you won't find insurance companies that just insure fishing gear on their own policy, you want to make sure the company you use either has good boat insurance or homeowners insurance. Whatever you choose to attach it, you want to ensure it covers absolutely everything you need. 
It's not a bad idea to go with local insurance companies due to the individual attention you'll receive, but most larger companies do have local branches for you to visit in case of any individual questions! 
Progressive Insurance – Must have a Boat in order to Qualify!
Progressive Insurance is a nationwide company that offers insurance for your boat for as little as $100 a year! Again, you have to have a boat or watercraft of some sort in order to qualify for fishing gear insurance. When you insure your fishing boat, take the necessary steps to include any fishing gear as part of your boat insurance policy. 
Progressive will insure fishing rods, reels, power poles, and fish finders. Progressive will cover theft, the loss of gear, and general damage.  Progressive has local agents to help find you the best deal for your fishing tackle insurance and they're fairly easy to contact if you're having any issues or questions. 
Allstate Homeowners Insurance 
If you own your place of residence, Allstate is a good option for people looking to insure their fishing gear. They have an entire category of sporting equipment that allows you to highlight any fishing gear that you have that you might want to be covered. Similar to other companies, Allstate will cover lost, damaged, and stolen gear. 
On average, you'll be paying around $100 to $200 a month for homeowners insurance! 
Be detailed with your inventory and be able to provide proof of purchase for as many items as possible. Documentation is going to keep you protected! 
Lemonade Renters Insurance 
If you rent your place of residence, Lemonade should be the company you choose to go with when trying to insure your fishing gear. They protect your gear in case of a break-in, storm, or any other damage caused to it on the property. Be sure to inventory everything you own because they will want details in case you have to file a claim. Renters insurance is an absolute must for anyone who has expensive gear that they keep on their property. 
Renters insurance isn't overly expensive! You'll only pay around $20 to $40 per month. 
Best Fishing Gear Insurance Companies in the United Kingdom
Since the United Kingdom has companies specifically dedicated to fishing equipment, you can find policies that fit exactly what you need. You can also compare the costs and coverage against your homeowners' policy to see which provides the best fishing insurance. 
The Insurance Emporium
The Insurance Emporium offers residents of the United Kingdom a policy that's specifically dedicated to their fishing gear. The cost is generally around $15 per month! In your policy, you will get coverage for loss, theft, accidental damage, and a few other optional categories.
Generally, the company covers fishing rods, reels, and any other types of equipment that you use on your fishing excursions. The Insurance Emporium offers the option to attach fishing clothes as well as gadgets and cell phones to your policy depending on what you want to do! These customizable insurance options for fishing equipment are great. 
If you have a fully documented arsenal with pictures and replacement prices, you'll be okay.
Anglers First Insurance 
Anglers First Insurance is another company in the United Kingdom that is specifically dedicated to fishing equipment. They are able to insure up to $18,000 of your gear. You can get coverage for your rods, reels, and technology that you own. Like most other companies, they're going to cover lost, damaged, or stolen property. 
At around $12 to $20 per month, you can have peace of mind that you'll be covered regardless of what happens to you. 
Plus, their website is fairly easy to use. All you have to do is list the overall price of your equipment arsenal and they'll figure out the best options for you. Anglers first have a full range of scaled policies
Just make sure you have a fully documented listing preferably with pictures and replacement prices. You can add and subtract fishing gear to the policy throughout the year without any extra costs.
Full Replacement Coverage? Or Actual Value Coverage?
Be aware that insurance companies are not all the same and don't follow the same claim process. Anglers need to take into consideration if the insurance coverage is for the actual value OR the replacement value. Again check around and ask the fishing tackle insurance agent – you should always opt for the "Stated Value" coverage for all your fishing-related tackle.
If you have expensive specific rods or reels, then get them valued, if you have antique equipment that is impossible to replace then they could be worth a huge amount of money. 
Replacement coverage is likely to give you back a small % of the cost you paid, and can be very subjective!  
How Much Does Fishing Tackle Insurance Cost?
The average cost for one year's insurance for fishing tackle is minimal considering the price of new fishing gear these days. The price will vary from one insurance company to another, in my experience for $5,000 coverage you will likely pay $40 to $100 per year. Unfortunately, insurance costs continue to rise every year.
For most anglers $5,000 is sufficient, but if you own a pole like the 16m Matrix MTX3 Ultra then the $5,000 is unlikely to be enough since these and other long poles are around 1500 pounds!
We spend a lot of money on all sorts of gear each year, it doesn't take much to reach $5,000! If you're a diehard carp specimen hunter fishing regularly on carp syndicates you will know what I mean……..
Fishing Tackle Insurance – FAQ
What Are The Personal Effects Covered In A Boat Policy?
If you're in the United States and looking to insure your fishing gear as well as your boat, look for the personal effects option. This personal effects option is where you'll list the overall price of everything besides your boat. 
How Do You Insure A Fishing Rod?
Check out the agents online and ask for a quote. It is better to use an insurance company that deals specifically with boats and fishing tackle. Always confirm the small print carefully when you compare the different insurance policies and pricing. 
Does Fishing Equipment Insurance Cover Other Liabilities?
Insurance for your fishing equipment may cover public liability and personal accidents as part of the cover. Check your schedule on what is being insured.
Does Fishing Gear Insurance Cover Worldwide?
Yes, you can get a policy that covers fishing in countries outside of your own. Usually these cover between 30 days up to a maximum of 90 days per year in a foreign country.
Is My Fishing Gear Insured If Stolen From My Vehicle?
You can only claim from fishing insurance companies for theft from a car if it is lost whilst traveling to and from your fishing location. When you have parked there is no coverage for theft.
Are My Fishing Clothes Insured?
Yes, most insurance covers even your fishing clothes and other apparel. But remember that any expensive items should be itemized and your receipts kept whenever there is a claim.
Final Thoughts
We all love our fishing gear. It's what brings many of us an extreme amount of joy. The last thing we want to happen is to lose it, damage it, or have it stolen.
Do your part to find an insurance policy that works best for you, so you can fish without worry! 
I hope this article was informative and helpful, please check out some of my other in-depth articles on fishing rods, and all types of reels here!
Latest posts by Steve Fitzjohn
(see all)