Disclosure: Some posts contain affiliate links, which earn us a commission if you make a purchase through them. Positive Fishing © participates in various affiliate networks including the Amazon Services LLC Associates Program.


Norway is a place every fisherman should visit once in their lives, and just for the landscapes and stunning scenery, let alone for the amazing fishing. 
Both the freshwater and saltwater fishing opportunities in Norway are out of this world. With a coastline longer than the world's circumference, Norway is a hotpot of fjords, lakes, and rivers that are teeming with every species you might want to catch in Northern Europe. 
I am lucky enough to have a fishing buddy who lives in Olso, and one summer, we took his car on a long fishing road trip from Olso north into central Norway and then into the fjords, and wow, it was mind-blowing. Catching awesome sea trout in the fjords and drifting across lakes full of trout with mountain views are memories I will never forget. 
With so many places to fish, planning a fishing trip to Norway can be very overwhelming, but luckily I'm here to help.
Below I'll run through everything you need to know about the species you can catch in Norway, the regulations, and where, when, and how to fish for them. 
Top Fish To Catch In Norway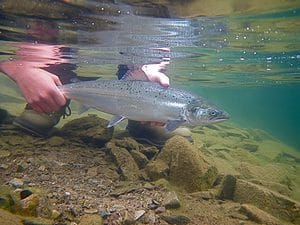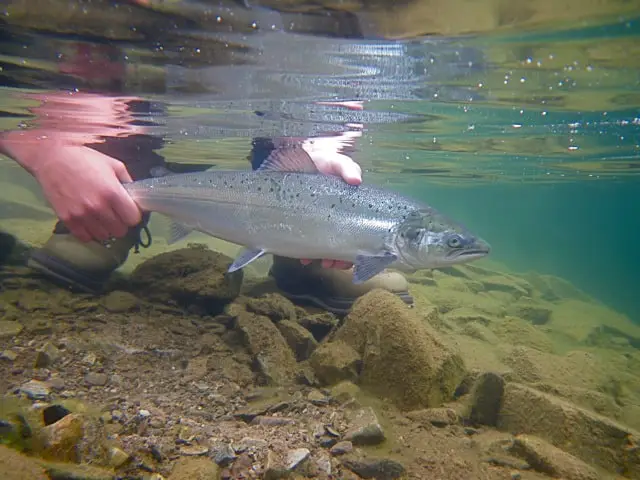 Between Norway's seemingly never-ending coastline and its thousands of rivers and lakes, there aren't many Northern European species you can't catch in Norway.
I'll start off with the freshwater species and then move on to the saltwater. 
Best Freshwater Fish To Catch In Norway 
Atlantic Salmon
Sea Trout 
Brown Trout 
Grayling 
Arctic Char 
Pike 
The Atlantic Salmon that run into the rivers of Norway every year are world-renowned for being some of the biggest salmon on the planet. There was a fish of 64lbs caught on rod and line in Norway and other larger specimens caught in nets. It's safe to say that some of the biggest Atlantic salmon in the world are in Norway. 
The rivers are not just home to salmon; you'll also find big populations of trout, grayling, and sea trout too. You can also fish for sea trout along the coastline, so they are not just a freshwater option in Norway. 
The further north you go in Norway, the more opportunities you'll find for catching Arctic Char. They prefer colder waters, and you'll find them in both high-altitude lakes and colder rivers. 
Best Saltwater Fish To Catch In Norway 
Atlantic Cod 
Halibut 
Sea Bass 
Pollock 
Haddock 
Sea Trout 
With such a big coastline and so many beautiful fjords, saltwater fishing in Norway is off the charts. You can choose to either target sea bass, sea trout, and pollock from the shore, or you can go out on a boat into the fjords and search for big cod, pollock, halibut, and haddock. 
Where To Go Fishing In Norway 
If you were to throw a dart at a map of Norway, chances are you would hit a fishing spot; that's how many there are, but they aren't all as good as the next. Below you'll find the best fishing spots for each species mentioned above. 
Atlantic Salmon Rivers In Norway 
If you are looking to catch one of the huge salmon that frequent the rivers of Norway, then there are only a few rivers you should focus on – Guala, Namsen, Alta, and the Orkla. Fishing on these rivers is about as expensive as salmon fishing gets, you have been warned. 
Guala River 
The Guala sits just outside of Storen in central Norway and is known as one of the world's most famous Atlantic Salmon rivers. This river produces large salmon yearly, averaging around the 15-20lb mark. 
Namsen River 
The Namsen river is probably the second most famous salmon river in Norway, and you'll find its estuary north of Trondheim inland of the fjord town of Namsos, and the river runs into the heart of central Norway.
The Namsen is the most productive salmon river in Norway, and it's also home to large fish too, with 40lb plus fish being landed each year. 
Orkla River 
The Orkla River is another of the best salmon rivers in Norway, and you'll find it near the Guala just around Storen. The river is beautiful and full of good-sized salmon, with some larger fish coming through too. 
Alta River 
The Alta is Norway's most famous and most exclusive salmon river, and you'll find its way up north in the arctic circle. You have to be extremely lucky to fish this river as you'll have to apply for a license with around a thousand other people, and only 75 are given out each season or pay the full price along with others like the king of Norway. 
The Alta is special because it sees salmon of 50 lbs caught yearly, and sometimes fish of 70 lbs are landed. These fish will also take a fly off the surface if that's not cool enough. 
Other Freshwater Species 
Over 800,000 lakes and rivers in Norway are home to brown trout and all the other species I mentioned above. With Norway's awesome licensing system, you can buy a license to fish an entire region for a day, week, month, or for whole season. 
The rule in Norway is the further north you go, the better the fishing gets, and one of the best regions in Norway for trout fishing and arctic char is Trøndelag. 
Saltwater Fishing In Norway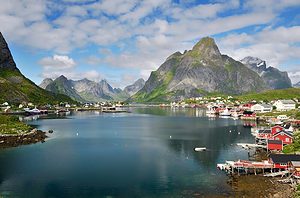 The saltwater fishing in Norway is excellent along the entire coastline, particularly in the Fjords. You can literally pick anywhere and find success, and you will never be far from a boat captain who will happily take you fishing for the day. 
If you have your own gear, it would be wise to walk along the shorelines fishing for pollock, sea bass, and sea trout. These fish are abundant and stay quite shallow, too, so your chances of success are high. 
When To Go Fishing In Norway 
The salmon fishing season in Norway is short and usually runs from June to the end of August, but it depends on the river you're fishing on. The trout season runs from May to September, as does the season for the other freshwater species. 
You can fish in the sea all year round in Norway, but if you want to be warm while you're on the sea, then it's best to be there during summer between May and September. 
Best Ways Of Catching Fish In Norway 
When it comes to freshwater fishing in Norway, you have two legal fishing methods: fly fishing or spinning. Some of the rivers, lakes, and salmon rivers mentioned above are fly fishing only. 
When sea fishing in Norway, you can also fly fish or spin off the shore for pollock, sea trout, and sea bass, or you can go in a boat and use methods such as jogging and trolling for other species. 
How To Book Your Fishing Trip To Norway
Norway has a Wild Camping rule which means you can camp anywhere in the country for free, even on private land. This makes it ideal for DIY fishermen as you can literally hop in the car and drive around for a month camping and fishing; how awesome! 
The DIY method works well if you're fishing for any of the Norwegian species, bar salmon, and you should get in touch with Fish Spot, who can arrange permits for all the regions in Norway, along with accommodation options and guides. 
To fish on most of the salmon rivers, such as the Guala, Orkla, and Namsen, I strongly suggest checking out the where wise men fish website, and you'll be able to book a lodge with guides on your preferred river. If you want to fish on the Alta, then you'll need to apply and register for the draw, which can be found here.
For sea fishing in Norway, you can either book fishing charters in the fjords, DIY fish along the shores, or rent your own boat; the choice is yours. Every fjord town has a group of fishing captains waiting to take you out into the seas of Norway to catch the biggest cod and halibut you might ever encounter in your life. 
Fishing Regulations In Norway 
If you plan to go fishing for salmon, sea trout, or sea trout in watercourses or with fixed gear in the sea, you must pay the state fishing fee. Children and young people under the age of 18 do not have to pay a fishing fee.
Other sea fishing in Norway is 100% free for everyone in the country, so you will not need a license for that. 
If you're going freshwater fishing, you'll need to buy a fishing license and then a permit for the lake or river you're fishing on top of that, and you can find more information from the Fish Spot website.
Winding Up 
Thanks for reading my article about fishing in Norway; I hope you enjoyed it and now know everything you need to know about fishing in Norway and how to book and plan your trip.
It truly is a country everyone in the world should see as it's just so beautiful, and you have the added bonus of catching some incredible fish there too. 
You can read more on other fishing vacation destinations in my other articles here!

Latest posts by Jamie Melvin
(see all)