Disclosure: Some posts contain affiliate links, which earn us a commission if you make a purchase through them. Positive Fishing © participates in various affiliate networks including the Amazon Services LLC Associates Program.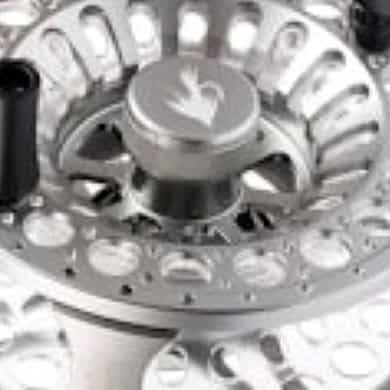 Snowbee Spectre Fly Reel – Is It Worth Buying?
Good drag feature and flies/Tippet storage
The Good
Pairs really well with any of the other Snowbee rods
Good warranty
Reasonable price range
The cassette reel option is a unique and solid feature
Fully sealed system allows saltwater use as well as freshwater fishing
The Not So Good
The Spectre does not have a click system
Relatively small handle
You've made the decision on what rod to purchase, and now you have to decide on the reel.
Your fly fishing reel has to be the workhorse of your fly fishing setup. It will not get all of the praise and admiration a rod does, but it is equally necessary. If your reel breaks down, your fishing setup is out of commission. The Spectre from Snowbee will give you peace of mind that your setup will thrive. 
This is Snowbee's high-performance reel. They pair well with all Snowbee models and have a nice weight that balances any rod it could match.
So, If you want a fly reel that looks unique and performs even better, the complete series from Snowbee is a serious contender. 
In this article, I will cover the following: 
Snowbee Spectre Features 

Build Quality
Arbor Size
Drag
Aesthetic
Warranty
Snowbee Spectre® Cassette Fly Reels
Snowbee Spectre Fly Reels – Is It Worth Buying?
Snowbee Spectre Features 
You're not going to find the Snowbee Spectre reel to be made with many different materials than other high-performance reels on the market. However, the price is a bit more manageable than you would find on other high-performing reels. For around $200, you'll be able to have one of your own. 
These reels are also fine to use in saltwater so that you can switch between fresh and saltwater fishing. Take advantage of the quality build, and test it out in as many situations as possible.
Build Quality
The main body is precision CNC machined from aluminum bar stock. The use of aluminum makes this reel a bit lighter. High-performance reels that are overly heavy can throw the balance of a rod and reel off. This makes matching a rod and reel more difficult. Snowbee thought of this and used aluminum to allow anglers to mix and match rods and reels. 
There is also a counterweight within the Snowbee Spectre. One other feature that Snowbee thought of was storing flies and tippets on their reels. A machined groove on the reel allows you to slide your tippet between it and store your fly. It's unique to Snowbee! 
Arbor Size
Thankfully, Snowbee makes all of their reels with a large arbor. Large arbors allow anglers to have a bit higher line retrieval rate. This means there's less line memory and you're able to attach more line and backing. Getting spooled by a fish is an absolute nightmare, so Snowbee ensures that it won't happen!
On a 5/6 reel, you'll have plenty of room to attach 30 yards of fly line and 100 to 125 yards of backing. Whether you're targeting pike or salmon, you have to be aware of the amount of line you have accessible to you. Snowbee ensures you have enough! 
Drag 
Drag systems can make or break an angler's opinion of a reel. This model has a fully sealed, multi-disc cork and stainless-steel center drag system. All of this language means that you will have all the power you need to fight fish. Plus, with the knob on the side of the reel, you can set the drag to exactly what you would like. 
Be aware of how much tension you have. You should change the drag depending on the fish you're targeting. If it's too tight when you're targeting trout, you'll likely lose the fish because there's too much tension, and the fly will pop out of their mouths. If the drag is too loose, fish will spool you, and when it comes time to set the hook, it won't be enough. The fish will likely be gone. 
Aesthetics 
Unique fly fishing reel designs are not easy to find. Most are fairly basic and have an industrial look to them. The Snowbee Spectre is no different! The bar stock pattern is simple, and you can find the Snowbee logo on the drag knob. There's nothing wrong with a basic design! If you're interested in something overly unique, then the Spectre isn't necessarily for you. 
It's still an extremely functional reel! 
Warranty 
Snowbee offers anglers a warranty on their reels. Many companies won't protect their gear because of how much use they receive, but Snowbee strives to stand behind all its products as best as possible. You'll have to mail in the reel with $40 to cover any extra postage, and Snowbee will take care of the rest. 
Snowbee Spectre® Cassette Fly Reels
As an alternative to the standard Spectre reels, Snowbee offers a precision-molded, poly-carbonate cassette spool fly reel. 
The cassette reel has the same line capacity as the standard spectre model and gives the advantage of quick-change, inexpensive and lightweight cassette plastic spools. 
This kit is great for fishermen who require to use different line types and weights to catch various fish sizes. If you need extra distance or the flexibility to fish close to the bank, you can swap over the spool with alternative lines on the three spare plastic cassette spools. Not having to change your reel whenever you want to target different species or use another tactic saves a lot of time on the river bank.
These are fully compatible with the existing normal reels and fit together perfectly. The kit comes with the usual spectre plus three spare cassette spools in a great-looking, practical reel and plastic spool bag.
Snowbee Spectre Fly Reels – Is It Worth It?
The Spectre reel feels solid. Some of the lower-budget reels that you find don't feel great. They easily get loose and you'll have to do all sorts of adjusting to keep the reel where you would like. With the Spectre, you're not going to worry about the quality. It's got a nice weight, but it's not overall heavy. 
Lack Of A Click System
The Snowbee Spectre series does not have a click system. If this is your style, then you'll appreciate the reel performance. It's a nice change from many others you can find.
It feels extremely smooth, but it definitely is strange without the clicker. It'll take time to get used to, but you'll likely appreciate it the more time you spend with it. 
When you are stripping your line out of the reel, it has the potential to spool and get tangled. Ensure your drag system setting is tight enough so you don't accidentally pull too much out at once. The lack of a click system can make this complicated to judge, but after you make a mistake once, you won't make it again. 
Reel Handle
The one issue you'll likely have with this reel is the handle. It is fairly small and doesn't have any special grip system. Thankfully, there is an indent for you to grip with your fingers, but it doesn't necessarily feel comfortable. The reel handle is made of canvas phenolic. It should get grippier as it gets wet! It doesn't but it isn't overly simple to handle. 
Storage And Care 
When you purchase a Spectre Reel, you'll receive a soft-sided reel case to protect it. The case is a tight fit, but it does a great job protecting your precious property. Feel free to leave it in your fishing pack or in your backpack, and it'll be just fine. 
The reel is easy to take apart to care for. There aren't many opportunities for sand and dirt to get into the reel, but if it does, you won't have to work too hard to clean it.
If you're fishing in saltwater, it's smart to clean the reel after every use. Yes, it's fully sealed and able to handle saltwater, but saltwater can ruin even the most well-built things. Rinse the reels in freshwater to get the salt off the reel. It'll keep them lasting longer than ever! 
You can read more on cleaning and maintaining all your fishing gear here!
Final Thoughts
The overall performance of this Snowbee Spectre fly reel is great. Since the reel does its job in the exact way it needs, there's nothing overly exciting to talk about! 
You'll have a trusty friend to keep you out on the water as long as you need. Combine it with some of Snowbee's Thistledown Line, and you'll experience how it's truly supposed to perform. These reels also work well with Rio Line, but their performance is the most noticeable when you use Snowbee Line. 
I hope this review was informative and helped you decide to purchase this no-nonsense fly reel. You can read more about my best choices for fly reels here! 
Latest posts by Steve Fitzjohn
(see all)