Disclosure: Some posts contain affiliate links, which earn us a commission if you make a purchase through them. Positive Fishing © participates in various affiliate networks including the Amazon Services LLC Associates Program.


As a fellow angler, I know that buying new fishing gear can get pretty expensive. For some that are not willing to spend money on the latest gear, there is an alternative.
For many people who enjoy the outdoors, they go through phases of activities they enjoy and then quickly move on to the next one.
Fishing is no different, hundreds or even thousands of dollars of gear get placed into storage or put on sale. This is the perfect opportunity for diehard anglers to scoop up gear for a majorly discounted price. 
In this article, I will cover:
People and Places to Trust or not to Trust When Buying Affordable Gear
Where to Find Affordable Gear 
Where to Avoid when Looking for Affordable Gear 
Who To Trust When Buying Affordable Gear? 
Affordable fishing gear is often going to be used. However, this is not always the case! Depending on where and how you're shopping, you'll be surprised at how cheap you can find new gear. 
Be Careful of Certain Online Fishing Stores 
You have to be wary when shopping for affordable fishing gear online. While there are fewer scams than there used to be, you'll still find people creating websites and posting gear is shockingly affordable. If it's a website you've never heard of and the price seems too good to be true, then it probably is. 
A quick search of the website in question will provide you with plenty of information about whether or not the website is legitimate. People will review websites and warn future customers to not purchase with them! 
If you decide to purchase something off of eBay, Craigslist, or Facebook Marketplace, you have to be extremely careful. Do your research on what the price of the gear you're purchasing should be. If it's shockingly lower, then ask some questions about why they're selling it so cheap.
Again, these websites allow customers to leave reviews of sellers. If they have poor reviews, it's likely because they're scamming people. Make sure you're getting legitimate gear. It's not worth getting scammed when you could have paid a bit more. 
Another giveaway of a scam is if the website or company doesn't allow returns or offer a warranty.
Now, there are times when companies are doing a closeout sale and won't accept a return, but more often than not, they will. You want to have the option of returning your gear in case it isn't exactly what you need. 
Where To Find Affordable Fishing Gear?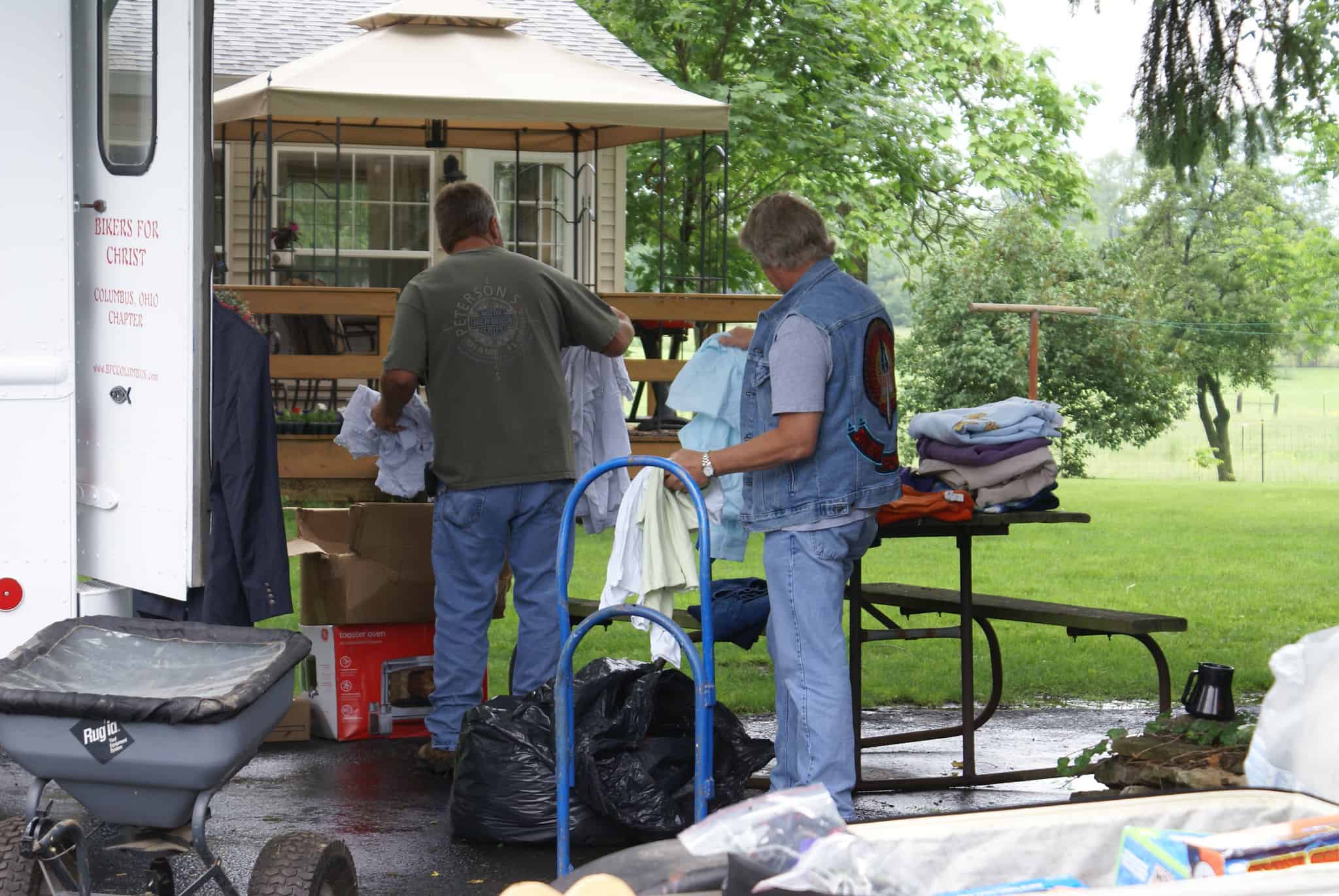 There are conventional ways to find affordable fishing gear and some more unconventional ways to find affordable fishing gear. Depending on how much time and effort you're willing to put in, you'll be surprised at how much quality and affordable gear you can find. 
Buying Fishing Gear At Garage Sales 
Garage Sales may seem like a thing from a pre-internet world, but they're still some of the most productive places to find affordable gear.
Whether it's an older couple looking to downsize and get rid of some outdoor gear in the process or a young family with little time to fish, you'll likely find some good gear. 
You have to be calculated where you go to find the right garage sales. If you aren't located near any fishable areas, you'll struggle to find gear. If you can, make a trip to an area where fishing is a common activity. Whether it's a lake community or a more wealthy community, you'll likely find yourself with plenty of options for fishing gear. 
The beautiful thing about garage sales is that people are selling things to get rid of them. You're not going to find things that are overly expensive and the sellers are hoping to move as much product as possible. Take advantage of these opportunities when you can. 
Tip: One big advantage of garage sales is that you can view and check all the conditions of the gear you want to buy firsthand
Buying Fishing Gear On Facebook Marketplace 
Everyone has their own opinion of Facebook, but despite the controversies, it's a great place to find used fishing gear at a wonderful price. You're able to set a location that's near you and search for whatever product you might need. You'll be shocked at the amount of gear you're able to find in close proximity to you. 
On Facebook, you're able to review sellers so keep that in mind as you're looking at the gear you want to purchase. If they've scammed people in the past, reviewers will be sure to let other customers know so they don't go through the same issues. 
No matter how random or small of an item you need, go ahead and search for it. If you're willing to drive, you can extend the distance of your search area. 
Buying Fishing Gear On Craigslist
Craigslist was one of the first platforms people could use to sell their used possessions. It's not as popular as Facebook, but you can use that to your advantage. Don't ever forget to check Craigslist. You can find great used goods from people that are plenty trustworthy and reliable. 
You're more limited to larger cities when using Craigslist so keep that in mind. AND always go and take a look first at what's on offer!
Buying Fishing Gear On eBay 
eBay is an online option for you to buy affordable fishing gear. eBay is the place to look if you're looking for a unique product or one that may have been discontinued.
You'll find that almost everything you need is going to be available on it. You'll find it at a discounted price and you'll have what you need in a couple of days. Any sort of tackle, rod, reel, and fishing accessory you could ever want is an option for you. 
There is some risk in buying on eBay, not being able to see the items is a major red flag in my personal opinion for items such as rods and reels.
Buying Fishing Gear From Friends and Family 
You never know who is going to have a stash of fishing gear in their garage or shed that isn't being used. Most people are always looking to get rid of things and not have random gear taking up space.
Ask friends, neighbors, and even family members if they have any gear they're looking to sell or get rid of if they would be willing. 
This is probably one of the safest ways of getting hold of some affordable fishing gear with almost zero risk!
Other Fishing Gear Online Buying Options 
Some great affordable online fishing store options are Karl's Bait and Tackle, Discount Tackle, and Angling Direct. Also, if you have a favorite brand, like Orvis then always head to their website and look at the sales tab. 
Likewise, Amazon fishing gear has a good selection at fair pricing and also offers discounts and money-back guarantees. They'll often have previous year models for a massively discounted price.  Also, the ease of ordering, payment, and the review system make Amazon a great resource for fishing tackle.
Places to Avoid when Looking for More Affordable Gear 
There are definitely places you're going to want to avoid if you're searching for affordable gear. You'll find that many stores are going to charge more than they should and it's sometimes a challenge to find something that you want. 
Big Box Stores
Big box stores are rarely going to be the place you're going to find affordable fishing gear. Their prices are going to be a bit more due to the massive expenses they have to stay afloat.
You'll find that almost every online store is going to be more affordable than a big box store like Walmart, Dicks, Sportsmans Warehouse, and Academy. They're mainly going to only carry new gear and you won't have access to any older models or discounted prices. 
Regardless of whether you're purchasing tackle or bait, you'll find that big box stores are not the way to go. They're not going to provide you with the prices you want or the gear you may need. 
If you do go to Walmart to buy your fishing license, it's worth taking a look at what fishing gear is on sale.
Buying Fishing Tackle From Physical Stores in the UK
For those of you reading this article from the UK, it is not too much of a concern. Basically, everything can be bought online through great fishing tackle stores and with some great bargains, especially on older models or excess stocks.
These stores in the UK have online AND physical locations, so you can get the best of the deals!
Buying fishing Tackle From Local Fishing Stores 
Purchasing gear from small and local fishing stores can be controversial. You're going to have people who strongly support these local shops and do their best to only buy gear from them.
Local fishing stores are what keep fishing accessible and allow many anglers to be successful. However, you're rarely going to find affordable gear in these stores. They have high-quality gear, but they are going to charge a bit more so they can sustain their operation. 
Tip: Use your local store for bait, accessories, and smaller items. They still need our support!
Rods, reels, packs, and other accessories can be especially expensive. However, you're likely going to find bait and other accessories from local dealers that can be great keepsakes and even provide you with more luck on the water. 
However, if supporting local businesses is a passion of yours, then you should continue! It's always good to do what you can. 
Final Thoughts
Not everyone can afford the latest gear and gadgets every year. Fishing gear can last a long time if taken care of. If you're strapped for cash then go out and try the options I have listed above.
If you're patient and use any of the resources mentioned above, you'll find that you'll have a chance to score some spectacular deals on discount sales or used gear.
Please check out my review articles on fishing gear which will help you find the right rods, my best reel selections, and a huge amount of various accessories for every angler.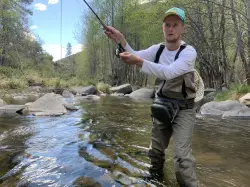 Latest posts by Daniel Mooers
(see all)